COERCION AND WOMEN CO-OFFENDERS: A GENDERED PATHWAY INTO CRIME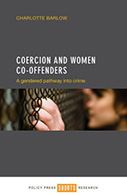 Author: Charlotte Barlow
Publisher: Bristol, UK; Chicago, IL: Policy Press, "Shorts" Research series, 2016. 106p.
Reviewer: Richard Allinson | October 2017
This study examines the influence of gender role expectations and patriarchal values on judicial decision making in British cases where male and female suspects are charged as co-offenders. Specifically, Barlow explores how U.K. courts should assess female co-defendants' claims that they were coerced by their male partners into committing serious offenses.
Previous studies cited by the author indicate that women are most likely to engage in gender-atypical offenses such as robbery and murder when they co-offend with men. Using a "feminist methodological approach," the author analyzes four U.K. cases tried in the last 15 years in which female defendants claimed to have been coerced into criminality by their male co-defendants.
"Jane Turner" (the names are pseudonyms) was convicted of acquiescing to her boyfriend's request that she take photographs and send him indecent images of children at the child-care facility where she worked. "Sarah Johnson" was found guilty of providing a false alibi for a male online contact who was convicted of murdering two schoolgirls. "Alice Jones" was convicted of fraud for helping her husband fake his own death in order to escape the couple's mounting debts. "Janet Young" served eight months in prison for perverting the course of justice by accepting driving license penalty points that rightfully belonged to her husband. Barlow asserts that the manipulation of the female defendants by their partners in these cases was "reinterpreted, silenced and mostly ignored in both the court proceedings and the media discourse."
Data were obtained from case and court file documents as well as newspaper articles. Barlow believes that her use of a "feminist methodology" resulted in a "more nuanced understanding of the women's experiences and stories" than has been typical in previous research. She reports that stereotypes of female accomplices found in the tabloid media typically characterize them as either "mad or bad." As an alternative, Barlow would have the courts take into account how "abusive, controlling and/or obsessive relationships with a male partner/co-offender may influence a woman's 'decision' to offend." Further, she believes courts should recognize such manipulative behaviors as being part of the wider continuum of domestic violence.
In sum, the author presents a plausible argument that "… coercion [by male partners] should be understood as being a distinct and often gendered pathway into crime" for some female co-offenders. Moreover, Barlow proposes that the law and the courts should recognize a "continuum of coercion" in which "non-physical techniques, such as control and love, can also be potentially coercive behaviors" used by male offenders to control the behavior of their female partners. In principle, this proposal seems reasonable and just, though judges and juries would undoubtedly face many practical difficulties in arriving at these assessments. But such difficulties are not a valid excuse for treating both partners as equally culpable when the evidence shows they are not.
Richard Allinson is a writer and editor who specializes in criminal justice topics.