Cop Watch: Spectators, Social Media, and Police Reform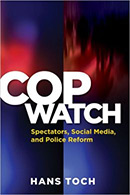 Author: Hans Toch
Washington, DC: American Psychological Association, 2012. 188p.
Reviewer: Tim Prenzler │ January 2013
This book is the second in a new series, 'Psychology, Crime and Justice', from the American Psychological Association. The series editor is Shadd Maruna. The editor's Foreword to the book is effusive, to the extent that it might generate expectations which few authors could fulfil. Cop Watch is certainly engaging, and it usefully addresses contemporary and important issues, but it is not without its faults.
Hans Toch is an eminent US criminologist, now Distinguished Professor, at the School of Criminal Justice at the State University of New York, Albany. He is noted for a variety of books on violence, mental health issues, and policing, including Violent Men: An Inquiry into the Psychology of Violence (1992) and Police as Problem Solvers: How Frontline Workers can Promote Organizational and Community Change (2005, with J.D. Grant).
Cop Watch is a welcome and innovative addition to this collection. The focus is on how spectators respond to police-citizen encounters, and how the actions of spectators can contribute to police accountability. Toch engages two main primary sources for his work. Firstly, he re-analyses interviews and observations he collected during research in the 1960s, in an un-named US 'West Coast City', during the period of race riots and heightened tensions among police, minority groups and protest groups. These data, including numerous interviews with police, demonstrate how officers can escalate conflict and how spectators often respond negatively to perceived injustices and excessive force perpetrated by police – with some interesting accounts of police resistance to interference and criticism. This section of the book also documents police resistance to reform efforts, including enhanced complaints investigations and closer community engagement.
Toch then fast forwards to the city of Seattle, circa 2010-11 — a period of ongoing reform related to use of force issues (including the notorious response to protests at the 1999 World Trade Organisation Conference). Using case studies, Toch examines the expanded capacities of spectators to respond to police-citizen encounters through the new media of mobile phone photography, video, the internet and social networking sites. These technologies not only give ordinary citizens a much greater role in recording and disseminating observations, but in debating the merits of police actions through blogs and other discussion forums, including commenting on inquiries, court cases and inquests.
Cop Watch provides a positive contribution to research about how to enhance police accountability. But I have to say I found the format confusing at times. It would have been good to see the many interesting quotations from interviews set off more clearly from the surrounding text. Chapters and sections would have benefited from more developed introductions, with summary conclusions for each chapter. It would also have been valuable to see a clearer description of an optimal system that would allow the new media and citizen input to be used to maximum effect in making police accountable.
Tim Prenzler is a Chief Investigator in the Australian Research Council Centre of Excellence in Policing and Security, Griffith University, Mt Gravatt Campus, Brisbane, Australia.