Don't Shoot: One Man, A Street Fellowship, and the End of
Violence in Inner-City America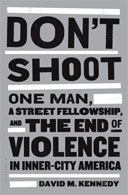 Author: David M. Kennedy
Publisher: New York: Bloomsbury, 2011. 320p.
Reviewer: Brian T. Smith | March 2012
As an academic, David Kennedy is interested in understanding inner-city crime. Twenty years ago, he ventured from his office to the streets. Along his journey, he learned from police officers, community members and other city stakeholders. This memoir offers the general public a unique look at the implementation and operation of some recent ideas intended to deter crime that were derived from that journey.
In 1996 in Boston, gun violence and youth homicide were spiraling out of control. Kennedy and his colleagues at Harvard began talking to police and community members to understand why this was happening. Knowledgeable gang officers and streetworkers revealed that disagreements among certain members of rival gangs led to shootings, which then triggered vendetta shootings among other members of each gang. Guns had become the "preferred method of conflict resolution" among gangs. Kennedy's research team, along with the police, parole, probation, prosecutors, community groups, and others created an interagency working group. That group decided that these shootings could not be tolerated, and set a goal to reduce gun violence. This initiative, known as "Operation Ceasefire," required the identification of the most violent and active gangs or groups of offenders. Core offenders of these groups were then identified and observed by police, typically yielding evidence of their involvement in crimes. Instead of immediately arresting and prosecuting them, the interagency working group decided to appeal to their rationality at what was called "a notification meeting." The group's collective message to the offenders was simple: "Don't Shoot." Any further shootings would not be tolerated and noncompliance would lead to certain arrest and prosecution, and because of the agreement of federal law enforcement agencies to be involved, lengthy federal prison sentences. A further motivating factor for compliance was the policy that any evidence against them obtained previously, could now also be used to arrest and prosecute them. Offenders began to understand that their choice was between an honorable exit from gang life and prison. Those who complied with the new social contract could obtain community-based services, such as rehabilitation and employment assistance. Core offenders brought "Operation Ceasefire's" message to their respective gangs and word of the initiative spread on the streets. Soon after, shootings decreased significantly in the project areas. The media soon referred to Ceasefire's success as the "Boston Miracle," prompting other cities to pursue similar endeavors.
Kennedy recounts his experiences in several other cities that attempted to implement focused deterrence strategies following the Ceasefire model. When strategies were implemented properly and comprehensively, violence tended to subside. But poorly planned and implemented projects never worked, and some projects never even got off the ground. For example, what he refers to as petty politics and bureaucratic resistance caused a program to fail even before its implementation in Baltimore. Cities like Baltimore were, however, exceptions. Most cities that used a Ceasefire approach were highly successful in reducing gun violence and other types of crime. Notably, High Point, North Carolina successfully used the approach to all but eradicate its public drug markets problem. Ceasefire-like strategies continue to be implemented across the country, and a current project involves a 50-city "National Network for Safe Communities" initiative.
David Kennedy concludes the book with his thoughts for improvements in criminal justice policies and practices. He describes how violence, chaos, devastation and a worsening racial divide are America's "four inextricably linked problems" related to crime. Kennedy's ideas for overcoming such complex issues as race and crime, while insightful, may appear to be somewhat simplistic. Nevertheless, his thoughts leave the reader feeling optimistic about the possibilities for positive change – unlike many other books on inner-city violence.
Brian T. Smith is a Ph.D. Candidate at Rutgers University School of Criminal Justice.