Environmental Crime and Social Conflict: Contemporary and Emerging Issues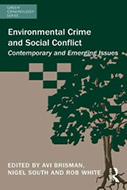 Editors: Avi Brisman and Nigel South
Publisher: Farnham, Surrey, UK ; Burlington, VT : Ashgate (Routledge), 2016. 344p.
Reviewer: Sara McFann | May 2016
As pioneers in the field of green criminology, Avi Brisman, Nigel South, and Rob White provide a fresh perspective on the interactions between conflict and the natural environment in a collection of essays by criminologists and conflict studies specialists. The global struggle over natural resources and the harms related to the control, extraction, and trade of resources continues to manifest itself in disasters and conflict worldwide. These human-induced strains have far-reaching effects on the human populations, ecosystems, economy, and societies that are only recently being researched from a criminological perspective. By assessing these issues from the lens of green criminology in Environmental Crime and Social Conflict, the editors unveil a novel typology for the study of environmental crimes.
To introduce their proposed typology, thirteen chapters highlight research addressing four primary categories of green crime-social conflict. The first section addresses conflicts rooted in the possession and control over natural resources in a world where the fight for access to resources induces a poisonous interaction between scarcity and greed, often coupled with a damaging disregard for human rights and social responsibility. In chapter 3, Richard Milburn focuses on the harms caused by ongoing decades-long conflicts in the Democratic Republic of Congo to the living natural environment, including wildlife and forestry. Though exploitation of the country's rich natural resources is regarded as a critical factor in the nation's persistent instability, the exploitation of living resources has received much less attention and investigation despite also being a significant factor in conflicts.
Part two introduces issues concerning conflict over declining resources. In chapter 6, Bram Ebus and Karlijin Kuijpers investigate the dynamics of state-corporate relationships in the exploitation of natural resources in frontier regions in Brazil and Colombia, and their harmful effects on the human populations of those regions. Ebus and Kuijpers apply state-corporate crime theory to analyze such conflicts to expose the patterns of natural resource exploitation that put economic interests above social responsibility and human rights. Part three shifts the perspective to conflict that destroys environments, including discussion of how natural resources are used to fund and fuel conflicts. The final section of the collection highlights conflict over the processes of natural resource extraction, including mining and oil. In chapter 12, Kerry Carrington, Russell Hogg, and Alison McIntosh explain the social and economic impacts of the mining industry in Australia, which involves policies that are detrimental to the local towns dominated by corporations in frontier areas.
While the prominent role of the natural environment in global unrest is slowly being acknowledged internationally, the subject is often caught in the middle of economic, political, legal, and social grey areas that are difficult to address using conventional approaches to conflict management and criminal justice. This collection of essays is a valuable resource for scholars seeking orientation in the emerging field of green criminology and its various sub-fields. Environmental Crime and Social Conflict encourages much-needed research applying established criminological theory with existing research traditionally dominated by conservationists, political scientists, and human rights organizations.
Sara McFann, Doctoral Student, Florida International University