Gunfight: The Battle over the Right to Bear Arms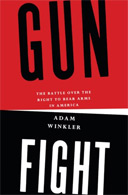 Author: Adam Winkler
New York: W. W. Norton & Co., 2011. 361p.
Reviewer: Martin R. Kafafian | January 2012
In the summer of 2008, the Supreme Court decided District of Columbia v. Heller, which recognized that the Second Amendment protects an individual right to own a handgun for self-defense. The Court's decision gave significant attention to the history of gun ownership and gun control in the American tradition. Adam Winkler's latest effort, Gunfight, weaves the story of the litigation with a history of the battle over gun control that largely informed the Court's decision.
Gunfight follows lead attorneys Alan Gura and Robert A. Levy in their constitutional challenge to a federal law effectively forbidding handgun possession in Washington, D.C. The book recounts the initial barroom decision to bring the suit as well as the strategy behind and execution of the subsequent search for plaintiffs. Winkler tracks the case through the trial and appellate courts, describing challenges raised by the party opponents and an ancillary effort by the NRA to hijack the litigation. Gunfight concludes with a recounting of the oral arguments and a commentary on the Court's decision.

Winkler sets Heller against the backdrop of gun use and gun control in American history. The narrative reaches back to royal disarmament in 17th century England and the subsequent enactment of the English Bill of Rights. Key players are the Ku Klux Klan, a group originally formed in order to disarm blacks following the Civil War, and the National Rifle Association, a once-moderate organization focused on teaching safe gun use and supportive of reasonable gun control laws. Winkler also invokes specific incidents that profoundly influenced the debate, including John Hinckley's attempted assassination of President Reagan, the massacre at Columbine High School, and the self-inflicted gunshot wounding of professional football player Plaxico Burress.
Winkler's account masterfully presents the complexities of Heller in an accessible fashion, explaining esoteric legal concepts like "constitutional standing" and "originalism." Gunfight similarly boils down the scholastic arguments on both sides and clearly explains the results of these debates. Finally, this book explains a judicial opinion that may otherwise require a semester of law school to understand.
Winkler opens and closes the book with the claim that he comes to the debate as a neutral observer. He asserts that he is neither pro- nor anti-gun regulation, and that his sole interest is in providing an unbiased historical account and analysis. However, the reader should note that Winkler co-authored (with Erwin Chemerinsky) an amicus brief in the actual litigation, a fact that is briefly dropped in a parenthetical. The conclusions in Gunfight, namely that the Second Amendment protects a limited personal right to own a handgun for self-defense, is the result argued for in his brief. Also, Winkler's critique of the court's standard for applying the Second Amendment mirrors the argument put forth in the brief. As such, the reader may approach certain conclusions with skepticism.
Martin R. Kafafian is a current law student at Rutgers School of Law – Newark.