High Price: A Neuroscientist's Journey of Self-Discovery That Challenges Everything You Know About Drugs and Society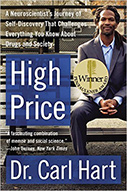 Author: Carl Hart
Publisher: New York: Harper Perennial, 2014. 352p.
Reviewer: Robert Costello | May 2016
It would be a giant step forward for America's drug policy if every state and federal legislator read High Price… because no other book contains such vital research about drugs as told through the fascinating personal life of its author, Carl Hart, an associate professor of psychology at Columbia University. Readers expecting another dry academic tome will surely be surprised because Hart is a gifted writer who hooks readers by connecting his life story to his empirical research on drug use and abuse. Hart must be commended for baring his soul in this blunt and honest exploration of his life.
Hart witnessed many harrowing incidents of domestic violence during his childhood  ̶ including seeing his father strike his mother's head with a hammer. The author's parents divorced by his sixth birthday, which resulted in their nine children being distributed among other family members as his mother left Miami for work. The long-term impact of the divorce was devastating in many ways, including economic hardship for the Hart family, who left behind a working class existence only to live impoverished in one of Miami's toughest neighborhoods. Hart describes one of his key survival strategies as securing "status": this molded him throughout his life. One of the few avenues open to him for achieving status was sports: so Hart played football and later basketball in high school.
Even after his mother returned and Hart resumed living with her, his childhood still followed a parenting style he calls "the accomplishment of natural growth," which views children as "growing naturally into what they would become, without a constant need for adult direction." He believes that this approach is the hallmark of lower and working class families. Hart peppers each chapter with such information, drawn from his own life experience, which he compares to the research literature in areas such as language acquisition, public school education, juvenile justice, and low-income family structure. His socio-autobiography is as much about race and status in America as it is about drugs and the policies regulating their use. It is a modern example of the sociological imagination.
While Hart did not assume a street lifestyle or join a gang, he was also not enamored of schooling or of his education. He did enough schoolwork to stay eligible for athletics, where he concentrated his efforts to achieve success and status as defined in his community. This inner drive led him to enlist in the U.S. Air Force at age 17, which was the beginning of a major transformation of his life that culminated in attaining his doctoral degree at age 29. He was the only African-American male in the United States to receive a doctorate in neuroscience in 1996.
Written for a popular audience, Hart delivers information about cutting-edge research on drugs and addiction, using accessible language that educates and entertains. This approach might spark a new genre wherein researchers bridge the gap that is too often filled with misinformation and myths about drug abuse: as a result, these informed readers would begin to demand evidence-based laws and policies. A good starting point might be making High Price… required reading for all first-year students at many colleges and universities as part of mandatory reading programs for entering freshmen.
Robert Costello is chairperson of the Department of Criminal Justice, Nassau Community College, State University of New York.