Illegal: Reflections of an Undocumented Immigrant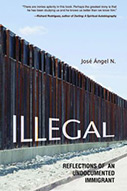 Author: José Angel N.
Publisher: Champaign, IL: University of Illinois Press, 2014. 136p.
Reviewer: Richard Allinson | January 2015
The author of this eventful memoir recounts his triumphs and setbacks during nearly two decades of living "amid the shadows" as an undocumented Mexican immigrant in Chicago.
José left Mexico as a teenager for one simple reason: he anticipated earning five to ten times more money in the U.S. than he would have in Mexico. After stealthily crossing the border and finding his way to relatives in Chicago, he was soon able to land a factory job. But to qualify for a better job, he decided that he must learn English. A switch to evening work as a restaurant dishwasher enabled him to attend General Education Development (GED) classes during the day. After two years of study, he passed the high school equivalency exam on his third attempt. This was the first rung in the author's remarkable ascent of the educational ladder in the U.S.
But his GED did not lead him to a better job, so he decided to continue his education at a local community college. When he started college at the age of 28, José was "mesmerized" by his first exposure to the works of Plato and other classic texts of Western philosophy and literature. After completing community college, he continued his impassioned pursuit of knowledge at a four-year institution. (A promotion at work from dishwasher to waiter enabled him to pay his tuition.) Only after graduating did he learn that his Bachelor of Arts in philosophy was the wrong credential for achieving his goal: a secure, salaried white-collar job in accounting or business administration.
While continuing to work as a waiter, José resumed his studies and obtained a Master of Arts degree in Latin American literature. This credential enabled him to obtain a full-time, white-collar job as a translator. After working for five years in this satisfying career, the author was convinced that he had "climbed out of my disadvantaged background and reached the coveted American dream." He felt secure enough to get married and to have a child.
The first six chapters of the book end at this hopeful juncture in 2010.
But in the book's dramatic 16-page postscript, the uplifting Horatio Alger tale suddenly turns into a nightmare. In 2012, when a new human resources director at work demanded that José clarify "a problem" with his Social Security number (which was bogus), the author decided to resign immediately to avoid exposure as an illegal immigrant. The sudden loss of his job was "devastating" and "emasculating" for the author, especially since his wife was pregnant for the first time and she had just been approved for a mortgage on their new home.
Although he was still unemployed when this book was published, José had embraced his role as the primary houseparent to their young child. He had also developed enough self-confidence to become active in neighborhood civic affairs. Still, he was not yet ready to attempt a return to the job market lest his status as an undocumented immigrant be exposed again.
In the foreword to this book, physician and author Prof. F. Gonzalez-Crussi says the importance of José's story is that, "It puts a human face on a whole mass of individuals vowed to invisibility, or at least indistinctness." I agree with that assessment.
Richard Allinson is the former editor and publisher of Criminal Justice Press.