Law and Lies: Deception and Truth-Telling In the American Legal System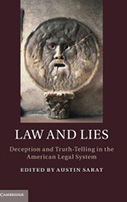 Editor: Austin Sarat
Publisher: New York: Cambridge University Press, 2015. 344p.
Reviewer: Kawu Bala | September 2016
With Law and Lies: Deception and Truth-Telling in the American Legal System, Austin Sarat brings together an impressive mix of scholars to discuss the connection between law and lies in the American Legal System. Sarat states that the book is the "product of a symposium held at the University of Alabama, School of Law on October 10, 2014." Indeed, the book is timely because it gives a hint of how lies found themselves a prominent space in the American Legal System and by extension other countries that copy the U.S. bit-by-bit (p. xi). This makes the book a compelling read, as it shows that lies found themselves deliberately into politics and governance by act of design; this is because "more often the law looks the other way" in order to allow certain objectives to be achieved (p. 2).
Each of the contributors approaches the theme of the book with the necessary expertise, which helps explain why the five chapters are well written. In the introduction, Sarat discusses many areas where lies come into play under the First Amendment, such as in matters of freedom of the press (p. 4) and perjury and fraud (p. 9). A similar pattern is where government officials themselves use lies and deception in the context of law enforcement or national security where facts are manipulated to serve pre-determined goals (p. 13). This is not peculiar to the U.S., as many countries engage in the practice as part of their policies to control their citizens or to make matters acceptable.
Mary Anne Franks provides an interesting discussion in chapter one, "Where the Law Lies," which in my view lays the foundation for the book. The remaining chapters by Norman W. Spaulding, Helen Norton, Stuart P. Green and William N. Eskridge Jr., offer useful analyses on different aspect of lies in the American Legal System. I found these chapters to be very thought-provoking.
Law and Lies: Deception and Truth-Telling in the American Legal System provides a good beginning for understanding current events, and I recommend it.
Kawu Bala is a member of the Bauchi State Judiciary, Nigeria