One Country, Two Systems: Cross-Border Crime Between
Hong Kong And China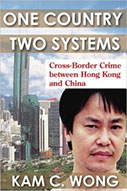 Author: Kam C. Wong
Publisher: New Brunswick, NJ; London: Transaction Publishers, 2012. 233p.
Reviewer: Peng Wang | May 2013
China's 34 years of the reform and opening up (Gaige Kaifang) policy is mirrored by the explosion of cross-border crime between Hong Kong and China. The legal issues relating to cross-border crime have been only sparsely researched, but although few studies have been completed by Chinese scholars, interest in the "mainlandization" of triad activities remains strong. One Country, Two Systems: Cross-border Crime between Hong Kong and China, authored by Professor Kam C. Wong, offers an in-depth analysis of how mainland China and Hong Kong, under the 'one country, two systems' formula, deal with the legal and policy issues raised by cross-border crime.
The book offers a detailed description of the 'Big Spender' case. Cheung Tse-keung, a 14K triad member also known as the 'Big Spender', was the first Hong Kong resident to be 'arrested, prosecuted, tried, and convicted in China under the PRC Criminal Law for criminal acts largely perpetrated in Hong Kong' (p.101). The 'Big Spender' case therefore is a test case of the limits of the 'one country, two systems' policy. This case suggests that the Basic Law fails to protect Hong Kong residents' legitimate interests and legal rights, signaling the failure of Hong Kong to safeguard the rule of law after 1997.
One Country, Two Systems is well structured, starting with a richly descriptive narrative and offering a thorough discussion of legal and policy issues related to cross-border crime in the second half. The first five chapters contextualize the 'Big Spender' case. Chapter 1 discusses the research questions the book aims to explore, the choice of the 'Big Spender' case and its significance in testing the limits of 'one country, two systems'. Chapter 2 provides background information regarding Cheung's character, life experience, criminal career, and the investigation, prosecution, and adjudication of this case. Chapters 3, 4 and 5 offer a detailed description of the Chinese criminal justice process, public reaction to the case, and cross-border police cooperation between Hong Kong and the PRC. The remaining chapters focus on case analysis. Chapter 6 deals with legal and constitutional issues in Hong Kong and China cross-border crime, and Chapter 7 offers a new perspective: policy analysis. Wong argues that a 'rule of law' approach to the analysis and resolution of the legal issues is 'ill-informed in theory and not helpful in practice' (p. 6); therefore, a functional political relationship between China and Hong Kong is the workable resolution of the 'Big Spender' debate. The concluding chapter is more than just a summary of arguments; according to Wong, the Cheung case was 'played out in the arenas of culture and politics, not rationality and law' (p. 202).
The 'Big Spender' case was a landmark in prosecuting cross-border crime and is thus a vital case to analyze; but the case is already 14 years old. There has been a rapid increase in cross-border crime since then, and the respective police forces have modernized their approach. It would have been helpful to have also examined more recent cases in order to throw light on these innovative police approaches.
Wong provides readers with a well written, well structured and easily read book. It is the first book to address cross-border crime in Hong Kong and China. It offers an innovative approach and suggests a more workable and satisfactory solution to the 'Big Spender' case. As such, this is an absolute must read for researchers and practitioners who are interested in policing, transnational organized crime, the relationship between the HKSAR and PRC central governments, Chinese criminal justice, criminal justice and the media, and the wider fields of rule of law and judicial independence.
Peng Wang is a PhD candidate in law at King's College London.