Serial Killers: Psychiatry, Criminology, Responsibility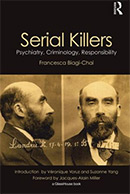 Author: Francesca Biagi-Chai
New York, NY: Routledge, 2011. 296p.
Reviewer: Jaclyn Schildkraut | September 2012
Henri-Désiré Landru was perhaps one of Europe's most infamous yet prolific serial killers of the 20th century. Between 1915 and 1919, Landru swindled then murdered 10 women (plus the teenaged son of one of the victims) before dismembering their bodies and burning them in his oven in a villa just outside of Paris. Landru was a seasoned conman, having scammed countless others, and operated these ruses under a number of aliases and the guise of a widowed furniture dealer. Landru would post matrimonial advertisements in the local paper, lure widowed women in with false engagements, and kill them once they had signed over their personal savings and belongings to him. When one victim's sister attempted to track down her missing kin, Landru's number was up. Although the bodies of the victims were never recovered and Landru never confessed, he was tried, convicted, and subsequently executed in 1922.
Serial Killers: Psychiatry, Criminology, Responsibility by French psychiatrist and psychoanalyst Francesca Biagi-Chai provides a complex analysis of the Landru case. Biagi-Chai scoured all of the original case files and elements and delivers a step-by-step account of the case, from Landru's early childhood beginnings through his subsequent beheading at the guillotine. Her meticulous examination focuses on a number of important dichotomous themes that resonate throughout the book: the disparity between what is real and what is reality, between Landru's life as a family man to his wife and four children and his life as a widowed grafter, and between ambiguity and lucidity. It toes the line between psychosis and sanity – a pivotal issue at the forefront of Landru's trial. Serial Killers is, in a sense, a modern day Jekyll and Hyde tale.
In addition to providing a meticulous account of the Landru case details, Biagi-Chai also relies on her professional training to continuously link the case to fundamental psychological concepts. She relies on the works of Freud and Lacan, linking Landru's case to issues of paranoia, delusions of grandeur, the role of master signifiers, and "madness". A key issue raised in the book regards the issue of madness and how it is recognized both in society as well as in the legal system. Drawing on additional European cases of serial killers, including Italy's Donato Bilancia (convicted of killing 17 people between 1997 and 1998) and France's Pierre Rivière (who killed his mother, sister, and brother in 1835), the author illustrates that madness is not always a signifier for incompetence. As Biagi-Chai notes, "We can no longer imagine a hot-headed act, a crisis, a moment of madness. We have to account for their acts in other ways…"
Biagi-Chai concludes Serial Killers with important considerations for the field of criminology as it continues to rely on and work with the field of psychiatry in determining offenders' culpability. She notes that rather than psychiatric experts or psychoanalysts determining whether an offender is responsible for their actions, the responsibility for such decisions should fall to judges and juries alike. When conceptualized in the "weightiness of responsibility," Biang-Chai confirms this is necessary to "carry out their office and their judgment knowingly and apart from any prejudice."
In addition to Biagi-Chai's comprehensive investigation into the Landru case, Serial Killers: Psychiatry, Criminology, Responsibility, translated from the French manuscript Le cas Landru à la lumière de la psychanalyse, also features a foreword by Lacanian psychoanalyst Jacques-Alain Miller and a new introduction by Véronique Voruz and Suzanne Yang.
Jaclyn Schildkraut is a Ph.D. student at Texas State University.