SPATIALIZING BLACKNESS; ARCHITECTURES OF CONFINEMENT AND BLACK MASCULINITY IN CHICAGO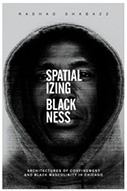 Author: Rashad Shabazz
Publisher: Urbana, IL: University of Illinois Press, 2015. 184p.
Reviewer: Laurie Schaffner | January 2017
In this refreshing and original monograph, Rashad Shabazz exposes us to new ways to think about the social control of Black bodies in the built urban environment. Shabazz details the racism driving the controlled movement of African-American men, going beyond bland analyses of community policing and the self-blame of lawless African Americans committing crimes.
Drawing from a range of sources – such as poetry, the writings of Richard Wright and James Baldwin, memoirs, newspaper archives, maps, and secondary multidisciplinary scholarly sources ̶ Shabazz amasses an array of delicious details to tell a compelling Chicago story of the formulation of American Black urban masculinities through a critical geographic lens.
One of Shabazz's key premises is that geography makes space "social" and thus intrinsically stratified. The story of the containment of Black bodies, from one-room kitchenettes through the tiered cement of the housing projects to intentionally cramped prison cells, is a history of unending attempts to confine Blackness itself. Shabazz is superbly positioned to tell this tale. He grew up in Chicago's "South Side" Bronzeville neighborhood, and then acquired formal education at the History of Consciousness program at the University of California at Berkeley.
Shabazz's account begins with a close look at the policing of the interracial sex scene in the south side of Chicago in the first decades of the twentieth century. Through narrating the life work of German-immigrant Chicago police captain Max Nootbaar, we see the intersecting processes of how German and Irish immigrants became regarded as "white" against the backdrop of policing Black Americans newly arrived to Chicago from the southern U.S. Now considered as white police officers, Chicago law enforcement policed with the intention to discourage interracial relations between Black men and immigrant German and Irish women, who were newly-minted as "white" American women in the hot, happenin' Black/White dancehalls called Black and Tans in the busy vice district in south Chicago. Shabazz's narration of such historic events uncovers the ways in which the Chicago police force itself was founded on controlling, containing, and jailing Black men. He details the state's focus on the production of normative racial, gendered and sexual boundaries by effectively creating a Black deviant sexuality.
The cramped and jail-like spaces of the kitchenettes on Chicago's South Side set the stage for the next few decades of the Black Chicago experience. These were the overcrowded quarters where incoming southern Blacks were forced to live and to develop new gender and racial identities as they landed in the north during the Great Migration. Shabazz also assesses the particular development of Black masculinities as they related to the limitations imposed on Black men as they were policed and incarcerated while being blocked from access to normative hegemonic masculinity (i.e., power, money, mobility, property). Shabazz painfully relates the slow deferment of the dreams of prosperity, freedom to become upwardly mobile and liberty to move around free from southern racism as Black men were constrained and pushed around south Chicago.
Originally, Shabazz notes, the high-rise housing projects in Chicago were seen as an answer to the prayers of the Black families, because they had been crowded into kitchenette spaces. Quickly, the resemblance of these apartments to prison tiers became apparent through treacherous Chicago Housing Authority policing and surveillance, which included resident identification cards and in-house courts and judges, slumlord conditions, and near-total family economic disaster. Shabazz makes visible the seemingly invisible smooth, logical, and swift growth of the gang build-up in the drug-infused Chicago housing projects by way of the invasion of the criminal legal system, literally and figuratively, entering their living rooms. Moving from the bleak cement housing project apartments to the 8×5 foot walled cells in America's prisons and back, he offers a particularly rich rendition of the ways in which Black masculinities are formed and expressed within these carceral-infused containments.
Shabazz's emphasis is on the relationships among Black Chicago's geography, housing patterns, policing, gang growth, and revolving doors to imprisonment: he maps the effects of these relationships onto the unique formations of Black masculinity. Born in the anger and impotence in the cramped quarters of kitchenettes and housing project apartments, frustrated by lack of access to the promise of freedom and mobility so close within grasp, haunted by decades of state hostility and containment, a certain Black masculinity found expression in the outlaw condition of becoming armed gang members. Actually, Shabazz adroitly unpacks a variety of Black masculinities, including the gendered and racialized image formation processes of prisons, the Black Muslim religion, and gangs. His presentation is complex, elegant, careful, and precise.
Shabazz next turns his focus to Black men's health and its connection to the diseased conditions of living amid carceral forces found in the cramped quarters of housing projects and prison cells. This last, brief substantive topic brilliantly charts the path of HIV/seroconversion among the African-American poor and oppressed through the blanketing of Chicago's South Side with drugs and depriving the imprisoned of bleach and condoms. Although the majority of new HIV diagnoses are among Black women, Shabazz connects this occurrence to complexities in the processes created by large populations of African-American-men going from home to prison and back.
Surprisingly, this text ends on a curious note: Shabazz highlights and celebrates the greening of the South Side through the advent of community gardens. He urges readers to consider this as a powerful source of resistance and resilience to the carceral logic of containment and oppression. Combining the age-old wisdom of Southern Blacks, like poor people everywhere, to grow and cultivate our own food, with the insight of the millennial generation of eco-informed green movements and a nod to awareness of racialized air and water pollution found in Black and poverty-stricken areas of cities, he offers this transformation of urban property as evidence of a locus of hope and salvation. Forward-thinking, offering a simple, affordable, do-able solution to many of the problems of the cramped urban impoverished environment, Shabazz ends his study with a vision of the life-affirming, family- and youth-positive action of gardening flowers, herbs, fruits, and vegetables.
Because this text is so beautifully crafted, I recommend it to both undergraduate and graduate courses in a range of disciplines, including sociology, anthropology, criminology, and history, as well as to sites of interdisciplinary pedagogy such as American Studies and gender and women's studies. Rashad Shabazz makes an indelible contribution to the complex study of racial formations as they intertwine with emergent Black masculinities.
Laurie Schaffner, University of Illinois at Chicago; schaff@uie.edu