The Art of the Internet: A Study of Illegal Online
Trading in Cultural Goods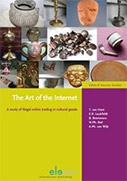 Authors: Tom van Ham, Rutger Leukfeldt, Bo Bremmers, Wouter Stol and Anton van Wijk
Publisher: The Hague, Netherlands: Eleven International Publishing, 2011. 126 p.
Reviewer: Julie Viollaz | July 2013
The advent of Internet selling sites like eBay and Craigslist has opened up a whole new avenue for the illicit art trade. Van Ham and his co-authors, in their book entitled "The Art of the Internet: A Study of Illegal Online Trading in Cultural Goods," attempt to explain what part this expanded market plays in the illegal trade of cultural goods (defined as both stolen goods and those legally bought but illegally transported across borders). The authors split their research into several parts: a survey of key players in the trade and its regulation, an internet search of what internet sites sell cultural goods and what percentage of these goods are illegally traded, and a media analysis of newspaper accounts of illegal online trading in cultural goods.
The book's review of current literature on illegal trading in cultural goods and the legislation regulating it is thorough, as is the overview of existing art theft databases in the Netherlands. The authors also provide ample information on how Internet sales of cultural goods take place and the number of items available for sale this way.
Unfortunately, although van Ham and his colleagues correctly identify the gap in the illegal art trade literature that is illegal Internet sales, the title of their book is a bit misleading for two reasons: first, this research focuses only on goods traded on Dutch websites, despite the book's broader title; and second, the title suggests that the authors actually studied cultural goods that were illegally traded, when in fact they were unable to positively identify illegally traded items on the Dutch Internet auction and advertisement sites they studied. Their analysis is fraught with phrases like "may be on offer unlawfully" because the information provided on these sites is simply not enough to definitely identify illegally traded cultural goods and because many sellers advertise only a portion of the items they offer prospective buyers once contacted.
This latter flaw could have been remedied if the authors' survey of key players in the art trade had provided responses by auctioneers and dealers, but these were the few people who failed to respond to the authors' requests for interviews. Short of contacting sellers of suspicious objects to ask for provenance documentation, the authors' chosen methodology could not reveal the information needed to study the illegal Internet trade of cultural goods.
All in all, this book provides an excellent overview of the illegal art trade literature and the main difficulties in identifying what are illegally traded cultural goods, but falls victim to these difficulties when trying to assess the extent of illegal online trading of cultural goods.
Julie Viollaz is a Ph.D. student at John Jay College of Criminal Justice.