The Terrorist-Criminal Nexus: An Alliance of International Drug Cartels, Organized Crime, and Terror Groups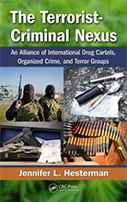 Author: Jennifer L. Hesterman
Publisher: Boca Raton, FL: CRC Press, 2013. 351p.
Reviewer: David A. Marvelli | November 2013
Despite a growing number of criminal cases demonstrating the nexus between terrorist and criminal networks, these national security threats are still too often viewed and treated as separate problems with more resources dedicated to combating terrorists than transnational crime. In January 2013, the nexus (rather convergence) of these phenomena became even more evident when, in January 2013, a former al-Qaida in the Islamic Maghreb (AQIM) commander Mokhtar Belmokhtar (MBM) staged an attack on Westerners at a gas facility located in In Amenas, Algeria. MBM—who is often referred to as "Mr. Marlboro" for his cigarette smuggling activities—is a legacy jihadist, having fought the Soviets in Afghanistan. He is suspected of amassing significant wealth from a variety of illicit cross-border activities, primarily cigarette and cocaine trafficking in West Africa, which has provided MBM and his terrorist network with the resources they need to mount successful terrorist operations.
In The Terrorist-Criminal Nexus, Jennifer Hesterman explores this relationship in great detail, utilizing recent criminal cases and open source reports to demonstrate the insidious nexus between terrorist and criminal organizations. She highlights how established criminal organizations have established mutually beneficial business relationships with terrorist organizations through "drugs-for-weapons" exchanges. She also describes how some terrorist organizations have become more directly involved in illicit cross-border activities, such as AQIM's involvement in trafficking cocaine, the Taliban's involvement in trafficking heroin, and Hezbollah's involvement in trafficking illicit drugs, counterfeit cigarettes and other illicit contraband. Perhaps not surprising, illicit narcotics is most often at the center of the relationship between these organizations.
In addition to underscoring the nexus between terrorist and criminal organizations through their joint involvement in illicit transnational activities, Hesterman provides several chapters demonstrating how these organizations are adapting and leveraging technological advancements in the realm of finance and social media. For instance, Taliban members are using Twitter to communicate—in real-time—updates of their operations against Coalition forces in Afghanistan. However, these chapters are also filled with much warning analyses, highlighting how particular vulnerabilities exist within these new developments, such as e-gold, that could be exploited by illicit organizations even though no known examples exist to date.
Even more troubling is the observation of possible sharing of tactics between terrorist and criminal organizations. Hesterman explains, "[a] new weapon in the [Juarez] cartel's battle for control debuted in July 2010 with the successful detonation of a VBIED [Vehicle-Borne Improvised Explosive Device] in the border city of Cuidad Juarez" (p.276). This is a tactic most commonly used by terrorist groups, such as Hezbollah and al-Qaida, though its use is not exclusive to these organizations. Nonetheless, the use of a VBIED by a Mexican drug cartel at a time when Hezbollah's presence in Mexico has increased may underscore the transfer of knowledge between these organizations—a very troubling prospect.
Hesterman's text emphasizes one of the greatest challenges for national security, law enforcement, and policy-makers of the twenty-first century: the increasing nexus and convergence of terrorist and criminal organizations. While more resources have been directed towards combating international terrorism since 11 September 2001, a "whole-of-government" approach must be adopted to combat these often overlapping national security threats, especially at a time when there are fewer financial resources; yet agencies must also be mindful of the possible contradictory results of simultaneously pursuing counter-insurgency and counter-narcotic approaches.
The Terrorist-Criminal Nexus should be read by policy-makers, law enforcement practitioners, academics, and anyone interested in understanding the "dark side" of globalization and the evolving security threats facing the United States and its allies.
David A. Marvelli is an intelligence professional for the Federal Bureau of Investigation (FBI) and is currently assigned to the Drug Enforcement Administration's Office of National Security Intelligence as the FBI Liaison Officer. He received is PhD from Rutgers University.
The views and opinions expressed herein are those of the author and do not necessarily reflect the views of the Federal Bureau of Investigation, the Drug Enforcement Administration, or the U.S. Government.