Trends in Policing: Interviews with Police Leaders Across the Globe, Volume Four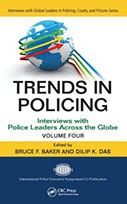 Editors: Bruce F. Baker and Dilip K. Das
Publisher: Boca Raton, FL: CRC Press, 2014. 277p.
Reviewer: Rosalyn Bocker Parks | May 2015
Bruce F. Baker and Dilip K. Das's Trends in Policing: Interviews with Police Leaders Across the Globe is the fourth collaborative volume in the Interviews with Global Leaders in Policing, Courts, and Prisons series published by the International Police Executive Symposium (IPES) and CRC Press/Taylor & Francis Group. This series seeks to record insiders' perspectives on police management, practices, policies and varied work environments. Included in this insightful volume are interviews with 12 police leaders from 11 countries across four continents.
The interviews follow a general pattern — beginning with a discussion of the leaders' careers, followed by the changes experienced in their police department; their personal policing philosophy; problems and successes in their careers; their views on the relationship between theory and practice and on democratic policing; and, their thoughts on the future of policing.
While many of the experiences related are positive, the interviewees do not shrink from discussing difficult issues in policing. Leaders from Hungary and Colombia discuss the need to protect and help their most vulnerable citizens and the difficulties they face in doing so. Other leaders speak to corruption in law enforcement and elsewhere in government, the menace of terrorist groups such as Boko Haram in their countries, or they recount the struggle to secure even basic resources such as transportation for law enforcement officers. The common thread throughout each of these interviews, however, is hope. As Ogbonnaya Onovo, the Inspector General of Police in Nigeria states, the challenges of policing "[are] difficult, but not insurmountable."
What is possibly the volume's strongest contribution lies in its focus on the experiences of practitioners in the field. Often overlooked as sources of knowledge, the unique experiences, decisions, challenges and perceptions of these law enforcement professionals can offer insiders' viewpoints to the reader. The varied backgrounds of these individuals also offer an opportunity to compare careers across countries, governments and decades. Accurately described by the editor as "an accessible, engaging, and enlightening series of frank discussions," Trends in Policing expands upon the customary academic interpretations of policing. Instead, the reader is led through a series of guided conversations between the interviewing researchers and scholars and their practitioner subjects. At once scholarly and accessible, this text can inform many different audiences.
While this volume offers interesting perspectives on both the shared and unique issues facing police leaders around the world, it also has its limitations. Though racially and ethnically diverse, the police leaders interviewed in this work are all men. Although greatly underrepresented in police leadership (and, perhaps, all the more important because of this), the viewpoints of women in this field should be included here to encompass a truly holistic understanding of the experiences of global senior police executives. The intersections of race, ethnicity, gender and culture are chronically understudied across criminal justice, and particularly in policing. While this book does illustrate diversity in age, career trajectories, and background, future volumes can benefit from increased gender diversity among the interviewees. This limitation is noted by the authors, with the expressed desire to expand upon this area in the future.
The important lessons shared here offer key insights into evolving policies and practices in policing. Innovative and transnational in scope, this volume and others in this series allow for a unique picture of the many facets of policing and police leadership. Containing over 300 years of law enforcement experience, Barker and Das's Trends in Policing is a well written and interesting text that is appropriate for a variety of audiences, ranging from students and scholars to researchers and practitioners.
Rosalyn Bocker Parks, PhD, is a Research Associate at the Rutgers University Police Institute.