Benjamin "Bugsy" Siegel: The Gangster, the Flamingo, and the Making of Modern Las Vegas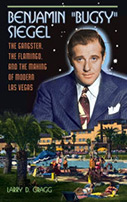 Author: Larry D. Gragg
Publisher: Santa Barbara, CA: Praeger, 2015. 200p.
Reviewer: Jay Albanese | January 2016
Benjamin "Bugsy" Siegel was murdered in 1947 at the age of 41 in a hail of bullets coming through the front window of his home in Beverly Hills. That crime has never been solved. This book traces Siegel's life from his early days in New York City, as the child of new immigrant parents, to his building of The Flamingo, which changed the nature of Las Vegas as a destination location to this day.
The subjects of Benjamin Siegel, the American mafia, girlfriend Virginia Hill, the Jewish immigration experience, and the history of Las Vegas each have been captured before in books and articles; but this book, written by an historian, combines them all in an effort to explain his rise and early demise. Even those knowledgeable about organized crime in the early 20th century will learn new facts in this highly readable treatment of Siegel's life and times in New York, Los Angeles, and Las Vegas.
Ben Siegel was handsome and always well dressed. Unlike most others associated with organized crime, he did not mind having his picture taken. These striking parallels to mob boss John Gotti of the late 1980s and early 1990s may have resulted in his targeting and equally short tenure as an organized crime figure. In Gotti's case, it was life imprisonment after a leadership period that lasted only a few years. In Siegel's case, it was an early death at the hands of an unknown assailant.
Like Gotti and other documented mob leaders in the history of organized crime, Siegel had a very short temper, which made others fear him; and this contributed to his ascendancy. He rejected his immigrant parents' approach to hard work and sought ways to make money quickly, unlike his brother who became a physician.
Siegel was born on the Lower East Side of Manhattan in 1906, and lived in New York for 35 years. His parents had arrived in the U.S. three years before his birth, as part of a wave of Eastern European immigrants fleeing starvation and conflict. They worked in clothing manufacturing which was dominated by sweat shop labor at that time. Ben began work at age 11 to contribute to the family's finances.
In a well-documented description, Larry Gragg explains how for Ben "the most appealing part of urban life was street gangs" (p.4). Irish, Italian, and Jewish gangs defended their ethnic neighborhoods in working class New York. Gangs offered a more expedient route to money than did lawful employment, and the most common crime was robbery. It was very early that Siegel met Meyer Lansky, and they became life-long friends. Lansky found Siegel's aggressiveness and willingness to intimidate a useful characteristic in their gang activity. Lansky said that "everybody said he was crazy as a bedbug," resulting in Siegel's nickname "Bugsy," which Siegel hated — although it followed him for his entire life (p.5).
The author traces events of the early 20th century to illustrate how local street gangs evolved into powerful organized crime groups. The primary influence, of course, was Prohibition in 1920, which outlawed the sale of liquor, but left unmet a large public demand that entrepreneurs (now made criminals) were eager to fulfill. Local gang ambitions became larger, as the need to organize to import and distribute liquor, while corrupting officials and controlling rival gangs, became more important. Gangster Frank Costello hired Ben as a guard "because he knew the man was fearless" (p.8).
Labor racketeering in the garment industry became another source of income for the gangs, as was gambling; and it is not surprising (although usually unsubstantiated as the author notes) that violent events and murders were often attributed to Ben Siegel due to his well-known short temper and propensity toward violence. Siegel's notoriety was highlighted in a New York Times article in 1939, which named him as one of the "Big Six" involved in New York gangs (a list that also included Meyer Lansky, Lepke Buchalter, Gurrah Shapiro, Lucky Luciano, and Joe Adonis). By 1940, a Los Angeles Times article called him "one of the three most dangerous gangsters in the United States" (p.13).
Gragg correctly notes how earlier versions of the mob bosses Maranzano and Masseria's dispute in 1931, as being the genesis of a hierarchical Cosa Nostra, are overblown. He explains, using multiple sources, that organized crime groups ran their own enterprises and met only when there was conflict between groups.  Part of the reason for the public's growing fascination with organized crime during this period was the way the gangsters looked. The author explains that Al Capone, Lucky Luciano, and Ben Siegel attempted to validate their financial success through their clothing, so photos always pictured them in expensive suits and hats.
Unlike many others at that time, Benjamin Siegel enjoyed travel and made frequent trips, especially to Southern California, where he moved for good in the 1930s. They were many opportunities to make money there in the traditional vices, as well as part ownership in racetracks, a dog track, and legal off-shore gambling ships. Although Siegel made a lot of money, he was also a big spender on his own personal gambling, his house, wardrobe, and girlfriend. Ben enjoyed being seen with Hollywood celebrities, including actor George Raft, who became a good friend (and who was most notable for his leading role in the 1932 original version of Scarface).
Siegel's high level of visibility contributed to his remaining a target of law enforcement. Siegel was widely seen as a mobster, although he was not then connected to current criminal activity. When his two girls were asked what he did for a living, they said he had "retired" (p.44).
He was arrested in 1940 for the murder of gangster Harry Greenberg the previous year. There was a "media circus" for several weeks after his arrest, characterizing him as a "Hollywood Playboy," among other things, because his "lifestyle and persona set him apart from all others" (p. 54). The charges against him were ultimately dismissed, but he was arrested again within the year on charges that he was among those who harbored fugitive Lepke Buchalter. But in a case of criminals testifying against one another, Siegel was acquitted. These acquittals contributed to Ben Siegel's public persona, and predated more sophisticated law enforcement efforts against organized crime in the next generation.
In 1941, Siegel turned his attention to Las Vegas, which was at that time a boom frontier town, where gambling was legal and marriages easy to make and dissolve. Early Las Vegas lived off the business from nearby Army installations, Boulder Dam security personnel, and magnesium manufacturing.
Nevada was also the only state at that time to legalize off-track betting. The race wire service reported on racetrack conditions, jockeys, and race outcomes to bookies around the country, enabling them to take bets. This became a profitable gambling enterprise because bets could be taken all day, whereas casinos operated primarily at night. Siegel worked hard to obtain a controlling portion of the race book in Las Vegas, and it was legal income. He also worked to organize the bookies in Southern California and Arizona.
Siegel's affair with Virginia Hill began during this period, and it was a stormy relationship. She was a beautiful woman who had three failed marriages and numerous previous affairs, and she like to talk to the press. He showered her with money and gifts; they had "great passion and frequent conflict, laced with expletives," (p.85) but the relationship lasted until the end of his life.
Siegel's involvement in building The Flamingo in Las Vegas is said by the author to be the execution of an idea originally put forth by Billy Wilkerson, a Southern California entertainment businessman. Wilkerson was a compulsive gambler, however, and was never able to get the idea of a luxury resort hotel-casino off the ground—a casino vision which did not yet exist in Las Vegas. Benjamin Siegel is the person who shared his idea. It was a revolutionary idea, because at that time the notion of casinos in Las Vegas more closely resembled large saloons, rather than resort destinations. The vision to make a casino-hotel into a luxurious resort with top-flight entertainment and food had not yet been realized.
Of course, building a luxury resort was a very expensive undertaking, and Siegel spent several years trying to get it done — having problems with local permits, the availability of construction materials, fundraising, loans, negative publicity, budget overruns, and behind-the-scenes obstruction efforts by J. Edgar Hoover. When The Flamingo finally opened in December 1946, "all the accounts of the three opening nights were filled with superlatives" (p. 11). As one columnist said at the time, it looked "like a set that MGM wanted to build but couldn't because of budget limitations" (p. 118). The opening of The Flamingo completely changed Las Vegas, because the other casinos now had to upgrade their properties and also sign top entertainment in order to maintain their share of customers.
The Flamingo did not make money at first, because of the large number of loans taken (some from East Coast gangsters), and the costs of construction, the cost of nationally-known entertainers, and the uncollected gambling debts that some customers incurred at the casino. It took time, and professional managers, to turn it into a profitable enterprise over the long term. Indeed, The Flamingo still exists today, although as a very different place.
It was June 21, 1947 when Ben, Virginia Hill, and a few others went back to his home in Beverly Hills for a short visit. He did not take bodyguards with him because there was no known threat to him there. Without warning, a shooter from outside the house fired nine rounds, four of which hit Siegel, one of which went through his eye. There are multiple theories about the murderer and motivation, but Gragg concludes "there is simply too little available evidence to be confident in any of the explanations for Ben's murder" (p.140). It may seem surprising that his murder remains unsolved nearly 70 years later, and even more surprising that researchers have not been granted access to the investigation files of the Beverly Hills Police Department, because it is still considered an open case.
For popular culture aficionados, the author notes that Benjamin Siegel was the basis for a short-lived character, Moe Green, in the movie The Godfather. Moe Green was killed in the movie in the same way Ben Siegel was killed in real life. A number of films have been made about Siegel; the most notable was Bugsy in 1991, starring Warren Beatty. The HBO series about Atlantic City, Boardwalk Empire, also included Siegel as a character. None of these movies was truly biographical, but each captured different aspects of Siegel's personality.
Las Vegas, whose casino-hotels are now owned by large multinational corporations, sought for many years to minimize the role of organized crime figures in the city's early development. However, Oscar Goodman, a former mob lawyer who became mayor of Las Vegas, helped to establish a major Mob Museum there to "stand as a frank acknowledgement of the major role mobsters played in developing Las Vegas" (p.144)
Larry Gragg's narrative is well-constructed, and he provides interesting perspective in separating history from fiction in the life of Benjamin Siegel. And, as he notes, Benjamin Siegel saw The Flamingo, not as way to generate illicit income, but instead "as a way to leave the underworld, or at least to achieve respectability" (p. 146).

Jay S. Albanese,
Professor,
Virginia Commonwealth University,
Wilder School of Government & Public Affairs