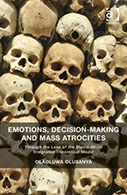 Emotions, Decision-Making and Mass Atrocities: Through the Lens of the Macro-Micro Integrated Theoretical Model
Author: Olaoluwa Olusanya
Publisher: Farnham, Surrey, UK; Burlington, VT: Ashgate, 2014. 143p.
Reviewer: Jonathan Leader Maynard | May 2015
Olaoluwa Olusanya's Emotions, Decision-Making and Mass Atrocities: Through the Lens of the Macro-Micro Integrated Theoretical Model delves into the differences and similarities in reason versus emotion in motivating and explaining human behaviour. Olusanya applies a theoretical model that integrates reason and emotion, among other elements, to the study of mass atrocities in Africa. Reviewer Jonathan Leader Maynard applauds this effort as a way of bringing criminology into the interdisciplinary field of genocide studies. Maynard calls this book "a hugely efficient and intellectual engaging integration of a vast body of research on the psychological mechanisms and criminal dynamics that exert an influence on the perpetrators of killing."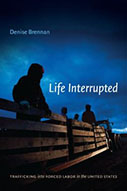 Life Interrupted: Trafficking into Forced Labor in the United States
Author: Denise Brennan
Publisher: Durham, NC; Duke University Press Books, 2014. 304p.
Reviewer: Kimberly M. Pitts | May 2015
Life Interrupted: Trafficking into Forced Labor in the United States by Denise Brennan
offers yet another take on this increasingly high profile issue – one that has political and economic, as well as social ramifications. Brennan touches on and examines a broad range of concerns within these ramifications. And, she does not seek to avoid controversy, according to our reviewer Kimberly Pitts. For example, on one of the most hotly disputed characterizations of sex trafficking, Pitts describes a Brennan argument as follows: "Equating prostitution with trafficking and sexual slavery, the George W. Bush administration worked with the unlikely partnership of religious and feminists groups to eradicate sex sector exploitation, but in the process further marginalized and endangered the lives of sex workers while ignoring workers in forced labor." The review says this book should appeal to a wide audience.
Sick Justice: Inside the American Gulag
Author: Ivan G. Goldman
Publisher: Washington, DC: Potomac Books, 2013. 256p.
Reviewer: Michael Welch | May 2015
Michael Welch describes Sick Justice: Inside the American Gulag by Ivan Goldman as taking the reader on a road trip through the American criminal justice system, including the police, the courts, and the prisons. It is, Welch says, "no joy ride, to be sure." This book is another hard look at the consequences, and the residue, of America's love affair with mass incarceration. Among the factors accounting for the millions in jails and prisons, according to Goldman, are simply apathy and indifference -- factors that undermine the country's supposed commitment to fairness and justice.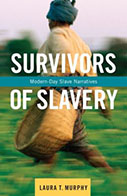 Survivors of Slavery: Modern-Day Slave Narratives
Author: Laura T. Murphy
Publisher: New York: Columbia University Press, 2014. 344p.
Reviewer: Anne Johnston | May 2015
As attention and concern about human trafficking has mounted across the globe over the past 20 years, a number of controversies and disputes have arisen. Among them are defining just who are the victims of this trafficking. Specifically among the girls and women who are involved, their labels have ranged from prostitute, to sex worker, to sex trafficking victim, to slave (and particularly sex slave). Laura Murphy takes up this general issue in Survivors of Slavery: Modern-Day Slave Narratives, reviewed here by Anne Johnston. Murphy points to a need for precision in defining and reporting, and also for depoliticizing the issue. Murphy and reviewer Johnston agree that "if we are to increase the accuracy and precision in the reporting of trafficking or slavery, we must include the voices of those most directly affected by trafficking or slavery -- the survivors."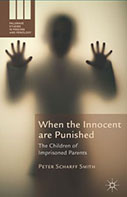 When the Innocent are Punished: The Children of Imprisoned Parents
Author: Peter Scharff Smith
Publisher: Basingstoke, UK; New York: Palgrave Macmillan, 2014. 312p.
Reviewer: Kristin Turney | May 2015
The relatively recent interest in the negative effects of the long standing U.S. policy of mass incarceration has not attended much to one broad category of affected persons -- namely the children of those who are locked up. When the Innocent are Punished: The Children of Imprisoned Parents by Peter Smith addresses this important issue. Our reviewer Kristin Turney calls the book "a compelling account of the processes through which parental imprisonment is consequential for children." Not surprisingly, the consequences are, in sum, not very good!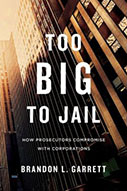 Too Big To Jail: How Prosecutors Compromise with Corporations
Author: Brandon L. Garrett
Publisher: Cambridge, MA: Harvard University Press, 2014. 384 p.
Reviewer: Miriam H. Baer | May 2015
Are federal prosecutors in the U.S. too soft on corporate crime? Is there a double standard that applies to those who perpetrate crime "in the
suites" versus those who commit "crime on the streets"? In his new book, Too Big to Jail , Brandon Garrett examines what underlies this apparent underenforcement of criminal law vis-à-vis American corporations and business executives. Our reviewer, Miriam Baer, finds Garrett's treatment both "user-friendly" and one that "merit[s] serious thought and engagement."
More Full Length Reviews for May can be found here.