Big Apple Gangsters: The Rise and Decline of the Mob in New York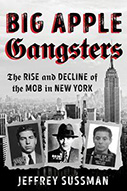 Author: Jeffrey Sussman
Publisher: Roman & Littlefield, 2020. 213 pages
Reviewer: Jay Albanese ǀ November 2021
This book's introduction provides interesting background to the author's motivation for writing it. Jeffrey Sussman was raised in New York City, and a guest at his Bar Mitzvah handed him a $100 bill, the first one he had ever seen. His father explained that Uncle Irving had been a bootlegger in competition with another one named Dutch Schultz. Uncle Irving had become wealthy from his bootlegging during Prohibition, together with his partner Abner "Longy" Zwillman from New Jersey.
The author recounts several other incidents from his early life experiences, when his father interacted with gangsters who threatened him and his dress manufacturing company. These, and other personal life events, led the author to "decide to investigate the lives of the most notorious gangsters of the Big Apple" (p. xvi).
The author is a writer of numerous nonfiction books and articles, many of them about boxing. This book is arranged according to the individual gangsters he describes. Some subjects are not mentioned in the chapter titles, so the reader must read the chapters to determine the topics. For example, Chapter 1 is "The Master," recounting the criminally active life of Arnold Rothstein. Chapter 2 is about Bugsy Siegel, and so on, with individual chapters that follow describing: Meyer Lansky, Frank Costello, Lucky Luciano, Dutch Schultz, Louis Buchalter, Albert Anastasia, Vito Genovese, Carlo Gambino, Paul Castellano, John Gotti, Sammy Gravano, Vincent Gigante, Joey Gallo, several Black gangsters (Stephanie St. Clair, Ellsworth Johnson, Nicky Barnes), Gregory Scarpa, several corrupt mafia cops (Louis Eppolito and Stephen Caracappa), and a final chapter on the racketeering law (RICO) and the Mafia Commission trial of the 1980s.
The book has an introduction and 19 chapters, all them exactly 10 pages in length. It is written for a general audience, and as such is lightly referenced, and mostly relies on news accounts and documentary sources, including interviews with retired NYPD detectives and former prosecutors. A reference list or table summarizing the lives, dates, and positions of the book's gangster subjects would have been a useful addition.
Nearly all the book's individual chapters have been the subject of full-length books by others, some of them written by the gangsters themselves. The reader will be able to think of other New York mobsters who could have been included, as well as those of other ethnicities and nationalities who played a major role in the history of organized crime in New York.
Nevertheless, this book provides an easily readable overview of the lives of major organized crime figures and, although contemporary events and personalities are not included, a general historical overview. Some of the book's claims about specific relationships, events, and operations have been the subject of serious research inquiries– some of which came to different conclusions than Sussman. However, this book is an easy read and covers a lot of the 20th century history of organized crime figures in New York, as this is revealed through short biographical accounts.
Jay Albanese, PhD., is a professor at Virginia Commonwealth University, Wilder School of Government & Public Affairs