Butch Cassidy: The True Story Of An American Outlaw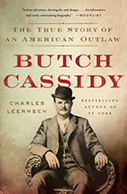 Author: Charles Leerhsen
Publisher: New York, N.Y.: Simon & Schuster, 2020. 304 p.
Reviewer: Mark W. Podvia │ August 2021
The man who is today remembered as Butch Cassidy, one of the best-known outlaws of the Old West, was born on April 13, 1866, in Beaver, Utah. His given name was Robert LeRoy Parker. His family was Mormon, a faith not usually associated with cattle rustling, horse theft, and committing bank and train robberies. Butch Cassidy went on to do all of those things.
In 1881, Parker went to work at a ranch owned by brothers James and Joseph Marshall. While there he began rustling cattle and stealing horses. In 1889, he took part in his first bank robbery. It was after that robbery that he began using the alias "Butch Cassidy."
From approximately 1896 until his departure for South America in 1901, Butch Cassidy headed the "Wild Bunch," a group of outlaws that included such men as Elzy Lay, Harvey "Kid Curry" Logan and Ben "the Tall Texan" Kilpatrick. This was not an all-male group; women, such as Laura "Thorny Rose" Bullion, would accompany the Wild Bunch and hold the horses while a robbery was underway. She was the last member of the gang to die, passing away in 1961.
Membership in the gang was very ad hoc, with robbers constantly coming and going. The Wild Bunch covered a wide area, robbing banks in such places as Montpelier, Idaho, Telluride, Colorado, Castle Gate, Utah, and Winnemucca, Nevada, and holding up trains near Wilcox and Tipton, Wyoming. Cassidy would post fresh horses along the escape route to ensure a safe getaway, and the gang would often hide out in isolated Robbers Roost in southern Utah.
Cassidy is usually paired with Wild Bunch member Harry Alonzo "the Sundance Kid" Longabaugh, a Pennsylvanian from the canal town of Mont Claire. However, their first recorded meeting was not until 1896 when they attended an "Outlaw's Thanksgiving," although their paths might have crossed before then.
Butch Cassidy was certainly not a bloodthirsty killer such as Billy the Kid or Jesse James. With one known exception, he never killed a man during a robbery. The author writes that Cassidy "was rather the kind of teetotaling Goody Two-shoes who might have helped Lord Baden-Powell found the Boy Scouts if he wasn't so darn busy robbing trains and banks." Members of the Wild Bunch were ordered by Cassidy that they were to rob railroads and banks, not individuals who were simply riding the trains or making bank deposits.
In 1900, recognizing that the outlaw era was coming to an end and knowing that Pinkerton Agency detectives were on their tail, Cassidy and Sundance decided that it would be wise to leave the United States. After robbing one last bank, Butch, Sundance, and Sundance's wife, Ethel Place, set sail for Buenos Aires. It was in South America that Butch and Sundance were most probably killed in a gunfight with Bolivian soldiers in 1908.
Many people know of Butch Cassidy from the 1969 movie Butch Cassidy and the Sundance Kid, a film that stared Paul Newman as Butch Cassidy and Robert Redford as the Sundance Kid. Leerhsen notes that while the movie certainly captured Cassidy and Sundance in spirit, it was not an accurate depiction of their lives. Likewise, Leerhsen does not hesitate to point out inaccuracies he found in other books about Cassidy.
The author did an excellent job researching this book. He spent a great deal of time consulting library materials. He also conducted numerous interviews and visited many of the places connected with Butch Cassidy. This included two research trips to South America.
Butch Cassidy: The True Story of an American Outlaw, is a worthy successor to Leerhsen's 2015 bestselling biography of Ty Cobb, a baseball great known for his many years with the Detroit Tigers, Ty Cobb: A Terrible Beauty. Anyone with an interest in the Old West will enjoy reading this book.