Chronicles Of A Radical Criminologist: Working The Margins Of Law, Power, And Justice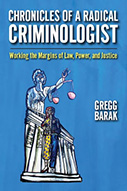 Author: Gregg Barak
Publisher: New Brunswick, NJ: Rutgers University Press. 288p.
Reviewer: Victoria E. Collins | May 2021
In Chronicles of a Radical Criminologist: Working the Margins of Law, Power, and Justice, Gregg Barak provides an introspective account of a rich and fruitful career, reflecting on not only his scholarly accomplishments, but also his ventures into politics, activism, news-making, and university academic administration. Barak employs a conversational style that provides an intimate account of many trials and challenges that undoubtedly will resound with many academics who read it. Yet, undergirding these experiences, is a resilient and enduring emphasis on the importance of equality, truth, and justice, something that Barak not only encapsulates in his scholarship but in his personal and professional life – he truly walks the talk.
Following an introduction, the book is divided into three parts containing seven substantive chapters. Part I, titled Academic Freedom contains two chapters. The first follows Barak through his early years, including his undergraduate and graduate studies at the UC Berkeley School of Criminology. While the rise and fall of the Berkeley School is familiar to many and is often included in critical criminological graduate curricula across the country, this first-hand account of the socio-historical and political context that gave rise to radical criminology, as well as the intimate examination of the inner politics and university decision-making, reflects a depth of understanding that cannot be found elsewhere. This includes an overview of the demise of a school that had considerable impact not only on the advancement of the radical school, but on those who benefited from its training.
In Chapter 2, Barak details his early academic appointments at Edinboro State College, the University of Nevada, Las Vegas (UNLV), and the University of Maryland's European Division. While the first and last appointments are covered in brief, it is the second academic position at UNLV that is the central focus of the chapter. Having been the target of what he calls an unwarranted and politically motivated firing, Barak tackles the seemingly unjust behaviors of the university administrators, the motivations for their behavior, and the unfolding of the subsequent lawsuit he filed against them. By walking the reader through this experience in detail, the political alignments of the institution and its administrators are fully exposed — communicating how a misuse of power may be targeted and experienced by an individual and a community.
In Part II, Academic Activism, Barak offers three further chapters. The first "Doing Public Criminology" takes us from his years teaching in Europe, to his first administrative academic appointment  – a time-period that parallels the growth of criminal justice education in the United States. The account of this administrative experience in Aurora, Illinois, is complimented by a reiteration of the importance of criminological activism centering on a wealth of experiences that prioritize disseminating criminological knowledge off campus. Incorporating the philosophies of "bureaucratic insurgency" and "radical pragmatism" (p. 96), Barak demonstrates the importance of networks, activism, and community involvement through the recounting of experiences that culminate in his running for the Aurora City Council. This chapter ends with a more detailed examination of the foray into local politics, before briefly touching upon the important work of sitting on the board for a local domestic violence nonprofit and securing property to house women and children who were escaping abuse.
Chapter 4 tackles the topic of news-making criminology and tracks his time at Alabama State University (ASU). After addressing the larger political, social, and racial climate of living and working in Montgomery, Alabama in the 1980s, he emphasizes the important role of news-making criminology as a tool to address (mis)conceptions about crime and crime control. This chapter ends with an overview of the creation of a masters' degree program in criminology at ASU, before again reinforcing the importance of activism and criminology through an examination of the many local endeavors that inspired much of his scholarship during this time. Chapter 5 follows the author's move from Alabama to Michigan where he reflects on his time as a department chair at Eastern Michigan University (EMU), as well as on the politics of academic searches and his scholarly activities. Situating his academic administrative experiences within the forever shifting climate of higher education, Barak compares and contrasts his experiences at EMU with his other administrative positions. The chapter concludes with some reflections on his time chairing a taskforce on interdisciplinary education.
Part III titled Academic Praxis contains two chapters: Chapter 6, "Integrating Criminology" and Chapter 7, "Globalizing Criminology." The former builds on the importance of integrative approaches not only to his own work, but to the advancement of the field more broadly. By introducing the reader to four of his own textbooks, a variety of integrative approaches are offered including a revised version of his particular theory of violence and nonviolence – an approach originally introduced in his 2003 book Violence and Nonviolence: Pathways to Understanding. In Chapter 7, Barak provides an overview of much of his scholarly work spanning the 1990s to present day. Included are reflections on working with publishers as both an author and an editor of significant collections, as well as accounts of his travels around the world.
Throughout the book, the author weaves personal accounts with larger social, political, and economic happenings that cleverly relate individual experiences within their community contexts and more broadly within the US, and in the fields of criminology and criminal justice. Chronicles of a Radical Criminologist, therefore, is much more than a memoir. It is an interesting insight into academic life, career decisions and trajectories, and into university administration. It is interwoven with inspirational examples of civil activism and community engagement and packed with theoretical insight and important scholarly contributions. Barak truly relates scholarship to praxis and theorizing to action, and further reinforces this approach through the offering of personal and professional examples.
This book might more strongly resonate with those already immersed in the field (i.e., graduate students, early career academics and those who are more seasoned) as opposed to say, undergraduate students. But for anyone interested in the history of criminology and criminal justice, a career in criminology, praxis-orientated scholarship and/or teaching, I would recommend this as a must-read, and hope they get as much enjoyment out of reading it as I did.
Victoria E. Collins, Associate Professor, School of Justice Studies, Eastern Kentucky University