Communities And Crime: An Enduring American Challenge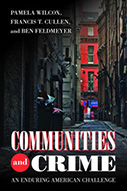 Authors: Pamela Wilcox, Francis T. Cullen, and Ben Feldmeyer
Publisher: Philadelphia: Temple University Press, 2018. 282p.
Reviewer: Lesli Blair | March 2018
Communities and Crime: An Enduring American Challenge is a much needed text in the criminology literature. It is a must read for anyone interested in the historical evolution of crime and place theories and perfect for a graduate course on communities and crime. Pamela Wilcox, Francis T. Cullen and Ben Feldmeyer provide a detailed explanation of the theories through an historical and personal lens. This book is easy to read with its chronological layout and interesting mix of theoretical explanations and personal details about the theories' authors.
The structure of Communities and Crime follows crime and place theories from the beginning of the 20th century until the present day. After an introductory chapter outlining the plan for the remaining chapters, the book begins with the origins of the Chicago School. This chapter brings to life the excitement of the beginnings of a theoretical journey. The authors use the historical context of Chicago in the early 1900s to explain how social disorganization theory came to be. The rest of the book follows crime and place theories somewhat chronologically, rooting each new chapter in its theories' historical context. Kornhauser's systemic model that breathed new life into social disorganization theory in 1978. The concentrated disadvantage and social isolation of urban neighborhoods in the late 1970s and 1980s. Broken windows theory that (mis)guided police work throughout the 1980s and 1990s. Collective efficacy theory that brought us into the new millennium and breathed new life into Kornhauser's systemic model. And the subcultural theories that weaved their way throughout the history of crime and place research. A chapter titled Community as Criminal Opportunity chronicles the histories of routine activities theory, crime prevention through environmental design, offender search and rational choice theories, and the multilevel research of crime at places. Although this is a lot to cover in one chapter, it is written clearly and interestingly so as to be accessible to even those unfamiliar with criminological theory. Communities and Crime ends with a look forward at the challenges that still face researchers. How should we define a "community"? Is crime truly pervasive and enduring in the inner city? Do Black, White and Latino neighborhoods differ when applying our "race-neutral theories"? And will our theories of communities and crime hold up when examined outside the traditionally-researched urban areas? Wilcox, Cullen and Feldmeyer review new research in these areas and suggest ways we can further our understanding of crime in all communities.
In addition to historical context, the authors include personal details about the theories' authors. It is interesting to learn how and when Robert Park met Ernest Burgess, not to mention the scandalous detail of why we don't often hear about W. I. Thomas's early contributions to the Chicago School. Communities and Crime elucidates the fact that serendipity is often what has led to criminological breakthroughs. Such as the fact that Cohen, Felson and Land were all young faculty members at the University of Illinois in the 1970s when a federal-grant-funded examination of crime trends led to the theory that Americans' changing "routine activities" throughout the 1960s and '70s created new "opportunity structures" for criminals. These personal details add a human feel to our understanding of these theories.
Communities and Crime: An Enduring American Challenge provides something for everyone from the layperson to the advanced scholar. The authors explain the theories thoroughly, while also adding interesting historical and personal information about the theorists. Even if you have extensive knowledge about criminology, you will learn something new from this book. And yet it is easily understandable for students just starting out. Wilcox, Cullen and Feldmeyer have written a book packed full of information that reads more like a novel.
Lesli Blair, Ph.D., Assistant Professor, School of Law Enforcement and Criminal Justice, Metropolitan State University