Crime, Media And Reality: Examining Mixed Messages About Crime And Justice In Popular Media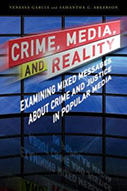 Authors: Venessa Garcia and Samantha G. Arkerson
Publisher: Lanham, MD: Rowman and Littlefield, 2018. 173p.
Reviewer: Heather Anderson | October 2018
Crime, Media and Reality highlights the blurred line between news and entertainment, and the influence this has on our capacity to understand the realities of crime. It does so by examining the social constructs of law and order as portrayed in the media. Authors Garcia and Arkerson use framing analysis and cultivation theory to walk the reader through crime representations in three media genres (news, movies and television series') and focus on the narratives constructed around police, courts and prisons. There is good reason to conduct such an analysis – the majority of society is not directly in contact with these mechanisms of crime and justice, and for most, understandings of how such systems operate come from media representations. Furthermore, most people's knowledge of crime comes from a symbolic reality made up of events, facts and beliefs that one has never directly experienced. As such, Garcia and Arkerson argue, the media's social constructs of crime and justice "guide our ideologies on how crime should be dealt with" (p.133).
It should be noted that Crime, Media and Reality focuses exclusively on the United States experience. It also employs a narrow definition of media, claiming "media organisations are focused on not only sharing the world … but on making money" (p.5). While media consolidation has "changed the face of reporting" (p.5), there are also not-for-profit media outlets that do not fit neatly with the corporate model. Take, for example, National Public Radio which is cited by the authors as a resource. It would be more accurate to describe the analysis presented by Garcia and Arkerson as one of mainstream media in the United State. This is an understandable focus of research, given the prevalence of "for-profit" media in American society, however, from a media studies perspective it is too simplistic an approach to ignore the existence of a more diverse mediascape.
Unfortunately, there are also flaws in the research methods that support Garcia and Arkerson's main arguments. The original research outlined in 'Chapter Four: Crime in the Movies' presents an analysis of primary and secondary framing of the Top Ten U.S. Grossing Crime Films of 2000 to 2015, to examine how these films present both how and why crime occurs. Disappointingly, this method is not applied to the other media genres discussed in the book. As a result, there are few opportunities for the reader to clearly compare fictional with non-fictional media representations.
Garcia and Arkerson draw on some excellent scholarly references to discuss media representation of crime and justice, however, the authors' own backgrounds are in criminology and early childhood development. As such, the critique of the media itself is often less than convincing. This is not to say criminology and media studies don't align – the work of Ray Surette demonstrates brilliant synergy between the two disciplines. However, the original research on which Crime, Media and Reality is based, and the way in which it is presented, doesn't adhere to the rigorous conditions under which quality framing analysis should be conducted. As a media scholar, I feel this establishes a weak foundation on which to support one's central tenet. Any potentially compelling arguments regarding the blurred lines between reality and entertainment are unfortunately buried beneath a somewhat ad hoc collection of examples, ideas and theories that are not synthesized in a systematic way.
Dr. Heather Anderson, Senior Lecturer in Journalism, University of South Australia