Criminology and Public Theology: On Hope, Mercy and Restoration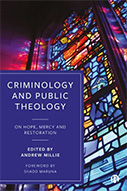 Author: Andrew Millie
Publisher: Bristol University Press, 2020. 342 pages.
Reviewer: Rick Sarre | December 2022
It is not uncommon today to witness criminologists exploring concepts, such as sin, punishment, stigma, hope, reconciliation, atonement, forgiveness, and love (especially in the context of restorative justice), that have been examined for generations by theologians. It is odd, then, that there has been very little interaction between the two disciplines, notwithstanding the many commonalities between them. Andrew Millie's book seeks to bridge this divide (at least in the Christian writings) and he does so with exceptional results.
I am not sure why it has taken so long for theological insights to be embraced by criminologists. Perhaps theological enquiries are perceived as dominated by scriptural fundamentalists pushing theories of supernatural causality, and suited more for the needs of those seeking assurances about a life beyond this one, than for those seeking to find meaning here and now. And, true, we live in (for the most part) secular, pluralist societies. But the dozen authors whom Professor Millie has included in this book move, laudably, to shake off these criticisms and, in doing so, present inclusionary alternatives to the exclusionary practices of contemporary criminal justice. In Millie's words (at p 14), "shifting focus from individualised punishment, pain and retribution to an emphasis on relationship centred on hope, mercy and restoration." As Jonathan Burnside writes (at p. 51) on the subject of sentencing, "[p]ublic theology has a role to play if we are not to be left merely with a programme of social exclusion and social engineering."
The book is dominated by theologians writing about criminology rather than the reverse, but criminologists would find enormous value in the topics pursued by the various authors. These topics include mercy, desire and the possibility of desistance (Richard Bourne), the call to repentance (Sir Anthony Bottoms), an examination of John Braithwaite's ideas around reintegrative shaming (Christopher Marshall), a theology for (and from) policing (Alistair McFadyen), and the responsibility of probation services to address the causes of much criminal behaviour: marginalisation and disenfranchisement (Lol Burke). Indeed, Professor Burke reminds readers that it is "no coincidence that prison reformers John Howard and Elizabeth Fry were closely associated with the Evangelical movement" (p. 196).
In Chapter 14, the editor returns to provide an overview of the themes presented. A great deal of the value provided by the various writers' theological ruminations and Biblical exegesis will have been lost on your average criminologist. That being likely, Professor Millie digests and re-assembles the ideas that emerge from the pages of the book and divides them into the following four themes: dignity, hope, mercy and restoration, which is very helpful to the reader. He concludes with the suggestion that criminologists should not necessarily be guided by religious faith (although some may choose that path), but by their faith in every person's potential. "We lead by example recognising that we are all offenders and hopeful that we can all turn our lives around – including those officially recognised as criminals, but also the institutions that constitute the criminal justice system and the rest of us as humanity." (p. 327, emphasis in the original) Professor Millie's summary is masterful.
My one criticism of the collection is that the contributors include only one woman, Joanna Shapland (who writes a superb chapter on the function of forgiveness in restorative justice), and only Christian perspectives are examined. There are many female theologians who are writing on the human condition and from a variety of faith journeys. I trust that in the next volume (which I would heartily encourage), there is a more diverse range of contributors with perspectives from Judaism, Islam and Hinduism, for example. There is little doubt that if there were to be greater understanding of the various religious antagonists, and the underpinnings of modern religious zealotry, we, as a global community, would be in a far better position to tackle these phenomena.
Aaron Pycroft sums up the task nicely when he champions the importance of recognising the theological foundations of contemporary criminal justice, and the value of seeing that connection "in both understanding the development of modern justice systems and creating new resources for practice" (p. 71). It is high time that criminological understandings in theological training and vice versa be encouraged in the academies.
Rick Sarre is an Emeritus Professor of Law and Criminal Justice at the University of South Australia Law School.