For the People: A Story of Justice and Power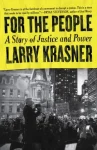 Author: Larry Krasner
Publisher: One World, 2021.  336 pages.
Reviewer: Carissa Hessick | March 2023
In his book, For the People: A Story of Justice and Power, Larry Krasner offers an unprecedented view into a campaign for district attorney.  Part memoir, part manifesto, For the People uses Krasner's 2017 campaign as a narrative arc to present not only the problems that led him to seek the office of prosecutor in Philadelphia, but also his new approach to that position.
The book opens with Krasner's announcement that he is seeking the office of district attorney in Philadelphia.  The announcement itself is very substantive—notable because, at the time, most DA elections did not turn on questions of policy.  Krasner does not simply recapitulate the substance of his first campaign speech.  He also provides a glimpse behind the proverbial curtain – speaking about his nerves, his family, and the motivations that led him to announce.
Krasner was an unlikely candidate.  A public-interest-motivated lawyer, he spent his career working to protect civil rights both by defending those accused of crimes and by representing plaintiffs suing law enforcement.  This track record is hardly the sort of resume for those seeking to direct a prosecutor's office.  Indeed, the head of Philadelphia's Fraternal Order of Police called Krasner's candidacy "hilarious."  And yet Krasner won the election.  What is more, he was reelected in 2021 by an overwhelming margin.
The autobiographical nature of For the People is not limited to recounting Krasner's campaign.  He also tells the reader about his childhood, his time in law school, his family, and his pre-campaign career.  The picture that emerges is of a person who lives up to his own principles.  He is the sort of person who slept outside with a client while interning for an organization that assisted the unhoused community. That is one of many stories illustrating Krasner not only helping disenfranchised communities, but also seeking to understand them.  By his account, Krasner may not have been a part of his clients' communities, but they felt that he could truly represent them.
The city of Philadelphia plays a starring role in the book.  Krasner recounts its history, in particular its history of police violence, to set the scene for the backdrop of his 2017 campaign.  It is a city with a racially diverse population, as well as a troubling history of racism and political cronyism that enabled that racism to thrive.  At the same time, the city is also home to a significant number of people disillusioned with the status quo. This includes both a well-organized Black community-based political movement, as well as more radical political movements that reject many social conventions.  These communities' voices had been largely absent from previous DA administrations, but they were central to Krasner's winning political coalition.
The book uses anecdotes about Philadelphia's history and Krasner's life to present important legal issues.  For example, Krasner highlights former Philadelphia mayor Frank Rizzo's use of crime as a political wedge issue to discuss how Philadelphia embraced harsh measures against juvenile defendants.  This narrative approach does not simply make the book more readable, but it also gives Krasner credibility as he talks about policy.  He tells the story of being violently attacked by two drug users outside of his law office and his treatment by the police in a chapter about victims.  In describing the fear that he experienced during the attack, Krasner makes the callous treatment he experienced at the hands of investigating police officers seem personal for the reader—and, as a consequence, the problem of how police treat civilians is more salient.
Presenting legal issues as part of a personal narrative, however, allows Krasner to duck certain policy questions.  Writing about the death penalty, for example, Krasner speaks eloquently about his service as a juror on a capital case after graduating from college.  He also tells stories about the cases in which he represented defendants facing a death penalty.  These cases taught Krasner "to question whether people involved in death penalty cases are perfect or imperfect, strong or frail."  But because this insight is presented as the culmination of his life experiences, Krasner gives very little information about how that insight affects his decision making as the elected official now charged with deciding whether to pursue the death penalty in Philadelphia.
As a general matter, because the book is written as a memoir about the months leading up to the election and the many years before Krasner decided to run, Krasner spends far more time illustrating the abuses of the system that he fought against than he spends explaining how he will change that system.  That is not to say that he gives readers no insight into his approach as the district attorney.  He spends some time explaining how he has taken a different approach to staffing the office—a decision that he illustrates by describing a transition meeting before taking office, as well as the swearing-in ceremony for the new group of prosecutors joining his office after he became the DA.  But at its core, this is a book about why the system needs to change and not a blueprint for how to change it.
Perhaps the biggest insight into Krasner's approach as DA comes in the chapter that reads like a defense of his decision to seek the office.  As someone who fought as an outsider, Krasner is acutely aware that the elected district attorney is the ultimate insider.  And he appears to believe that his decision to seek change from within the system requires justification.  He summarizes that justification in the phrase "do less harm."  A clever turn of phrase that plays on the motto of doctors ("do no harm"), it also acknowledges that the ultimately responsibility of a district attorney's office—prosecuting criminal cases—is itself a form of harm.  This concept is quite familiar to punishment theorists—most notably, adherents of Jeremy Bentham say that punishment is itself a form of harm.  But it is hardly the sort of thing that candidates for elected office tend to say.
The radical character of a promise to "do less harm" is clear only when juxtaposed with the platforms on which most DA candidates run.  Many candidates run on platforms of public safety or cracking down on crime.  In recent years, it has become more common to see candidates running on platforms of reform.  But when Krasner ran in 2017, the progressive prosecutor movement was still in its infancy; indeed, Krasner's improbable win helped raise the profile of the movement and inspire other would-be reformers to run.
Since Krasner's win, and since this book was initially published, the progressive prosecutor movement has seen some hardship.  Chesa Boudin, the high-profile progressive prosecutor in San Francisco, lost a recall election; Tampa's reform-oriented prosecutor, Andrew Warren, was suspended by Ron DeSantis, and Krasner himself has been the target of impeachment efforts by the Pennsylvania legislature.  While these developments were at least partially driven by political opportunism, they also occurred against the backdrop of an increase in crime and disorder in the wake of the covid epidemic.
In the past, DAs have responded to crime by ramping up punitive policies.  But progressive prosecutors, including Krasner, argue that the best way to address crime is through reinvesting resources "in the things that we know for certain actually do prevent crime: education, treatment, job training, and anti-poverty measures."  I am sympathetic to this approach.  Anyone who studies the criminal justice system quickly notices that poverty and social alienation are highly correlated with crime.  Locking up more people does not address the underlying conditions that appear to cause crime. And at least in some instances, sweeping more people into the system may actually increase their propensity to commit crimes.
The challenge for the progressive prosecutors' approach to crime is that district attorneys do not control local budgets or administer social services programs.  Chesa Boudin alluded to this in a pre-election interview in which he was asked about San Francisco's open-air drug market in the Tenderloin.  He responded:
We are prosecuting people the police arrest. It's not working because there is an insatiable demand for drugs from people who don't have housing, access to health care, access to employment and access to treatment that can help them reduce their dependence on dangerous drugs.
Krasner appears to find himself in a similarly unfair position.  As shootings in his city have spiked, he has called for the state legislature to enact more firearm regulations.  But district attorneys cannot change the laws regarding gun possession, nor can they redirect government spending to address poverty and addiction.  All prosecutors can do is ratchet the punitiveness of their offices up or down.  And when crime increases, refusal to ratchet up may be politically untenable.
Krasner is not oblivious to the challenges he and other reform prosecutors face.  And those challenges appear to have dampened some of his optimism.  The initial edition of this book, which was published in 2021, ended on a hopeful note; it described the swearing in ceremony of new assistant district attorneys as taking an "oath to seek justice—justice that includes everyone, that is as broad as society, that is for the people."  But the 2022 paperback edition includes an afterword which ends on a more ambivalent note; it says that democracy can be saved only if we listen to "broke, Black, brown, young, idealistic voters." The final sentence is a question: "Are we listening?"
Despite this less optimistic tone, Krasner is not ready to write the epitaph for the progressive prosecutor movement, or for himself.  And he may be right not to give up hope.  Progressive candidates won several high-profile DA races this year, and the Republican state lawmakers who have been trying to impeach Krasner in the Pennsylvania legislature lost a significant number of seats to Democratic candidates.  Neither of these developments suggests that a dramatic increase in social services spending is likely to occur in the immediate future.  But in the meantime, Krasner and his cohort will continue to do less harm.
Carissa Byrne Hessick is the Ransdell Distinguished Professor of Law at the University of North Carolina College of Law, where she also directs the Prosecutors and Politics Project.