Garden State Gangland: The Rise Of The Mob In New Jersey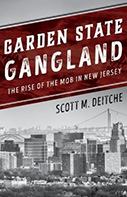 Author: Scott M. Deitche
Publisher: Lanham, MD: Rowman and Littlefield, 2018. 228p.
Reviewer: Frederick T. Martens | March 2018
In the interests of full disclosure at the outset, author Scott Deitche met with me on several occasions to discuss the findings of his research for this book. But these contacts have in no way affected my judgment in addressing the accuracy and credibility of the book. In fact, I find much of this book to be simply a recitation of news articles that have been written over the decades. But populated with story after story, and as much as Deitche has presented, it seems at least an equal amount of material has been ignored.
For example, in Bergen County, he points out that the chief of detectives in 1952 was arrested and charged with 'turning a blind eye to Mafia-run floating dice games". There is no mention however, of the county prosecutor, Walter Winne being indicted; the special prosecutor, Nelson Stamler being fired by the Attorney General for uncovering corruption in Bergen County (Jersey Parade, 1952); and the continuing corruption saga that has engulfed the Bergen County Prosecutor's office to this day (Rimbach, 2017). Placing this in an "on-going and perpetual" time-line would have brought greater clarity to the systemic nature of organized crime in Bergen County—one of the wealthiest counties in the United States.
In his discussion of the solid and hazardous waste industry, again Deitche fails to address some of the most significant prosecutions in the 1970's that enveloped the Genovese Crime Family, Tino Fuimara, and Carmine Franco (1989 NJ State Commission Report). Ignoring these prosecutions in many respects left a gaping hole in the on-going involvement of Cosa Nostra in this particular industry; this despite Deitche having been given practically unfettered access to the work of the NJ State Commission of Investigation.
While the author makes no attempt to present his findings as original research, nor does he claim that his book is the definitive guide to the mob in New Jersey, he does provide an extensive list of citations to support much of what he has uncovered. It is a treasure trove of valuable information for historians, political scientists, and criminologists who have an interest in understanding a culture of corruption. But a caution is in order. There is much more robust information and evidence available that would have added even greater context to what Deitche has uncovered.
The ethnic nature of organized crime is certainly not ignored by the author. He spends considerable time explaining the interaction between the Jewish and Italian mobsters; between people like the legendary Abner "Longy" Zwillman and Geraldo "Jerry" Catena, the latter one of the mobsters who attended the now infamous Apalachin, NY mob meeting in 1957. Zwillman and Catena entered into a number of legitimate business partnerships, the most lucrative and renowned being that of Bally's gambling empire, which is still thriving. According to Deitche: "Jerry Catena was the one who put the Bally gaming deal together…They [a consortium of gangsters and legitimate businessmen] bought the Bally factory out of foreclosure from the bank… They revolutionized the slot machine industry and had complete control over it."
What becomes readily evident in Deitche's writings is the degree to which Cosa Nostra is structured in a way that allows it to survive and thrive distinct from its criminal activities. Whether it be in the solid and chemical waste industries, video poker gambling, labor racketeering, or casino gambling, Cosa Nostra "…though significantly depleted, is still around in New Jersey…. for all the talk of the mob being dead, a vestige of the past…the traditional mob is still operating out there. There is a ton of money to be made off of illegal sports betting alone." For those criminologists who are reluctant to embrace the Donald Cressey (1969) model of criminal enterprise, Deitche provides another compelling argument for what the late Mark Haller alternatively labeled "criminal partnerships." Deitche clearly captures the fluidity that existed between and among Jewish and Italian gangsters and so-called "legitimate" businessmen, a la Haller (1990). This is an important contribution to the literature and one that can be mined and explored by enterprising criminologists and organizational theorists. These partnerships were ultimately supplanted, according to Deitche, by a takeover of the gambling operations by Catena's underlings and contemporaries. "After Longy died, the Jews no longer had a roof over their head…when they [referring to Longy's colleagues] came back to Jersey…they were told their numbers business was now in the hands of Jerry Catena, Tony Boy Boiardo, Gyp DeCarlo, and Tony Bananas Caponigro…once he [Longy] was gone, the Italians took over." This transition from the Jews to the Italians was what Francis Ianni contended was the ethnic succession process—a theory that has been challenged by a number of criminologists and sociologists.
What made the Cosa Nostra so different from all other criminal enterprises during its heyday was its involvement in sovereign insurgency movements around the globe. Venezuela, the Dominican Republic, and of course Cuba, demonstrated the role of Cosa Nostra and its linkages with the Central Intelligence Agency in confronting the spread of leftist regimes, particularly in Latin America. Deitche captures this unique characteristic—which was and continues to be the most distinguishing difference between Cosa Nostra and all other organized crime groups.
Another defining characteristic that Deitche zeroes in on is the fact that New Jersey, alone, hosted all the known Cosa Nostra families — all competing for a piece of the lucrative legal and illegal markets that were susceptible to mob influence and control. Using both violence and corruption to ensure market exclusivity, these "families" made any number of attempts, many of which were successful, to compromise law enforcement in Newark, Elizabeth, Atlantic City, Jersey City, and on the NJ/NY waterfront. An example of this recurring theme of violence and corruption is the author's discussion of then mob boss Sam DeCavalcante's payoffs to the Mayor of Elizabeth, New Jersey—Thomas Dunn. The public's knowledge of this seemed to have no effect on the political viability of Dunn. He was re-elected, not once but seven times.
While Deitch describes a state seemingly consumed with organized crime and corruption during the first half of the last century, it actually appears that not all that much has changed in the past 50 years. The alcohol or Prohibition wars were supplanted with the drug wars; the numbers and policy rackets with police-protected illegal video poker machines; Jewish racketeers were replaced by Hispanic gangsters; and Cosa Nostra is still dominating the landscape of organized crime. Garden State Gangland describes a cornucopia of corrupted businessmen, mobsters, unions, and politicians, many of whom have since passed away, but who nonetheless left a legacy that resulted in the state being labeled "the most corrupt in the country."
Deitche's analysis of New Jersey's proclivity to organized crime and corruption is, to this reviewer, refreshing. Given the state and local government's apathy and impotence that has affected the many institutions that were established in the late 60's to address organized crime and corruption, it is clear, as the author points out, that "there are still wise-guys and wannabes working scams, extorting businesses, running gambling, selling drugs, and branching out into white collar crime." He certainly demonstrates that underneath what may seem to be a veneer of respectability and sound governance lie a number of threats to this misleading facade. The history that Deitche has stitched together, unfortunately, represented and represents merely the "tip of an iceberg." I would hope that Deitche's historical accounting would be mandatory reading in every police academy, every institution of higher education, and for all those who want to enter public service, not only in New Jersey, but everywhere. It might awaken an ill-informed citizenry to a cancer that has seemingly become genetically woven into the body politic.
As a young trooper graduating from the New Jersey State Police Academy in 1967, I can now look back and only wish that I had been afforded a lesson or lessons on "Garden State Crime and Corruption." Living in what some (many) have called a cesspool of organized crime and corruption, lessons that addressed this for young and innocent troopers would at the very least, have prepared me and them for what their future held.
SOURCES CITED
Cressey, Donald R. Theft of A Nation: The Structure and Operations of Organized Crime in America. New York: Harper and Row. 1969.
Haller, Mark H. "Illegal Enterprise: A Theoretical and Historical Interpretation." Criminology. Vol. 28, #2, May 1990. PP. 207-236.
Jersey Parade. "Bergen Prosecutor W.G. Winne Indicted by Grand Jury." November 30, 1951.
New Jersey State Commission of Investigation, "A Report Relating to the Garbage Industry of New Jersey."  October 1969.
——————————————————–, "Solid Waste Regulation." April 1989.
Rimbach, Jean. "A Bizarre mob tale continues, with no end in sight." Bergen Record. December 28, 2017.
Frederick T. Martens is a retired New Jersey State Police Detective/Lieutenant. He has conducted investigations of organized crime and public corruption in New Jersey, New York, and Pennsylvania (where he was Executive Director of the Pennsylvania Crime Commission). A former president of the International Association for the Study of Organized Crime, Martens has studied and written extensively about organized crime.