Ghosts Of Sheridan Circle: How A Washington Assassination Brought Pinochet's Terror State To Justice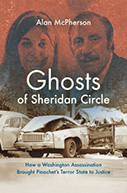 Author: Alan McPherson
Publisher: Chapel Hill, NC: University of North Carolina Press, 2019. 392p.
Reviewer: Steven S. Volk | May 2021
On September 21, 1976, Orlando Letelier and Ronni and Michael Moffitt set out for work at the Institute for Policy Studies in Washington, D.C. As his car rounded Sheridan Circle, in sight of the Chilean embassy, a massive bomb blew it apart, killing both Letelier (44), who was driving, and his front-seat companion, Ronni Moffitt (25). Moffitt's husband, Michael, in the back seat, survived. Letelier had served as Minister of Foreign Affairs, Interior (Attorney General), and Defense for Chile's President Salvador Allende; he had also been Allende's Ambassador to the United States. The day of the bloody military coup that ousted Allende in 1973, Letelier was arrested and spent the next year in various far-flung prison sites before being exiled and stripped of his citizenship by the Pinochet dictatorship. He moved to Washington in 1975.
Letelier's murder remains to this day the only assassination of a foreign diplomat on U.S. soil, and the only state-sponsored assassination ever to take place in the nation's capital. Earl Silbert, the U.S. attorney for the District of Columbia at the time, observed that "the assassination was an obvious terrorist act," but, he continued, one that "would be practically impossible to solve." I would amend his statement to note that, while the crime wasn't hard to solve, it would prove monstrously difficult to bring those responsible for the murders to justice. In the end, it would take more than 40 years before the instigators were found guilty, and even then, the intellectual author of the crime, General Augusto Pinochet, the dictator who replaced Allende and remained in power for 17 years, died before admitting his participation or having to face judge or jury. The CIA, in a 1978 memo only released in 2015, admitted that it knew that Pinochet had ordered the murders.
Letelier's assassination has been the subject of a number of books, including John Dinges and Saul Landau's excellent Assassination on Embassy Row (Pantheon Books, 1980) and Labyrinth (Penguin, 1982), co-authored by Taylor Branch and Eugene M. Propper, the Assistant U.S. Attorney in charge of the case. Here, McPherson leans heavily on these studies as well as news reporting from the time. But his study does provide important insights into the trials of those charged with the crimes, as well as carrying the cases up to the present day. He provides a minute, sometimes overwhelming dissection of the bombing, its immediate aftermath, and the attempts by the families of the victims, as well as countless others, to see justice done.
For all its notoriety, the bombing investigation did not get off to a good start, with FBI agents banging on the doors of Letelier's friends and associates, myself included, to suss out if we were somehow involved. Our answer to the agents' final question, "Do you know who might want to have harmed Letelier?" was likely the same: "Talk to General Pinochet," the man who famously would assert that "Not a leaf stirs in this country unless I move it." But it would be years before government investigators arrived at the conclusion which the CIA had already come to in 1978.
Letelier's murder needs to be put into a broader context than that offered by McPherson's book. Beginning with a military coup in Brazil in 1964, right-wing dictators rose to power in Bolivia, Chile, Uruguay, and Argentina; Paraguay had joined the club in 1954. While Latin America had known its fair share of military leaders, these dictators became enmeshed in a new brutality summed up by the phrase, "dirty wars." As birds of a feather, they also coordinated their violent measures to an extent unheard of previously. Orlando Letelier's murder was part of a number of assassinations (and attempts) carried out by the Chilean dictatorship under the auspices of "Operation Condor," as this joint repressive force became known. From 1975-1983, "Condor" was responsible for hundreds of murders staged in South America, Europe, and, with Letelier's assassination, the United States. Chile's secret olice/intelligence agency, DINA, led by Col. Manuel Contreras, "El Mamo," played an outsized role in Condor's founding and operations. As a Uruguayan present at its founding later disclosed, Contreras saw the organization as a means "to eliminate enemies all over the world…to eliminate people who were causing harm to our countries, people like Letelier." Condor plotted the murder of General Carlos Prats, the head of Chile's Army until three weeks before the coup, and his wife in Buenos Aires in 1974, and attempted to murder the Christian Democratic opposition leader, Bernardo Leighton, along with his wife, in Rome in 1975. To carry this out, Contreras and DINA, with the clear authorization and assent of Pinochet, rounded up a group of individuals who were willing to follow orders to "eliminate" those considered to be supporters of the left, or enemies of the Chilean leader.
In the case of Letelier, this included Michael Townley, a young, Iowa-born man, who lived in Chile with his family for a short time when he was in high school, and then returned to the country after Allende's election. At that point, he fell in with a right-wing terrorist group (Patria y Libertad), blowing up railroad tracks, disrupting government communications, and inadvertently causing the death of a homeless squatter. After the coup, the DINA found him an easy recruit. Once there, he coordinated the attempted murder of Leighton and, then, more successfully, plotted the execution of Letelier. Travelling to the U.S. with another DINA agent under false passports, Townley built and placed the bomb under Letelier's car. Besides Townley, the DINA worked with a group of anti-Castro Cuban exiles living in the United States — some of whom had previously attempted to launch a rocket across the East River into the United Nations. Cuban exiles, according to reports, set off over 200 bombs in Miami alone between 1974-76. If this international terror squad shared anything beyond their hatred of "Marxists" and a willingness to take orders, it was their connection to the CIA. The Agency maintained contact with "El Mamo" Contreras between 1974 and 1977, and had trained many of the Cuban exiles in the attempt to overthrow the Cuban government.
Facing an international cast of actors, including a sovereign government, those who were put in charge of prosecuting the murders of Letelier and Moffitt would not have an easy time of it. The FBI and the Department of Justice needed to coordinate with the State Department's offices in Santiago, Paraguay (where the false passports were provided to Townley and his Chilean accomplice, Armando Fernández), and elsewhere in Latin America. It took two years to identify Townley, who was back in Chile, but soon would be given up by the Chilean government under the assumption that by doing so they would both return to Washington's favor and remove themselves from further scrutiny in the investigation. Once back in the US, and charged with conspiracy, Townley soon agreed to plead to one count of conspiracy to murder a foreign official in return for a lighter sentence, protection from extradition to Chile (the first such exemption in U.S. history in which an extradition treaty was in operation), and witness protection. In August 1978, the U.S. government indicted three Chileans and five Cuban exiles in the conspiracy to kill Letelier, a case filed as The United States of America v. Manuel Contreras et al. A 1979 jury trial of the three Cuban exiles, Alvin Ross, and Guillermo and Ignacio Novo, the only individuals to be brought into custody, returned guilty verdicts. For his part, Townley would serve less than four years in a low-security prison near Denver, exiting in July 1983 with much of his life still ahead of him. He has lived in witness protection ever since.
Justice wouldn't catch up to Manuel Contreras for more than two decades, when, having fallen out with "his general," he was served an arrest warrant in 2005. By 2011, Contreras was facing over 300 years (and two life sentences) in jail. And yet, most of the time he served "behind bars" was in a five-star facility purposely built for convicted former military officers. There he enjoyed a pool, tennis courts, satellite television, and an internet connection. In a 2013 interview from confinement, he remarked that his guards were there "to hold his cane." He died in 2015. Of Pinochet, the intellectual author of Letelier's murder – Contreras once told a court, "El Presidente knew exactly what DINA and its director did or did not do." Pinochet died before facing the inside of a jail cell, sumptuous or not. In that sense, the subtitle to McPherson's study, How a Washington Assassination Brought Pinochet's Terror State to Justice, is more generous than it deserves.
The Letelier-Moffitt murders were devastating to their families and the democratic Chilean exile community. Isabel, his widow, reported that she and her four boys were together only once between 1976 and 1991, depriving them not only "of a father and husband but also of each other." But the historical impact of the assassinations, particularly in legal terms and when tied together with the prosecution of human rights abuses in Chile, suggests a much grander legacy, one not fully detailed by McPherson. Besides the criminal case, lawyers for the Letelier and Moffitt families brought the first wrongful death case against a foreign nation in the United States under the Foreign Sovereign Immunities Act, accusing the Pinochet government directly. The Chilean government was ordered to pay $4.95 million in damages to the two families in a November 1980 verdict. It was the first time a U.S. court provided a civil remedy for an act of international terrorism. By agreeing not to extradite Townley to Chile, Washington for the first time carved out an exception to a standing extradition treaty with another country; it was the first time charges were filed in the U.S. legal system against Cuban American terrorists, and the first conviction of a Chilean military man in U.S. courts. Since 1980, human rights lawyers have used the Alien Tort Statute of 1789, among others, to pursue foreign human rights violators.
In Chile, the Letelier assassination, which, because of its high profile, had been exempted from the blanket amnesty that Pinochet instituted, would provide the occasion for the first of his officers to go to prison. The assassination not only touched off a process whereby DINA would be disbanded, but, after many years of effort, it would open the door to more than 1,000 human rights cases launched against the Chilean officials. Thanks to the innovative brilliance of Chilean judge Juan Guzmán, Pinochet's amnesty law would crumble around him, and the general would find himself pursued until his death.
The case, according to Chile's former ambassador to the United States, Juan Gabriel Valdés, "produced an idea that human rights were…an area of international politics [and] not a matter to be taken lightly." That would be a comforting conclusion were it not for the last four years of U.S. policy, in which transactional politics replaced any, and perhaps all, concern for human rights both at home and abroad. But the Letelier case does remind us that there is sufficient room for maneuver within the U.S. and international legal systems for dedicated state actors, when pushed by committed citizens relentlessly devoted to the cause of justice, to succeed.
Steven S. Volk is a Professor of History Emeritus at Oberlin College and Co-Director of the Consortium for Teaching and Learning at the Great Lakes Colleges Association