Made Men: The Story Of Goodfellas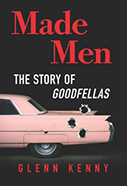 Author: Glenn Kenny
Publisher: Toronto: Hanover Square Press, 2020. 397p.
Reviewer: Jay Albanese | May 2021
This is a book about a movie, Goodfellas, which might be the best movie ever made about organized crime. The movie debuted in 1990, based on a 1985 book, Wiseguy, by Nicholas Pileggi, recounting the life of Henry Hill. The book appeared on the 30th anniversary of the movie's release.
Henry Hill grew up in New York City and was fascinated by the flashy cars, clothes, and jewelry, and how people deferred to local hoodlums out of respect or fear.  As his opening line states, "[a]s far back as I can remember, I always wanted to be a gangster." Starting with small errands, he worked his way into the mafia in New York, even though he could never be a full member because he was not Italian.
Director Martin Scorsese read Pileggi's book, and immediately expressed interest in making it into a movie. Pileggi and Scorsese met, and their similar backgrounds growing up in New York, also seeing what Henry Hill saw, made them eager to work together on a film version. They co-authored the screenplay, which tracked the events of the book closely.
Made Men is an encyclopedic treatment of the making of the movie. It involves interviews with nearly all the main players, including Pileggi, Scorsese, the actors, producers, editor, and others. The author of Made Men, Glenn Kenny, is a film critic who has written for a wide variety of publications. His knowledge of movies is expansive. Very few people have seen all the films mentioned in this book. Given the level of detail in the book, I suggest you watch Goodfellas again prior to reading it. It will help as you read the detailed summaries of the filming choices, locations, edits, actors, backgrounds and production. Goodfellas is one of those rare situations where the movie is as good as the book on which it is based.
What made Goodfellas a great film is its portrayal of mafia life from the point of view of an insider, who was also an outsider. Henry Hill (played by Ray Liotta) was very good at making money illicitly in all kinds of schemes, but all the while had to balance the many players in his life. There were his relationships among his cohorts (some of whom were unpredictable and violent—as played by Robert De Niro, Joe Pesci, and others), his relationship with his wife Karen (Lorraine Bracco), all while avoiding prosecution for his crimes. Another essential ingredient is that Henry Hill is a particularly interesting person. He was a born talker and ingratiated himself with people everywhere he went.
The level of detail in Made Men is remarkable. It includes 10 chapters plus an epilogue and postscript. It discusses at length the negotiations in obtaining the film rights, including interviews with all those involved in making the book a movie. A detailed summary of all Scorsese's films is provided, showing him to be, in 1989, a director of great promise, but one who many people weren't sure about given the uneven nature of his previous films. The casting of the film is described, and the longest chapter (more than 150 pages) goes through the entire movie, scene-by-scene, discussing how it was framed, details about the actors involved, and its shooting and editing. There are separate chapters about Scorsese's longtime film editor, Thelma Schoonmaker, the events occurring after the film was released, Henry Hill's life after the movie, and Scorsese's subsequent films. Another chapter is devoted to the songs used in the movie. There were a lot of them, with Scorsese showing his broad knowledge of popular music, lyrics, and a preference for the Rolling Stones. He used songs based on the date in which the scene took place in Henry Hill's life, and he chose only songs from that period or earlier to reflect what songs might actually be playing at that time and place.
Most remarkable is Kenny's exhaustive knowledge of the movie business, his interviews with many players in the film industry, including the actors, and his research into how some events surrounding the movie were later recalled differently by various players.
Given the large number of interviews conducted by the author, a number of little-known facts emerge.  For example, a studio executive suggested early on that Tom Cruise be cast in the role of Henry Hill with Madonna as his wife Karen. Robert De Niro's character, Jimmy Conway, was based on the actual person, Jimmy Burke. The only reason they changed his name (and others) in the movie was that Burke's daughter wanted $100,000 for the use of Burke's name – making the demand just prior to filming. A number of extras in the film were local Italian-Americans from the neighborhood, some of whom turned out to be active criminals or convicted felons. There was concern in one scene that involved throwing $2,000 in cash around that the extras would actually take it.
Made Man is a must read for anyone who likes movies directed by Martin Scorsese, fans of the book Wiseguy, and those interested in organized crime. The author discusses all Scorsese's films including his most recent, The Irishman. The book's epilogue is an interview with Scorsese in 2020.
Goodfellas has earned a cumulative worldwide gross of $47 million.  Joe Pesci received an Academy Award for Best Supporting Actor, and the film was nominated for Best Picture, Best Director (Scorsese), Best Adapted Screenplay (Pileggi and Scorsese), Best Editing (Schoonmaker), and Best Supporting Actress (Lorraine Bracco).
Jay Albanese, Wilder School of Government & Public Affairs, Virginia Commonwealth University