Media Representations of Police and Crime: Shaping the Police Television Drama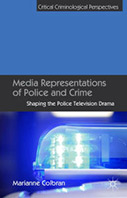 Author: Marianne Colbran
Publisher: Houndsmills, Basingstoke, Hampshire; New York: Palgrave Macmillan, 2014. 272p.
Reviewer: Frank Leishman | July 2015
The primary focus of this book is the long-running British TV cop show The Bill, which was broadcast on the commercial ITV network for more than a quarter of a century. Set in the fictional Sun Hill station of the London Metropolitan Police, The Bill, at the peak of its popularity, commanded audiences of over 15 million and, in the parlance of the industry, was a 'banker'. Dr. Colbran, a formerstaff writer for The Bill and thus uniquely placed to offer an informed insider as well as a critical criminologist's perspective, provides a fascinating analysis of how shifts in production processes and working practices precipitated fundamental changes in the identity of Britain's longest running TV police procedural.
The author utilises to good effect Du Gay et al's (1997) 'circuit of culture' model as her theoretical framework. This facilitates elucidation of critical moments in the interplay between production and other elements of the creative process, including regulation by the network of The Bill as a brand. Drawing on interviews with writers, production staff, police advisers and executives who worked on The Bill and on other more contemporary TV police shows, Colbran explores tensions between creative autonomy and cultural bureaucracy, and explains how changing market forces can influence the storytelling process and, ultimately, the format and content of police television drama.
In its early life, The Bill was all about the "small change of police work," the Sun Hill cops mainly shown as being engaged in mundane 'dirty work,' rather than frenetic crime-fighting. Between 1983 and 2001, The Bill''s ratings were secure, and there was limited network input into the creative process. As Colbran describes, during this phase, The Bill was an "ideas-led" show, reliant on freelance scriptwriters who observed and researched the police at first hand to generate authentic storylines. Enjoying an almost symbiotic relationship with the Metropolitan Police, through engagement with police contacts and access to locations for filming and use of police uniforms and equipment, The Bill presented an essentially positive 'cop-sided' portrayal of policing that, before the expansion of multi-channel broadcasting, worked for audiences, advertisers and the network.
Pressure to respond to industry changes and, in particular, to attract a younger audience, resulted in greater network regulation. The format transitioned from a series of one-off episodes to a longer-running serial, and between 2001 and 2010, small teams in The Bill "story-barn" were increasingly "writing by numbers," scouring other media sources including tabloid newspapers and edgier US cop shows like The Shield in an attempt to produce "character-led" stories that would get the ratings. By 2010, with viewing figures at an all-time low of 3 million and a brand identity that was by then more 'soap' than grounded police procedural, The Bill was retired, after twenty-seven years' service.
While there is an abundance of criminological studies of media representations of crime and policing, Marianne Colbran's book is the first of its kind to consider in depth the impact of social processes and changing commercial imperatives in shaping fictional representations of police and crime in television drama. It will be an invaluable resource to researchers and students and could well become an instructive case study for managers in the creative industries.
Reference
Du Gay, P. et al (1997) Doing Cultural Studies: The Story of the Sony Walkman, London: Sage.
Professor Frank Leishman is Dean of Human Sciences at Newman University, UK