Modern Bribery Law: Comparative Perspectives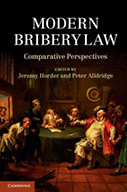 Editors: Jeremy Horder and Peter Alldridge
Publisher: Cambridge, UK; New York: Cambridge University Press, 2013. 381p.
Reviewer: Bruce Winfield Bean | September 2015
Mens Rea — Who Needs It?
Bribery and corruption have been with us for thousands of years, and we uniformly condemn it. Enforcement of the U.S. Foreign Corrupt Practices Act since 2006 has produced headlines and generated billion dollar penalties. Undeniably, however, efforts by one country to curtail bribery have achieved almost nothing else. The British have now joined the battle against corruption with passage of the U.K. Bribery Act 2010, which became effective in July 2011. Modern Bribery Law – Comparative Perspectives, provides an outstanding introduction to the U.K. Bribery Act and a useful comparative view of selected anti-bribery efforts elsewhere.
This volume's uniquely qualified editors, Peter Alldridge and Jeremy Horder, were each deeply involved in the ridiculously long 12-year process that ultimately produced the UK's first revamping of Britain's bribery law in almost a century. Professor Alldridge is Professor of Law at Queen Mary, University of London. Jeremy Horder, now Professor of Criminal Law at King's College London, served as Law Commissioner for England and Wales during the five years leading up to the final enactment of the Bribery Act.
Prepared by a broad spectrum of international authors, Modern Bribery Law examines 100 bribery cases from Canada, Hong Kong, Italy, Switzerland, the United Kingdom, the United States and the European Union. Helpful for many are the more than 100 statutes, Directives and Treaties included in this wide-ranging treatment of global anti-bribery and anti-corruption efforts.
The heart of the book, however, is the Bribery Act. A useful introduction to the treatment of bribery under this Act is featured in the chapter by Stuart Green. Professor Green contrasts the Bribery Act with the United States' approach, where domestic bribes are prosecuted under a multitude of state and federal domestic criminal laws, while the federal Foreign Corrupt Practices Act (FCPA) deals with bribes of foreign government officials. The FCPA, enacted in 1977, was the first law anywhere to criminalize overseas bribery of government officials. Following many years of lobbying by the United States and more years of negotiations, in December 1997 the Organization of Economic Cooperation and Development (OECD) successfully concluded the OECD Convention on Combating Bribery of Foreign Government Officials in International Business Transactions. By signing this Convention in 1997, the U.K. undertook to enact a law punishing such overseas bribery. More than twelve years later the Bribery Act became law.
The greater portion of Modern Bribery Law deals with theBribery Act itself. Indira Carr presents an overview of the recurring controversial suggestion that business bribery might actually enhance economic development in the less developed world. She then considers how the Bribery Act proposes, "in a subtle manner," to "hopefully" bring about "a noticeable shift in the way business is conducted, both at home and abroad, the net result of which will improve the quality of life for millions globally." Given the absence of any such shift during our decades of experience with the FCPA, I suspect Professor Carr's fond hopes will not quickly be realized.
The U.K. Serious Fraud Office (SFO) is the primary agency charged with enforcing the Bribery Act. The SFO was fully involved in the lengthy (1997-2010) legislative incubation of this act. Charles Monteith was the Head of Assurance at the SFO and "policy lead" in the years leading up to its ultimate adoption. In his insightful chapter, Monteith gives us a real world analysis of the issues the various UK enforcement agencies confront as they deal with the practical realities of seeking criminal convictions under the Bribery Act.
In his chapter Co-Editor Jeremy Horder criticizes the UK government approach to anti-corruption policy. He makes a strong case that if the goal is to discourage bribery, then an exclusively criminal law approach, with its extraordinary level of proof required for conviction, cannot possibly achieve what a combined regulatory plus criminal law policy would accomplish. Co-Editor Peter Alldridge considers current UK issues involving prosecution of crime. He describes the vexing problem for British jurisprudence of attempting to adopt something akin to U.S. practice with respect to plea bargains and our liberal use of deferred prosecution agreements (DPAs). After Modern Bribery Law went to press, the UK did adopt DPAs for corporate defendants.
Professor Bob Sullivan has written the most important single chapter for those seeking an introduction to the Bribery Act. He describes the operative provisions that criminalize both U.K. domestic and overseas bribery and elaborates on the two most contentious issues raised by the Bribery Act. The first of these, section 7, creates the strict liability corporate crime of "failing to prevent a bribe." Under this provision, such a bribe may be paid anywhere in the world. Furthermore, section 7 stipulates that the alleged bribe, which need not be prosecuted, is not required to be made by an officer or employee of the company, but may be made by anyone "associated" with the company (the FedEx driver?). I am among the many who have criticized this provision which creates criminal responsibility with no actus reus and no mens rea. Professor Sullivan politely describes this as a "broad innovatory offence," a crime for which unlimited penalties may be imposed.
Just as contentious is what Sullivan concludes is the Bribery Act's "unrestrained extraterritorial jurisdiction," rendering a Bribery Act offence one of "universal jurisdiction." International law has never recognized the possibility that a single sovereign can create a crime of universal jurisdiction. The prototypical crime of universal jurisdiction is piracy. The applicability of universal jurisdiction to piracy, that is, establishing that piracy is a crime against all humanity or erga omnes , arose gradually over centuries. While I concur that bribery and corruption should be deemed crimes erga omnes , the international community does not accept this. This principle cannot be established by Parliament declaring that the Bribery Act applies to any corporate organization, no matter where organized, if it does "part of a business" in the United Kingdom. I have elsewhere discussed this unconscionable aspect of the Bribery Act. The world awaits clarity on this draconian provision.
How and why did Britain, a nation that had never prosecuted overseas bribery (and had for decades allowed a tax deduction for such bribes – as had the U.S., Germany and others) suddenly leap to criminalize any overseas bribe by any company that does a part of its business in the UK? And why would Parliament conclude that, when a bribe is alleged to have been paid, the company on whose behalf it was said to have been paid is criminally responsible without any complicity whatsoever?
After lacking any enthusiasm for prosecuting foreign bribery for more than a century and following more than a decade of dithering and delay subsequent to the signing of the OECD Convention in 1997, the impetus to finally act arose from the combined impact of the "Rotten Parliament" scandal triggered by a series of articles written by The Daily Telegraph in 2009 and the BAE Systems plc AL Yamamah scandal. "Rotten Parliament" concerned the abuse of official Parliamentary expense accounts by hundreds of Members. The Al Yamamah affair refers to an investigation of Britain's largest defense contractor, BAE Systems plc, commenced by the SFO in 2004. BAE had, years earlier, entered into a series of contracts with the Kingdom of Saudi Arabia which the Financial Times has described as "the biggest sale ever, of anything, to anyone." The scandal involved allegations that perhaps $1,000,000,000 in bribes had been paid to a Saudi official. In a television interview, which went viral on YouTube, Prince Bandar bin Sultan responded to the bribery charges by saying "So what?" According to the British press, the Al Yamamah scandal implicated three successive British prime ministers. Whatever the reasons for Parliament's change of approach to overseas bribery, the Bribery Act was enacted and includes the "innovatory" section 7 provision, a crime without mens rea.
The authors of the final chapter of Modern Bribery Law are practitioners, Tim Daniel and James Maton. They provide a most valuable contribution to our understanding of grand corruption, the most pressing issue in international anti-corruption policy. Grand corruption involves both extortion of bribes from companies conducting, or seeking to conduct, business as well as the outright looting of national treasure by those at the highest level of government. The authors describe well known examples of grand corruption from The Philippines, Nigeria, Kenya and Indonesia. Neither the Bribery Act nor the FCPA addresses grand corruption in any way.
The most interesting aspect of the creation of the Bribery Act is not addressed in Modern Bribery Law. Both Peter Alldridge and Jeremy Horder were importantly involved in the drafting of the final version of this Act. As noted, Professor Horder was a Law Commissioner for England and Wales in the years immediately prior to the Act's enactment. The initial draft of the Act, introduced by the Law Commission for consideration by the Government in 2008, included section 7, but it was not then a strict liability crime. As proposed, the "failure to prevent a bribe" provision was limited in two ways. First, it applied only to companies "registered in England and Wales," a perfectly traditional jurisdictional nexus for a criminal law. Second, the Law Commission draft required that such a company be found negligent in its effort to prevent the bribe.
Prior to submitting the bill to Parliament in March 2009, the Minister of Justice deleted from the Law Commission's draft the requirement that section 7 apply solely to entities organized in England and Wales. This meant that any company, no matter where incorporated, that did a "part of a business" in the United Kingdom would be subject to the "failure to prevent" bribery offense for any bribe paid by any of its perhaps hundreds of thousands of employees, agents or "associated persons." As introduced to Parliament, however, the negligence element of this crime remained. During Parliamentary consideration of section 7, certain NGOs objected to the negligence requirement. In his capacity as the Law Commission's criminal law expert, Professor Horder testified on the elimination of the requirement to prove negligence. The Report of the Joint Committee of Parliament states: "Professor Horder… did not believe that it would be fair to convict a company for the criminal act of its employee or agent without requiring the prosecution to prove that the company itself was at fault. …. You can only fairly, in my view, connect a deliberate act of bribery by an employee, or agent of the company via the company's own fault…." Notwithstanding this cogent testimony, Parliament enacted a strict liability criminal offense with unprecedented extraterritorial jurisdiction and no trace of mens rea.
While the unrestrained territorial grasp of the Bribery Act is egregious, and in my view will ultimately fail, a more fundamental objection to the crime set out in section 7 is the total lack of an element of mens rea.
Peter Aldridge has written that section 7 establishes criminal responsibility despite a total lack of "knowledge, intention or recklessness" on the part of the company. He further characterizes section 7 as imposing "[l]iability without a conscious mental state" which leaves the Bribery Act vulnerable to an inevitable legal challenge as denying procedural due process under Article 6(2) of the European Charter of Human Rights and the UK's own Human Rights Act.
Actual enforcement of the Bribery Act by U.K. officials has been remarkably, and perhaps predictably, slow. Its fate and effectiveness, therefore, remain to be determined in the distant future.
Modern Bribery Law provides an easily comprehensible description of the Bribery Act as well as a view of anti-bribery efforts elsewhere. The uniquely qualified editors, Professors Horder and Alldridge, have done a masterful job, producing an invaluable contribution to anti-corruption literature.
—
Professor Bruce W. Bean, a graduate of Brown University and Columbia University Law School, clerked on the U.S. Court of Appeals for the Second Circuit, and then worked as a corporate lawyer for 30 years in New York City, Los Angeles and Moscow. His career includes work at Simpson Thacher, Patterson Belknap, Atlantic Richfield, and as Executive Vice President and General Counsel of a NYSE financial services company. Professor Bean worked in Russia from 1995 to 2003, first at Coudert Brothers and then as the Partner in Charge of Corporate and Foreign Direct Investment at Clifford Chance – Moscow.

Professor Bean has been at Michigan State University Law School for ten years, where he teaches Business Enterprises and Strategic International Transactions. He is Faculty Advisor to the Michigan State International law Review and coached the Jessup International Moot Court Team for more than five years. He is also Director of the MSU LL.M. Program for Foreign-Educated Lawyers. Professor Bean has also taught in Moscow and at Columbia University's Harriman Institute as well as in Poland, Lithuania and Dubai. Professor Bean has served as an expert witness in matters relating to Russian oligarchs before the London Court of International Arbitration and in the High Court in London and, most recently, as an Expert on Doing Business in Russia in a U.S. Tax Court case. He has written and spoken widely on Corporate Governance, Corruption, Doing Business in Russia, the Yukos Affair, and the UK Bribery Act. Professor Bean is the past chair of the American Bar Association's Russia-Eurasia Committee and current Chair of the International Law Association's Extra-Territorial Jurisdiction Committee.