Oil, Gas, And Crime: The Dark Side Of Boomtown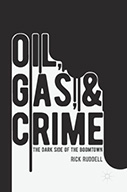 Author: Rick Ruddell
Publisher: New York: Palgrave Macmillan, 2017. 276p.
Reviewer: Scott K. Turner | July 2018
What happens when a small rural community becomes the epicenter of an oil and gas boom seemingly overnight? Rick Ruddell (2017) tells that story in Oil, Gas, & Crime, in a meticulously researched, thought provoking, and deliberate contribution to the study of rural life, crime, and human geography. Here, the study is focused on the resource-based oil and gas booms that have in some cases become a plague to sparsely populated regions in Montana, North Dakota, Texas, Pennsylvania, West Virginia, and New York since 2000. Ruddell reveals a series of predictable patterns that accompany booms and busts — the effects of rapid population growth on rural communities, the potential social and criminal impact, and solutions to help communities thrive rather than recover. The book also points out some of the weaknesses in current and prior research, and offers a stunning conclusion: "every community member suffers a reduction in the quality of life due to boom town effects, e.g. crime and environmental problems."
Not all boom towns and effects are the same — place matters! This is just one of the many important insights shared in the book. To explain, Ruddell goes beyond oil, gas, and even gold booms by incorporating an analysis of a "seasonal" boom that occurs annually in Ocean City, Maryland. This is an interesting aside that helps the reader acclimate to the dynamics at play in areas of rapid population change and resource exchange, along with its impact locally. Ocean City is a small seaside resort that thrives with the annual influx of tourists and vacationers seeking fun in the sun. The author describes city officials planning regularly for this influx of tourists, an influx which accounts for the city's success. That planning led the city to expand their employee base with part time workers, to regulate and monitor behavior, and to work closely with regional partners in order to thrive. The annual "boom" is managed by town leaders and officials; that is the lesson learned there. While there are obvious distinctions between a place like Ocean City and oil booms that are taking place in the Bakken (North Dakota), Eagle Ford (Texas), or the Marcellus in Northern Appalachia (Pennsylvania, Ohio, West Virginia and New York), the lessons learned from places like Ocean City remain applicable.
Another important finding in the book is that although boom town effects vary from place to place, some of those effects are predictable. For example, one effect of a boom is rapid population growth. But, like Ocean City, populations also change in their character. In many boomtowns, longtime residents migrate out of the community — that is those with ties to the life of a community, its traditions, and history. Simultaneously, newcomers arrive, most without ties, and some who have no interest in its future, save for extracting its vast resources. Sometimes, these newcomers will overwhelm local resources, including the police, courts, and social services. Worse yet, crime and social disorder may become a threat. But again, place matters, and Ruddell is clear through his research that not every community will experience these impacts; but for those that do, these can be managed and even prevented. It is on that point that I believe Rick Ruddell has taken his book to a much broader audience and accomplished what many academics seek to achieve — he has bridged the gap between research and public policy. Town leaders, public officials, and public administrators would be well served to read this book, particularly those who are within proximity of a boom.
The book delves deeper into some important issues on crime and social disorder. Here, Ruddell offers another important insight, namely that crime control must be based on the "demographic, economic, and political" characteristics of a given geographic region and not merely on the law. In that sense, he seems to have reinvigorated an old adage that all crime is local. The text also discusses the issues of drugs, alcohol abuse, and assault, which are common to boomtowns, and their effects on local resources. It is a reminder that town leaders can be prepared to get out ahead of these issues and plan, without bankrupting the community socially or economically.
Ruddell also examines some of the more ubiquitous and under reported forms of risk or deviance that are common to boomtowns, namely white-collar crime and driving offenses. Here again, he takes the reader beyond the ordinary community or crime story and helps expand the reader's perception of what is really taking place in boomtowns. He includes big business, big money, environmental threats, and death on our highways. Regarding white collar crime, he asks us to consider who are the winners and who are the losers in boom/bust cycles, and why? This is one of the few sections in the book where the author incorporates theory, using critical criminology to buttress his claims — and it works. He also highlights the deaths that occur on boomtown highways, and I can attest to his observations from my own experience traveling the wild and mountainous terrain of West Virginia on roads and bridges that were not designed for cars to share with fracking tankers that operate on a 24/7 schedule.
A discussion of boomtowns, particularly in rural areas, would be incomplete without considering the issue of partner abuse or domestic violence, and Oil, Gas, & Crime delivers on this issue as well. There is considerable evidence in the research of the prevalence of partner abuse, rape, and prostitution in boomtowns, and Ruddell's study bears that out. He, however, adds another dimension to the discussion, namely women who are missing and murdered. I was fascinated by this section, and by the multiple factors that are in play relating to missing and murdered women. Some of those factors include the transient nature of many of the women who come to boomtowns. Another is the high-risk behaviors and participation in the sex industry that many engage in. Indigenous populations are at risk as well, and here the author brings issues of economics, migration, and culture to the forefront. Combined with the ingress/egress of transient male workers, a synergy is produced that poses an inordinate risk to the health and welfare of women, while simultaneously masking what happens to these women. On this important issue I believe Ruddell missed an opportunity to incorporate some current theory that would have helped to illuminate the issue. One theoretical framework that would seemingly fit nicely is that of male peer support, something written extensively on by Walter DeKeseredy and Martin Schwartz, but other social control, feminist theory, or routine activities research would perhaps work well too.
In sum, Oil, Gas, & Crime tells a story that should appeal to a general, policy, practitioner, and academic audience. With thought provoking insights, unique research perspectives, and practical solutions, I found the book to be a pleasure to read. Ruddell's use of previous research, when combined with his own, makes clear that boomtowns have some inherent risks — but with the right planning and decision-making those risks can be mitigated, and boomtowns can thrive. Ultimately, this is the takeaway from the book, and I would recommend it to each of the aforementioned audiences! References Schwartz, Martin and Walter DeKeseredy (2008) Interpersonal Violence Against Women: The Role of Men. Journal of Contemporary Criminal Justice 2008 24: 178 originally published online March 7, 2008
Scott K. Turner, Assistant Professor & Legal Studies Program Coordinator, West Virginia University at Parkersburg