Pathways For Offender Reentry: An ACA Reader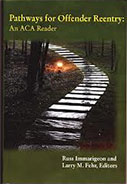 Editors: Russ Immarigeon and Larry M. Fehr
Publisher: Alexandria, VA: American Correctional Association, 2012. 285p.
Reviewer: Janet Garcia | May 2013
Pathways for Offender Reentry: An ACA Reader is an edited book by Russ Immarigeon and Larry Fehr, intended to demonstrate and explain how reentry matters. Drawing attention to prison rates in the United States and the inevitable release of offenders over time, the book's introduction reviews the importance of offender reintegration back into society and the recent adjustments to improve the reentry process of the formerly incarcerated. The book is comprised of collected works on prisoner reentry organized into sections that provide general information on what reentry entails, collaborative efforts to build reentry efforts, successful reentry undertakings, and factors proven to be effective in prisoner reentry.
Through work written by well-known scholars in the reentry literature such as Jeremy Travis and Andrea Leverentz, the editors present the reader with an opening section reviewing prisoner reentry and the intended goals, the improvements made in particular innovations, the institutional barriers, and the recommended policies to address such reentry barriers. Two goals of prisoner reentry clearly stated and reiterated throughout the book include the reintegration of formerly incarcerated individuals back into mainstream society, and enhancing the safety of the general public by reducing recidivism among the formerly incarcerated population. As briefly noted, initiatives such as reentry courts, offender notification forums, community-based interventions, and interagency initiatives have shown improvements in prisoner reentry and been shown to be promising innovations. Such initiatives supporting prisoner reentry attempt to address the numerous collateral consequences of incarceration that authors in the book regard as counterproductive and detrimental to the reentry process. These consist of "irrational" employment restrictions, "unfair" monetary bans for felony drug convictions, and educational limitations allegedly based on politics. The book includes a number of policy suggestions to weaken reentry barriers while also remaining true to the goals of prisoner reentry – goals said to have been overlooked in previous approaches to dealing with the population of ex-inmates.
Immarigeon and Fehr have organized a collection of work that emphasizes the importance of collaborative efforts to support the reentry process of those released from custody. They elaborate on previous policy suggestions as they reveal the inability of agencies to single-handedly overcome all reentry barriers. They subsequently demonstrate the benefits of partnerships in reentry efforts by providing examples of successful collaborations in Oregon, Vermont, and Ohio. Similarly, in the section on successful reentry work, they feature discussion containing suggestions in holistic problem solving that also offer recommendations based on successful prisoner reentry programs. In addition to describing the benefits of collaborative and holistic efforts, Immarigeon and Fehr also devote a portion of their book to what can only be characterized as a meticulous understanding of what works for prisoner reentry. In doing so, they provide a number of ideas pertaining to effective reentry efforts that incorporate the family, address healthcare and therapeutic needs, help in maintaining quality employment opportunities, and relieve limitations in finding housing post-incarceration.
While the literature on prisoner reentry often touches upon only one or a few of the various aspects of reentry, these editors provide a detailed examination of prisoner reentry and its numerous features through their well-organized collection of materials. Immarigeon and Fehr's book should be fundamental reading for policymakers, agencies, community and faith-based organizations, and essentially any individual interested in prisoner reentry and the development of a productive environment for individuals released from custody.
Janet Garcia is a Ph.D. student at Rutgers University School of Criminal Justice.