Prison Violence: Causes, Consequences and Solutions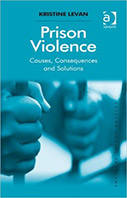 Author: Kristine Levan
Publisher: Burlington, VT: Ashgate Publishing Company, 2012. 155 p.
Reviewer: Rebecca Trammell | September 2013
In short, this review aimed to answer the question of "what works" in crime prevention and what is likely to work in Palm Beach County. This paper describes the methodology used in the structured literature review as the aim was to minimize the bias that frequently intrudes in literature reviews. The selection of materials for literature reviews, the material extracted from each work, and the methods used to assess the literature as a whole can easily be influenced by one's prior expectations and beliefs. Therefore, a systematic approach is taken in the present
Prison Violence offers the reader an overview of violence in American prisons and, in one chapter, compares our system with various other countries. This book is perfect for the reader who is new to the study of incarceration as it covers a lot of ground and seeks to outline the reality of violence behind bars. The author takes a theoretical approach to this subject and offers some insight into some of the emerging topics surrounding this field. The greatest strength of her book is the author's ability to clearly explain the difference between the myth of prison violence and the social reality of the prisoner.
She points to the usual suspects when discussing the roots of violence. Overcrowding is a chief contributing factor as inmates fill up cells constructed for fewer people. This overcrowding puts a strain on resources and this means fewer rehabilitative services for those who need them. Gangs emerged in California prisons long ago and now reside in every prison facility. Race is an ongoing problem as inmates segregate along racial lines and form gangs that control underground businesses. Drugs continue to be a plague as an overwhelming number of inmates deal with addiction. However, she also focuses on other topics not commonly found in the literature. For example, the culture of prison staff influences violence as the "deliberate indifference standard" (95) means that correctional staff intentionally leave doors open or ignore pleas for help. Also, she discusses the emerging debate about distributing condoms that can be used as weapons against staff or other inmates.
In one of her finest chapters, Levan discusses prison violence in other countries and highlights the fact that America is not the only industrialized country with this problem. She points to the problem of overcrowding in England and Wales and their issues with fighting among the inmates. However, sexual violence is quite rare, as is homicide. In Japan, the prison institution is blamed for recidivism rather than the parolee and this is in stark contrast to cultural beliefs here in the United States. Not surprising, Russia, China, and South Africa house inmates in institutions fraught with violence. I was especially pleased that the author discusses the problem of political prisoners worldwide. She did not shy away from the controversial topic of the American Guantanamo Bay prison and their recent problems with suicides and hunger strikes. Clearly, this was her most informative and interesting chapter. Anyone studying comparative criminology would benefit from her rich attention to detail.
Levan's solutions are logical yet, not entirely new. We need to back off of our "tough on crime" stance, support rational gang prevention strategies, and provide better medical care, just to name a few. However, I like her discussion about possibly increasing the number of restorative justice programs for inmates and improving correctional staff culture. Both are fine ideas that the general public should be aware of. One slight problem with the book is the chapter on theoretical approaches. This chapter would be perfect for an introduction to corrections class at the undergraduate level. For the general public, it would be better to shorten this chapter and only cover some major paradigms. I say this because the non-academic audience would greatly benefit from reading Kristine Levan's remarkable book.
Rebecca Trammell, Ph.D., Assistant Professor, Metropolitan State University of Denver, P.O. Box. 173362, Denver, CO. 80217