Queering Criminology in Theory and Praxis Reimagining Justice in the Criminal Legal System and Beyond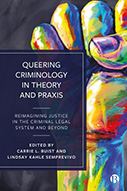 Author: Carrie Buist & Lindsay Semprevivo
Publisher: Bristol University Press, 2023. 334 pages.
Reviewer: Daniel R. Pinello | December 2022
In 1961, Illinois became the first American state to decriminalize private acts of sodomy by consenting adults. Four decades later, the U.S. Supreme Court's decision in Lawrence v. Texas (2003) invalidated consensual sodomy laws in the 14 states that still retained such prohibitions. Thus, by the early 21st century, same-sex sexual activity was no longer a reason for which gay people might become entangled in the country's criminal justice system.
Indeed, the perpetual threat of criminal prosecution arising from the status of being gay hindered the advent of comprehensive civil rights reforms for lesbians and gay men in the United States. How could calls, say, for legal protections to end employment discrimination against gay people be taken seriously when such individuals' habitual personal behavior was a crime? Accordingly, Lawrence was a watershed moment, freeing lesbian, gay, and bisexual folks from involvement with the criminal law and its processes.
Yet, as Queering Criminology in Theory and Praxis makes abundantly clear, LGBTQ+ people worldwide remain mired in criminal justice systems in extensive and, sometimes, surprising ways. According to Human Rights Watch, for instance, identifying as queer is illegal in over 70 nations. Nonetheless, the volume's primary focus is on the United States. Since many of the chapters amount to literature reviews of research on particular topics, the comparative abundance of relevant scholarship looking at the American context far outweighs investigations into LGBTQ+ circumstances within other countries, even though what the book reveals about queer people in the United States is likely fungible to much of the world.
Despite America's decriminalization of same-sex sexuality activity, several important demographic circumstances account for continuing criminal involvement of LGBTQ+ folks. The advent of the internet and social media suffused popular awareness about the existence of queer communities far beyond what was generally known before the 1990s. In turn, more widespread knowledge about non-heteronormative and non-cisgendered life alternatives prompted a wider array of self-expression, particularly among transgender and non-gender-binary individuals, whose greater visibility has sometimes triggered significant backlash in rural and other conservative communities.
In 2022, for example, Florida passed a statute (dubbed by critics to be the "Don't Say Gay" bill) that limited classroom discussions regarding sexual orientation and gender identity and encouraged parents to sue schools and teachers who talked about those topics. Other states have restricted trans students' ability to participate in school and sports, allowed religiously-motivated discrimination against trans people, or made it more difficult for them to get identification documents with their name and gender.
A second demographic development in recent decades is that many LGBTQ+ individuals started coming out as such at much younger ages, prompting the specter of hostility and rejection by parents and other family within the households in which such youths were raised. Consequently, the proportion of queer teenagers traumatized in schools and/or forced out of homes to fend for themselves has substantially escalated, and homelessness has caused many to resort to survival economies involving petty larceny, drug dealing, and sex work.
As is often the case with edited volumes, Queering Criminology offers an eclectic mix of topics and approaches. The first chapter uses norm-centered stigma theory and regression analysis of a relevant substantial database to confirm a relationship between violations of hetero-cis-normativity and gender- and sexuality-based violence, which is organized by the social power experiences of LGBTQ+ people in the United States. As well, the book's literature reviews are diverse. One concentrates on the work lives of queer criminal processing system professionals, who often face both internal and external challenges with visibility and acceptance. Another scholarship appraisal involves the incidence, circumstances, and legal system handling of intimate partner violence within the LGBTQ+ community since the 2013 reauthorization of the federal Violence Against Women Act. A third looks at the greater incidence of homelessness among LGBTQ+ individuals compared to their hetero-cis-normative counterparts and the societal need to develop exit outcomes and strategies.
As a result of the wider acceptance of social diversity based on sexual orientation evidenced in Lawrence and the nationalization of marriage equality, many of the compendium's 19 chapters concern the circumstances facing transgender and gender-non-conforming adults and queer youth. Original empirical research involving regression analysis results in a statistical investigation of how four varieties of intimate partner violence (identity, controlling, physical, and sexual) increase the incidence and types of adverse health conditions (like illicit drug use, prescription drug misuse, binge alcohol use, and HIV positive status) within the transgender community.
Various case studies also deal with transgender and gender-non-conforming individuals. The story of Naomi, a mid-50s Black trans woman who served a prison sentence in two Virginia facilities for a non-violent drug offense, details the inconsistent enforcement of the federal Prison Rape Elimination Act of 2003 (PREA) and its administrative guidelines. Administrators of California's Alameda County Probation Department explain how they developed policies, protocols, and training to provide safe and professional treatment for transgender, gender-non-conforming, and intersex youths (who often face challenges involving misgendering, inappropriate body searches, and inadequate medical care) they encounter in Juvenile Hall cases. A third chronicle comes from Massachusetts and Connecticut. Jane Doe was a transgender teen in the custody of a children and family services department from early childhood and suffered repeated sexual assault while under state care. She was also incarcerated (including in solitary confinement) in an adult facility despite not being charged with any crime. Moreover, the state provided no consequential support for her gender transition. Exposing serious system failure, Jane Doe's tragic experience prompted its narrators to propose implementation of ten policy recommendations nationwide.
Then there's a more broadly based chapter about trans people touched by the criminal-legal system which concludes that queer criminology challenges Americans "to reorient the conversation toward who makes the rules that trans people often appear unable to follow."
In addition, contributors to this edited volume share a strong intersectional focus, observing that LGBTQ+ people of color are swept into the American criminal system in much higher proportions than their white counterparts. For instance, nearly 80 percent of anti-transgender murder victims are trans women of color. A chapter explores how the current over-criminalization of Black youth in this country stems from an ancient American duality between white femininity and Black masculinity. The contributors argue that a multiracial coalition of people across the gender spectrum should seek to dismantle the social constructs of the white damsel in distress and the violent Black man. In truth, the challenges for some queer individuals are so widespread that the book's editors and chapter authors purposely categorize the enforcement institutions involved as a criminal legal system in which justice is not necessarily a salient attribute.
Another overarching theme of the volume is what queering criminology signifies or encompasses. Is it just about making law enforcement personnel and institutions more accommodating of the particular needs of the LGBTQ+ people enmeshed, as victims or perpetrators, in a criminal system? Or does the approach also entail a critique about how queer theory might more transformationally impact the foundations and assumptions surrounding those personnel and institutions? An eye-catching chapter in this latter vein uses the inspiration of Richard von Krafft-Ebing to tease out how American society has unduly riveted on the frequency of child sexual abuse within churches and schools (where perpetrators are often homosexual), while enduringly failing "to recognize abuse occurring in the most prized institution of all: the family" (where offenders tend to be heterosexual).
A more esoteric chapter relies on interviews with four bail fund organizers in the American South and examines the potential of bail funds to divert LGBTQ+ people out of the criminal legal system, while a contribution peripheral to that process outlines the unique needs of LGBTQ+ military veterans.
The editors supply a trenchant summary chapter that explicates six major themes of the volume's presentations. Cultural competency is "the ability to understand, appreciate, and interact with people from cultures or belief systems different from one's own." In turn, "culturally competent care is achieved through better and more in-depth education, training, and research" in criminal justice systems. Third, "a foundational principle of gendered theories of crime and victimization is the awareness that trauma is a major underlying factor in both offending and victimization." The fourth unifying idea is the perpetual need for both theory and practice in queer criminology to attend to intersectionality. Reducing state injury is the fifth organizational component: "overcoming the systemic harm done to LGBTQ+ people is not unidirectional; relationships must be transformed throughout every level of society, not just between one another." The last motif is for scholars to be ever mindful that the inherent nature of queer criminology is to be both identity-driven and deconstructionist. Doing so "exposes the importance of making broader connections between queer theory and criminology."
In short, Queering Criminology in Theory and Praxis is an ambitious endeavor to unify research and understanding about LGBTQ+ people within, and the contributions of queer theory to, criminal law enforcement in the United States and elsewhere. As such, the volume is an indispensable reference for anyone interested in comprehending these important matters.
Daniel R. Pinello, Department of Political Science, John Jay College of Criminal Justice of the City University of New York, www.danpinello.com