Selma And The Liuzzo Murder Trials: The First Modern Civil Rights Convictions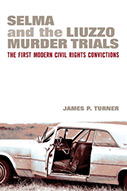 Author: James P. Turner
Publisher: Ann Arbor: University of Michigan Press, 2018, 110p.
Reviewer: Robert A. Pratt | November 2020
On the night of March 25, 1965, the last day of the historic voting rights march from Selma to Montgomery, Viola Liuzzo had volunteered to use her car to transport weary marchers from Montgomery back to Selma. The forty-three-year-old white Detroit homemaker and mother of five had come to Selma to participate in the voting rights campaign after seeing the television images of white Alabama state troopers brutally beating blacks who were marching for the right to vote. Liuzzo had dropped off one carload of passengers and was returning to Montgomery accompanied by 19-year old Leroy Moton, a local black volunteer who lived in Selma and who had agreed to help her find her way around. As the two headed east on Route 80 toward Montgomery, they attracted the attention of several Klansmen, who according to an FBI informant, were on a mission to "bust some heads." As the Klansmen's white Chevrolet Impala approached Liuzzo's light blue Oldsmobile, three of the Klansmen pointed their guns out of the windows and opened fire. Minutes later, Viola Liuzzo lay dead. In Selma and the Liuzzo Murder Trials, James P. Turner, a former Deputy Assistant Attorney General in the Justice Department's Civil Rights Division, provides a compelling first-person account of the federal government's quest to secure justice for Viola Liuzzo, ultimately leading to the first modern civil rights convictions.
James P. Turner joined the Justice Department's Civil Rights Division on February 22, 1965, roughly one month before Viola Liuzzo's murder. Established as part of the Civil Rights Act of 1957, the Civil Rights Division was expanded following the passage of the Civil Rights Act of 1964. Turner's initial assignment was to work with the section charged with enforcing the new law in Mississippi and Louisiana — but soon the events in Selma, Alabama gained national attention. Within a few weeks, Assistant Attorney General John Doar summoned Turner to Alabama and placed him in charge of the Justice Department's activities in Selma. Specifically, Turner's responsibility was to provide all of the federal evidence against the murder suspects to the state of Alabama, which had requested that it be allowed to bring murder charges before the federal government brought civil rights charges. But as Turner would soon discover, convicting any white person of a crime against civil rights activists in Alabama would be an uphill struggle.
Eugene Thomas, William Orville Eaton, Collie Leroy Wilkins, and Gary Thomas Rowe were the four Klansmen in the car on that fateful night; all four were members of the klavern (local Klan group) in Bessemer, Alabama, a suburb of Birmingham. Thomas, the Klan enforcer designated to organize and lead this "mission," was the driver. Rowe, it turns out, was a secret paid informant for the FBI, and had been for the past five years. Rowe immediately contacted his FBI contact, Special Agent Neil Shanahan, and told him that something was brewing, but could provide few details since the crew had not yet selected a target. Shanahan instructed Rowe to go with the group, but that he should avoid participating in anything "unlawful"—presumably an unwritten code of conduct for all Klan informants to follow (the extent to which Rowe adhered to that code would forever be a matter of debate). According to Rowe's testimony, the sight of a white woman and a black man riding in a car together was an opportunity too good to pass up. Rowe recalls that one of the Klansmen said, "Hey, Bro, looka there. A white woman drivin' a nigger around in her car." Eugene Thomas then began to follow the car in hot pursuit at a high rate of speed. As they entered Lowndes County, the carload of Klansmen pulled alongside Liuzzo's car, and using a gun that Eugene Thomas had given him, Collie Leroy Wilkins extended his arm out of the right rear window and fired two shots into the driver's side window of the Oldsmobile. Thomas began yelling for everyone to "shoot," and Eaton and Rowe reacted. Both Eaton and Wilkins emptied their guns in the fusillade; Rowe, according to his testimony, extended his arm and pretended to shoot, but never fired a shot. Viola Liuzzo was killed instantly, having been shot in the head. Miraculously, her passenger Leroy Moton was unharmed. His decision to lean forward to tune in to a favorite Nashville radio station just as the shots were being fired likely saved his life.
After two days of testimony, a grand jury returned first-degree murder indictments against Wilkins, Thomas, and Eaton. Rowe, the FBI informant, would testify for the state. The prosecutor decided to try the defendants separately, beginning with twenty-two-year-old Wilkins, the youngest of the three and the first shooter who had most likely killed Liuzzo. Both sides were eager for a speedy trial, which began on May 3, 1965. The evidence against the Klansmen was overwhelming, and what should have been an open and shut case was anything but—hardly surprising given the poisoned racial context in which the trial played out. The only defense put forth by Wilkins' attorney Matt Murphy was that Viola Liuzzo was a whore whose sole purpose in coming to Selma was to have sex with black men; Leroy Moton was a liar who might have molested the dead white woman after the shooting; and Gary Thomas Rowe was a race traitor who had sold out for thirty pieces of silver. In his closing remarks, Murphy reminded the all-white, all-male jury that he was addressing them "as one white man to another," and then launched into a segregationist rant: "And this white woman who got killed? White woman? Where's the N.A.A.C.P. card? I thought I'd never see the day when Communists and niggers and Jews were flying under the banner of the United Nations flag . . . I'm proud to be a white man and I'm proud that I stand up on my feet for white supremacy, not the mixing and mongrelization of the races (61-2)." Murphy's racist appeal worked: the jury deadlocked, and the judge declared a mistrial. The second state trial was held five months later, and this time it took another all-white jury less than an hour and a half to find the defendant not guilty.
Once it became apparent that no jury in Alabama would convict a Klansman of murdering a civil rights activist, the U.S. Justice Department decided to bring federal conspiracy charges against all three Klansmen. Assistant Attorney General John Doar of the Justice Department's Civil Rights Division would be the lead prosecutor, and federal judge Frank Johnson, well-known for his fairness in civil rights cases, would preside over the trial. The federal courtroom in Montgomery was for the most part free of the racist antics that had been on full display during the two state trials in Hayneville, but the prosecution would still have to convince yet another all-white jury to return guilty verdicts against three of their own. After a full day of deliberations, the jury foreman announced that they were hopelessly deadlocked, but Judge Johnson instructed them to keep trying until they reached a verdict. Four hours later, the jury returned guilty verdicts on all three defendants. The judge sentenced all three to the maximum of ten years in federal prison. All three would appeal their convictions to the Fifth Circuit Court of Appeals, but the convictions were upheld. William Eaton, who was suffering from a heart condition, died during the appeal. Both Collie Wilkins and Eugene Thomas were released from prison after serving roughly seven years. Both are now deceased. After the trial, Gary Thomas Rowe temporarily changed his name to Thomas Neil Moore and entered the federal witness protection program. On May 25, 1998, at the age of sixty-four, he was found dead of an apparent heart attack in his home in Savannah, Georgia.
James P. Turner has provided readers with an insider's view of the federal government's determination to secure some measure of justice for Viola Liuzzo, an ordinary woman who was inspired to come to Selma to help blacks gain the right to vote, but ended up losing her life in the process. Turner's narrative is fast-paced and riveting, and he is understandably proud of his role (and that of the Justice Department) in securing these convictions, which he reminds us were "the product of a determined judge, a group of lawyers committed to proving the truth, and of honest jurors who had finally awakened in the twentieth century (89)." Turner's conclusion is uplifting, as he calls attention to some of the cold cases that have over the years been reopened, some of which have led to convictions. But this reviewer wonders if Turner's optimism is fully justified. While some murderers from the civil rights era have been brought to justice, new civil rights violations are occurring every day, and the Justice Department headed by Nicholas Katzenbach bears little resemblance to the one that was headed by Jefferson Beauregard Sessions. Perhaps we have not come quite as far as we would like to believe.
Robert A. Pratt, Professor of History, University of Georgia