Shopping and Crime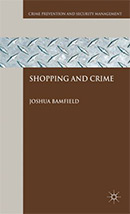 Author: Joshua A. N. Bamfield
Publisher: Houndsmills, Basingstoke, Hampshire; New York: Palgrave Macmillan, 2012. 325p.
Reviewer: Robert L. DiLonardo | November 2012
Shopping and Crime, by Joshua A. N. Bamfield, is a thorough, well reasoned treatise on the scope, complexity and pervasiveness of retail property crime, with an historical focus on asset protection and loss prevention. Of primary interest is "criminomics" – a term coined to explain how and why security management activities should be scrutinized for their profitability, and how thieves might use fundamental cost/benefit principles to enter the "business". Bamfield persuasively argues that the allure of shopping, encouraged by retailers' marketing efforts, is itself a contributor to retail crime, along with deviant behavior.
"Shopping" is defined as the act of examining and possibly purchasing products or services that are offered for sale. In fact, it is much more than a potential commercial transaction. I am particularly fascinated by his juxtaposition of crime and shopping. The process of shopping has evolved into a popular cultural phenomenon incorporating social interaction, entertainment, and the joy and excitement surrounding the quest to acquire things that help us to feel fulfilled, confident and successful. A shopping excursion could be defined as a visit to a retail store. In the developed world, an excursion to "high street" or to the shopping mall provides an opportunity to visit and browse in a series of retail stores – all of which are doing their best to entice the consumer into making purchases. Browsers outnumber patrons by a wide margin. Only a small fraction of shopping excursions results in a sale. Potential consumers and employees have virtually unfettered access to retail assets, yet mercifully, a much smaller fraction of excursions results in a theft. "Retail stores are major victims of crime at the same time as 'going shopping' is one of the most popular leisure activities, scoring higher than football, an evening in a pub or a meal in a restaurant," Bamfield writes. As the world's retailers attempt to perfect their merchandising and marketing practices to attract the maximum number of shoppers, retail loss prevention practitioners must digest these initiatives, and use them as guidelines when crafting modern anti-theft strategy and tactics.
"Crime" against retailers actually dwarfs any other type of property crime. Understanding and thwarting retail crime is at the same time an important intellectual pursuit for criminologists and sociologists; a career for security professionals and law enforcement; and a profitable business for the purveyors of security products and services.
At the book's outset, Bamfield isolates and examines five key issues retail businesses face in attempting to combat crime. They are the specifics of retailing; the aforementioned concept of criminomics; self-policing; retail crime prevention partnerships; and the degeneration of sanctions against retail crime.
The book begins with a four chapter expository on the structure of retailing, shopping's history, and the criminological, sociological and economic evolution of retail theft – culminating with an explanation of the most common approaches thieves use and the methods they employ while in the act of stealing. After all, Bamfield writes, "if it is worth buying, it is worth stealing." Much of this section is based upon an extensive survey of admitted English shoplifters. Chapter four ends with a section on the most commonly stolen merchandise types, as compiled by the 2010 Global Retail Theft Barometer (GRTB) survey conducted by Bamfield under the auspices of the Centre for Retail Research, in Nottingham UK. Parenthetically, I highly recommend this annual study for its insights into the issues surrounding retail theft and preventive practices around the globe.
Chapter 5 lays the groundwork for the criminomics discourse, as it fully defines inventory shrinkage, describes its causes, and quantifies the magnitude of losses around the globe. Anyone who has spent time as a loss prevention practitioner or financial executive in mainstream retail relates perfectly to "the fog of shrinkage," a section heading in Chapter nine. It is a fabulous term, aptly describing the difficulty measuring retail inventory losses (shrinkage) or attributing them to the proper causes, whether theft, error or waste. The first wisps of fog become noticeable when the reader finds out that shrinkage is "not a 'thing', but an 'absence'. It is hard to measure a lack of something," says Bamfield, "and difficult to explain conclusively."
The fog really rolls in when loss prevention practitioners try to attribute a specific proportion of the absence of merchandise to a root cause – internal or external theft, error or waste. Since these ratios are impossible to calculate, academics such as Bamfield, and Richard Hollinger of the University of Florida, have developed annual surveys in which respondents are asked to estimate, for example, the proportion of shoplifting losses to the total.
"Criminomics" is a descriptive moniker for an exceedingly broad and thought provoking topic – the business elements of retail crime viewed from all possible angles. On the one hand, Bamfield describes the business interests of the rational thief, noting that sound economic logic could be used to choose crime over honest work or the collection of welfare. Engaging in shoplifting or employee theft has a low barrier of entry, potentially higher economic return per hour of labor, and an acceptable risk to reward ratio. On the other hand, a significant portion of the book describes in some detail the broader list of business variables encountered by the retail industry as it decides whether to invest in theft countermeasures, or chalk up the losses as a cost of doing business. Bamfield tackles a long list of important questions. How much is lost? How have the losses affected the organization's profitability? Which of the identified causes of shrinkage are the most significant? What are the best anti-theft countermeasures, as reported by the survey respondents? How much do they cost? How well do they work – as defined by tests in which benefits exceed costs sufficiently to warrant the investment? Where is the equilibrium point where an organization has maximized its investment in security management? At what point is shrinkage sufficiently reduced, so it makes sense to cut the security budget?
Retailers bear the costs of crime, and shoulder most of the burdens of protecting assets and preventing losses. To that end, the retail community shares ideas and best practices. Chapter nine contains an interesting section devoted to mentioning the quasi-experimental research efforts undertaken to prove the efficacy of anti-theft countermeasures such as closed circuit video and electronic article surveillance systems. It is to be hoped that the loss prevention industry will continue to move more toward evidence-based research where feasible, and away from a reliance on simple surveying and benchmarking.
The public sector, i.e. the police and the judiciary, has always played a role in the apprehension and punishment phases – especially when retail crime is connected with something more serious, such as drug use. Bamfield devotes a thought provoking chapter to the evolution of "crime policy," in which he scrutinizes the collaborative efforts among retailers' trade organizations; law enforcement at all levels; ad hoc groups such as community safety partnerships; and the legislative branches of government.
In the chapter covering sanctions, Bamfield explains how the English legal system has been curtailing arrests, prosecutions and tough sentencing in favor of administrative punishments, such as civil recovery. He ends the chapter with the opinion that the trend away from the punishment of having a criminal record is conditioning the population to believe that theft is a low risk activity. Most retail loss prevention practitioners would agree wholeheartedly with this assessment, but yearn for an earlier time – when better moral fabric and stiffer punishment were effective deterrents to crime.
There is something of value for everyone in this book. Criminology students will appreciate the thorough explanations, the emphasis on management practices and the exceptional list of references – almost 45 pages! Practitioners and theoreticians alike will appreciate the breadth and depth of topics covered, and the effort to push the boundaries of current thinking. Dr. Bamfield is to be applauded for his effort to further define and expand upon the business elements of crime, prevention and punishment, a vastly understudied topic.
Robert L. DiLonardo, Retail Consulting Partners, LLC