Sick Justice: Inside the American Gulag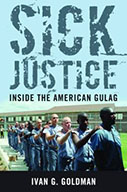 Author: Ivan G. Goldman
Publisher: Washington, DC: Potomac Books, 2013. 256p.
Reviewer: Michael Welch | May 2015
In Sick Justice: Inside the American Gulag, author, novelist, and journalist Ivan G. Goldman takes us on a road trip through the various sites of the criminal justice system – police patrols, courts, and, of course, prisons. This is no joy ride, to be sure. What makes American criminal justice stand out from all the others is its size. Indeed, size matters. Goldman is quick to point out that America's 2.3 million prisoners is roughly the size of Houston, the nation's fourth largest city. Among the many forces that contribute to the enormity of the American prison population is indifference. Goldman hints at apathy in the preface in which he describes a conversation he overheard in court. The judge asked the prosecutor the nature of the defendant's offense. "Nothing serious," the prosecutor casually remarked (p. 4). Without further comment, the defendant was sentenced to two years in prison. Goldman wonders how that could be possible in a society that often boasts its commitment to fairness and justice. In search of answers, he explores what he calls "the American Gulag."
The author relies on multiple case studies to narrate the journey through the world of crime and punishment. The story of Brenda Valencia gives the book a credible voice. When Valencia was 19 years old she inadvertently stumbled into a low-level drug deal. Any lawyer could have easily determined that she was — if anything – an innocent bystander. But in a legal environment in which prosecutors earn kudos for racking up convictions and stiff penalties, Valencia – a college student with no history of drug use or criminal behavior — was pummeled with a prison sentence of 12 years and seven months. On his last day in office, President Bill Clinton pardoned 140 people, including Marc Rich, who had been charged with 51 counts of tax fraud and had fled the U.S. for sanctuary in Switzerland before his indictment. His wife contributed generously to the Clinton Library and Hillary Clinton's Senate Campaign. Valencia's petition did not make the cut, even though a letter from U.S. District Court Judge Jose A. Gonzalez supported it. The judge characterized the mandatory sentence of Valencia as "absurd" and "an insult to justice" (p. 4).
Sick Justice: Inside the American Gulag is formatted along a series of bullets and brief talking points. That economy of writing seems to work. Goldman's choice of words consistently captures the indifference to draconian sentences, especially those tossed around like Frisbees. With a flair for literature, Goldman also injects characters from Victor Hugo's Les Miserables to demonstrate the enduring tale of the poor in prison. In 2010, Jerry DeWayne Williams – a modern day Jean Valjean — drew a sentence of 25 years to life for nabbing a slice of pizza. Facing a barrage of bad publicity, the judge reduced the sentence to six years. While the media apparently played a positive role in the case of the "pizza thief," Goldman throws critical light on the tabloid-style news programming. At center stage is Rupert Murdoch's "hard-right" Fox News Channel, a leading source for the "lock-em up and throw away the key" philosophy. Those persistent messages echo the unforgiving political rhetoric that feeds the prison-industrial complex. At last, Goldman has identified the winners of the wars on crime, drugs, and undocumented immigrants. Among them are the private corrections firms (e.g., Corrections Corporation of America), which penetrate the American prison apparatus in ways designed to maximize profits. The financial scheme is nothing less than mercenary: target nonviolent lawbreakers and whisk them off to a privately owned jail and get taxpayers to foot the bill. Along the way, such profiteering is enshrined in law due to the covert maneuvering of the American Legislative Exchange Council (ALEC). That right-wing lobbying group of corporate and government players pushes through "model legislation" in state capitals across the country. In addition to paving the road for private prisons, ALEC is also responsible for bringing us the "show me your papers" immigration law and the "stand your ground" gun law. Goldman quotes Supreme Court Justice Anthony Kennedy, who ripped revenue-based policies, calling them "sick" justice (p.204).
This timely book covers the mainstays in social justice (e.g., inequality, racism); thus, it is likely to annoy conservatives who refused to board the last train to progressive – sensible – reform. Liberal readers, however, might bristle at the author's heavy-handed use of terms "crimes against humanity" and "gulag" to describe the incarceration of non-violent offenders. Nonetheless, with its fluid use of vignettes, Sick Justice is ideal for a general readership as well as undergraduate students majoring in criminal justice, criminology, and sociology. Instructors teaching introductory courses might adopt the book as a supplemental reading since it is likely to provoke lively discussion.
Michael Welch, Professor
Program in Criminal Justice
Rutgers University, New Brunswick