Suspicious Gifts: Bribery, Morality, and Professional Ethics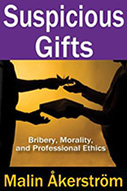 Author: Malin Akerstrom
Publisher: New Brunswick, NJ: Transaction Publishers, 2014. 208p.
Reviewer: Mike Koehler | July 2014
Throughout human history, gifts have been a respected and legitimate form of gratitude and generosity, serving as a social glue important to any cohesive society. Yet at the same time, gifts have been offered to seek influence, have compromised the integrity of the gift recipient, and have thus represented a form of bribery.
These divergent realities are the subject of Professor Malin Akerstrom's engaging new book "Suspicious Gifts." Professor Akerstorm, a Swedish sociologist by discipline, examines the everyday dilemmas faced by low-level professionals working in the public sector and the business persons who interact with such public officials to chart the ambiguity between legitimate gifts and illegitimate bribery.
Acknowledging the corrupting power of gifts, Professor Akerstrom is nevertheless critical of contemporary anticorruption efforts that seemingly label all gifts as blameworthy or even criminal. Invoking the phrase the "bribery gaze" on a number of occasions, Professor Akerstorm highlights the following warnings found in anti-corruption literature.
When you want to display hospitality – it could be bribery!
When you want to be generous – it could be bribery!
When you want to be friendly – it could be bribery!
When you take self-promoting measures – it could be corrupt marketing!
When you allow yourself to be invited – it could be a bribe!
When you accept a present or prize – it could be a bribe!
If you don't say no thanks or decline a perk in time – it could be corruption!
These circumstances, of course, are not academic, but present in real-world bribery enforcement actions. While the Swedish examples Professor Akerstrom highlights may be foreign to most readers outside of that region, gifts are also frequently alleged as bribes in U.S. Foreign Corrupt Practices Act enforcement actions. For example, recent FCPA enforcement actions have involved: flowers, cigarettes, bottles of wine; karaoke bars; and tea sets.
As Professor Akerstrom rightly notes however, the current "bribery gaze," in which everything seems to be transformed into a hazard, a trap or criminal bribery, is not without social and public policy consequences. She persuasively argues:
Campaigns to eliminate these gift exchanges are at the same time campaigns to restrict the gamut of courtesy or ritual exchanges. The manifestations of courtesy, gratitude, and social bonds, which are so important as social glue in any cohesive society, are not just called into question, but criminalized.
In this new era of enforcement of bribery and corruption laws, many are pounding the table for more enforcement, as if the quantity of enforcement was an inherent good regardless of enforcement theories, resolution vehicles, or collateral social and public policy considerations.
Regarding gifts as a form of bribery, Professor Akerstorm asks, "should the ideal society be gift-less?" With the current "bribery gaze," expanding theories of enforcement, and risk-averse business organizations responding by eliminating most forms of gratitude and generosity, this appears to be where the winds are blowing.
Yet in "Suspicious Gifts" Professor Akerstorm reminds those in the anti-corruption space – whether practitioner, policy-maker or scholar – that bribery and corruption is seldom the simple and safe issue it appears to be at first blush.
Mike Koehler is a law professor at Southern Illinois University and founder and editor of the FCPA Professor website (www.fcpaprofessor.com).