The End of Asylum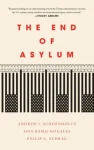 Author: Andrew Schoenholtz, Jaya Ramji-Nogales, & Philip Schrag
Publisher: Georgetown University Press, 2021.  224 pages.
Reviewer: Mary Hoopes | March 2023
On November 1, 2018, former President Trump declared from the Roosevelt Room: "The biggest loophole drawing illegal aliens to our borders is the use of fraudulent or meritless asylum claims to gain entry into our great country." This was not the first time that a politician had invoked this type of rhetoric in describing asylum seekers—in fact, legislators used strikingly similar language in the early 1990s to begin systematically detaining them. The authors of The End of Asylum contend, however, that the Trump administration went further than any other had, ultimately relying on these claims to eviscerate any meaningful form of asylum protection in the United States. In addition to providing the first comprehensive treatment of the Trump administration's treatment of asylum claims, The End of Asylum offers a set of policy prescriptions for the Biden administration to restore and improve a long-broken system. It is hard to imagine anyone better suited to this task than Phillip Schrag, Andrew Schoenholtz, and Jaya Ramji-Nogales. They first exposed the large disparities in grant rates, at each level of the system, in a ground-breaking book, Refugee Roulette. Five years later, Lives in the Balance presented an empirical analysis of nearly 400,000 decisions by asylum officers nationwide. Their newest book does not disappoint. It is richly detailed, engaging, and carefully researched.
The book begins with a primer on the history of asylum in the United States and the socio-political context that led to the passage of the Refugee Act of 1980. The legislation primarily focused on resettling overseas refugees. Accordingly, while it permitted those who arrived on their own to seek asylum, it remained largely silent on the procedures for doing so. Over the next few decades, as the system of asylum adjudication developed, Congress and the executive seized upon this gap to implement increasingly restrictive laws and policies. The authors briefly examine the ways in which the Clinton, G.W. Bush, and Obama administrations limited access to asylum in Chapters 1 and 2, arguing that while each administration could be fairly criticized for its policies, they were all generally faithful to congressional intent. The Trump administration, by contrast, twisted statutory language beyond recognition in order to "systematically demolish[] the system of humanitarian protections for asylum seekers" (p. 2).
Their aim is not to paint a rosy picture of prior administrations; in fact, their own work was among the first to demonstrate just how flawed asylum adjudication has been since its inception. They acknowledge the politicization of asylum adjudication under G.W. Bush (p. 28), the emergence of widespread detention of asylum seekers under the Clinton administration (p. 24), and the opening of temporary family detention centers under the Obama administration (p. 30), among other restrictive measures. Nonetheless, they argue, the Trump administration's polices marked a fundamental change from a functional asylum system that had many flaws, to be sure, to an unrecognizable one that lacked any meaningful asylum protection.
As they argue in Chapters 3 and 4, the Trump administration created at least three different types of barriers to asylum: (1) changes to substantive asylum law, including attempts to exclude those escaping domestic violence or gang violence; (2) procedural obstacles within the adjudication process; and (3) barricades to accessing the asylum process, which included the suspension of a program that educated migrants about their legal rights (p. 31). Schoenholtz et al. also detail the ways in which the administration further weakened the independence of immigration judges (pp. 39-46). The administration also made significant changes to the process of credible fear screening, making it more difficult for an applicant to meet the standard and replacing trained asylum officers with Border Patrol agents. Through the new Prompt Asylum Claims Review (PACR) program, credible fear interviews were to be conducted within 48 hours of entry, while applicants were still in custody and unlikely to be able to seek representation. Most remarkable and cruel of all, of course, was the administration's family separation policy, which prompted a national outcry. Meanwhile, the Transactional Records Access Clearinghouse (TRAC) reported that data from the Executive Office of Immigration Review (EOIR) was no longer reliable, as EOIR had seemingly removed thousands of cases from the database and made them inaccessible to the public.
Some may object to the book's contention that the Trump administration's efforts were truly different in kind than prior attempts to strip or undermine asylum protections. To be sure, a long line of scholarship has illuminated the ways in which prior administrations criminalized asylum seekers and restricted their entry, using racialized rhetoric to create a moral panic to justify their exclusion (See, e.g., Loescher & Scanlan, 1986; Bibler Coutin, 2005). Indeed, much of the scholarship on asylum adjudication had referred to it as existing in a state of "crisis" long before the Trump administration. While I was convinced by their argument that the Trump era marked a distinctive moment in asylum policy history, this debate should not distract from the real contribution of this book: it offers concrete policy prescriptions and a path forward for a long-broken system.
The authors urge the new administration to immediately repeal many of the Trump era policies and regulations. As of the time of this writing, approximately two years into the Biden administration, several of these recommendations have come to fruition. Critically, the Biden administration repealed the omnibus, midnight regulations that would have effectively ended the asylum system. Attorney General Merrick Garland restored the legal precedent that permits survivors of domestic violence to seek asylum (Schrag et al., forthcoming 2023). The administration terminated the PACR program and converted the "baby jails" (Schrag 2020) into adult-only facilities. It has taken steps to restore the credible fear screening standard and process. It also announced a new plan that permits asylum officers to conduct merits interviews in some circumstances, rather referring these claims directly to immigration court. The administration is rolling out this new plan in phases, and the New York Times refers to the fully implemented plan as "the most sweeping change to the asylum process in a quarter-century" (Sullivan, 2022). In a forthcoming article, Schrag et al. argue that the new system's very stringent time limitations are a fatal flaw and function to prevent asylum seekers from effectively preparing their cases or securing representation (Schrag et al., forthcoming 2023).
The Biden administration's inaction in other areas has left many asylum scholars and advocates deeply disappointed. While Biden campaigned on a promise to "reassert America's commitment to asylum-seekers and refugees," the administration's stance on asylum has oscillated. It initially announced that it would maintain the Trump administration's cap of 18,000 refugees—the lowest it had been since 1980—only to reverse the decision and twice increase the cap in response to a chorus of objections. While the administration rescinded the Remain in Mexico program, it was of little practical effect, as it left in place the enforcement of Title 42 of the Public Health Services Act at the border. As of April 2022, for example, Schrag et al. (forthcoming 2023) write that the Biden administration had removed more than 1.6 million asylum seekers under Title 42. Title 42 enforcement will soon likely come to an end, as a federal district judge declared that it was "arbitrary and capricious" on November 15, 2022 (Jordan & Sullivan, 2022). The Department of Homeland Security requested a stay in response, which was granted, in order to allow "for an orderly transition to new policies at the border," and it has appealed the decision. Much remains uncertain about the administration's next steps, though advocates urge it not to increase detention as a way of compensating for the inability to exclude entrants through Title 42.
All of this uncertainty underscores a central point of the book: congressional action would bring much more stability to the asylum system. Schoenholtz et al. suggest that Congress must enact more robust checks that would prevent executive overreach, particularly because asylum seekers lack a direct political voice. They suggest that the Refugee Protection Act of 2019, sponsored by Senator Patrick Leahy and Representative Zoe Lofgren, provides a helpful blueprint (p. 124). Specifically, they advocate legislative provisions that (1) recognize persecution on account of gender identity and sexual orientation as a ground for asylum; (2) ensure that those fleeing harm from a nonstate actor need not show that the government effectively "sponsored" the persecution; (3) make asylum mandatory rather than discretionary; and (4) remove the attorney general's ability to establish new exclusions to asylum protection (p. 125). For the most part, the authors do not attend to the feasibility of such reform, and readers are not given a sense of how unlikely these are within a deeply polarized legislature. Of course, this topic could fill a separate volume, and may simply lie outside of the book's scope. Schoenholtz et al. also might have contextualized the prior administration's policies globally, acknowledging the ways in which a nearly identical rhetoric has taken hold in other countries and resulted in similarly restrictive policies.
The End of Asylum is an essential read for anyone devoted to the study of asylum. It leaves its readers apprehensive that this new precedent will embolden future administrations, as the Trump administration may have established a new floor and normalized a world in which asylum protections may be readily and vastly diminished. It further serves as a compelling reminder of a larger lesson that reaches far beyond the asylum context. From the ease with which the prior administration undid an elaborate set of humanitarian protections, we are reminded of the perils of entrusting the executive branch with virtually unfettered discretion with respect to noncitizens.
References:
Susan Bibler Coutin, Contesting Criminality: Illegal Immigration and the Spatialization of Legality, 9 Theoretical Criminology 5 (2005).
Miriam Jordan & Eileen Sullivan, Judge Invalidates Rule Allowing Migrant Expulsions at the Border, N.Y. Times (Nov. 15, 2022), https://www.nytimes.com/2022/11/15/us/immigration-title-42-judge.html.
Gil Loescher & John Scanlan, Calculated Kindness: Refugees and America's Half-Open Door, 1945 to the Present (1986).
Phillip G. Schrag, Baby Jails: The Fight to End the Incarceration of Refugee Children in America (2020).
Phillip G. Schrag, Jaya Ramji-Nogales & Andrew I. Schoenholtz, The New Border Asylum Adjudication System: Speed, Fairness, and the Representation Problem, 66 Howard L. J. (forthcoming 2023).
Eileen Sullivan, U.S. to Begin Allowing Migrants to Apply for Asylum Under a New System, N.Y. Times (May 26, 2022), https://www.nytimes.com/2022/05/26/us/politics/asylum-system.html.
Mary S. Hoopes is an Associate Professor of Law at Pepperdine Caruso School of Law.