The Forest City Killer: A Serial Murderer, A Cold-Case Sleuth, And A Search For Justice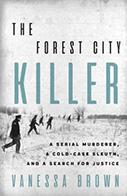 Author: Vanessa Brown
Publisher: Toronto: ECW Press, 2019. 360p.
Reviewer: Mike Farris | September 2020
Most true crime books have an ending that neatly wraps up the story—usually with an arrest, trial, and conviction. Even Truman Capote held off finishing his "non-fiction novel" In Cold Blood until he knew the outcome of the appeals of killers Perry Smith and Dick Hickock, and his final chapter includes the hangings of both men.
Real life is not always so tidy. Not every tragic murder has a final conclusion that satisfies society that crime doesn't pay; sometimes it seems as if crime does pay. But even those open-ended stories are worthy of the telling, if for no other reason than to keep the victims alive in our public consciousness. And to remind the perpetrators not to rest easy.
In The Forest City Killer: A Serial Murderer, a Cold-Case Sleuth, and a Search for Justice, author Vanessa Brown re-visits a decades-old hunt for a serial killer in her hometown of London, Ontario — one of those stories without a satisfactory ending. Brown, a bookstore owner, first learned of the murders by reading the book Murder City, in which author Michael Arntfield dubbed London the "serial killer capital of Canada, if not the world."
Intrigued by that indictment of her hometown, Brown, a natural researcher, began to dig into the cases of unsolved murders in London, known as the "Forest City," during the 1960s. The one that grabbed her attention right off the bat was the murder of 15-year-old Jackie English, whose death had been investigated by homicide detective Dennis Alsop, Sr. In response to the author's inquiry, Alsop's son was more than happy to turn over to her his father's files on the unsolved case he had continued to work up until his death in 2012.
Digging through Alsop's files, Brown was hooked. "Finding out about Jackie English was like wandering through Buffalo Bill's basement," the author writes, referencing the fictional serial killer in Thomas Harris's The Silence of the Lambs. "[T]here were all of these doors connecting rooms to one another, and behind each one was another appalling secret."
The narrative follows the author as she pieces together a timeline connecting multiple victims, both before and after English, but all apparently part of a pattern. She concedes that more than one killer may have been involved, but skepticism pervades her prose. After all, a pattern is a pattern, and the conclusions it suggests cannot be ignored or discounted.
One of the problems she encountered, besides determining the classic whodunnit, was ensuring that the pattern she discovered was complete. After all, when dealing with serial killings, can you ever really be sure which victim was the first and, unless the killer is definitively identified and stopped, which was the last—or has the last even occurred yet?
Brown, as did the police before her, narrowed her suspect pool to two: David Bodemer and Glen Fryer. But neither she nor the authorities were able to directly tie either of the men to the serial pattern. DNA evidence exists but, remarkably, to this day, "it has never been tested against samples left by the Forest City Killer."
A conviction was obtained against Bodemer for one of the victims, Georgia Jackson, albeit on a non-capital murder charge, and Brown contends that it is questionable whether he was responsible for the others. Although Bodemer confessed, it was only to that sole crime for which he was convicted, and he served but ten years of his life sentence before being released. The author tells us that "Bodemer has lived a full life over his past thirty-six years of freedom . . . He is currently alive and well." You can almost hear the disgust in her words.
As for the other victims and their families? "[T]hese unsolved cases have resonated throughout their lives for decades." And there is no justice. At least not yet.
But Vanessa Brown continues to search.
Mike Farris is an author of both fiction and non-fiction, including two true crime books: A Death in the Islands: The Unwritten Law and the Last Trial of Clarence Darrow and Poor Innocent Lad: The Tragic Death of Gill Jamieson and the Execution of Myles Fukunaga. A retired attorney whose practice included commercial litigation and entertainment law, he is an adjunct professor of Constitutional Law and Entertainment Law at the University of Texas at Arlington.