The King Of Confidence A Tale Of Utopian Dreamers, Frontier Schemers, True Believers, False Prophets, And The Murder Of An American Monarch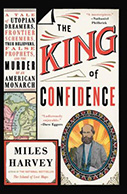 Author: Miles Harvey
Publisher: New York: Little Brown and Company, 2020. 416p.
Reviewer: Kevin Cassidy | August 2021
James Jesse Strang is the focus of The King of Confidence written by Miles Harvey. In his late   teens, Strang's mind was always filled with dreams of marrying royalty and having power. He laid out elaborate plans to marry thirteen-year-old Princess Victoria, heir to the British crown. In other writings, which he wrote in a secret code, he lamented about being a priest, a lawyer, a conqueror, and a legislator. He thought of himself as being the American version of Napoleon. He read books on Napoleon, and was fascinated by Napoleon's principles with respect to duplicity and dissimilation. These readings filled his head with grandiose ideas and ways to manipulate and exploit others. Being an avid reader, he was also fascinated by the writings of Percy Bysshe Shelly. Strang embraced Shelly's vision of a utopian society, as well as having valued the lessons learned from Napoleon on hiding his true feelings and the art of manipulating others. All this laid the groundwork for Strang to become one of the ultimate con men of his time.
James Strang was smart and apparently had a tremendous memory — always two excellent traits for con men to have. In 1836, Strang was admitted to the New York Bar and opened his own law practice. The author takes the reader through the turbulent times Strang faced early in his life, beginning with a failed marriage, failed real-estate deals, bank foreclosures, and a failed attempt at being an editor and publisher of a paper called the Randolph Herald. One of the last articles he wrote for the Herald was titled 'How to make Money'. A few days after that story appeared in the press, Strang discontinued publishing the paper. Then some six weeks later, he vanished. There was speculation at the time that he may have been robbed and murdered. That was not the case, however. He turned up alive and well in western New York. He also had a new profession — as a prophet of God!
Miles Harvey's book is well-written and takes the reader through an adventuresome journey, providing background on a decisive period of antebellum history. Harvey also intersperses his book with stories of other acts of deceit which readers will find interesting. For example, in 1851, American newspapers were extoling the writings of Currer Bell, the man who had written the novel Jane Eyre. It was later revealed in the New York Tribune by Charlotte Bronte herself, that she, using the pseudo name Currer Bell, had actually written Jane Eyre. Charlotte Bronte further explained that she and her two sisters, Emily and Anne, had published books under the gender-neutral names of Currer, Ellis, and Acton Bell. Charlotte Bronte's reasoning was simple: "our mode of writing and thinking was not what is called 'feminine' – we had a vague impression that authoresses are liable to be looked on with prejudice."
The King of Confidence centers around a twelve-year period that some say was the biggest con ever perpetrated at that time. In the summer of 1843, Strang vanished from a small town in New York. Sometime later, he arrived in the Midwest and converted to the growing movement of Mormonism. One year later, Joseph Smith, the leader of the Church of Jesus Christ of Latter-Day Saints, was shot and killed by an anti-Mormon horde. James Strang then came forward and claimed to have a letter from Smith naming him (Strang) as his successor.
Harvey discusses Strang's stronghold on this church, as well as his turbulent dealings with church leaders Brigham Young and Sidney Rigdon. They both rejected Strang's claims, and this divided the Latter-Day Saints movement. Not surprisingly, Strang offered a complex set of principles that differed in many substantial respects from any other version of Mormonism.
In general, the author here provides the reader with dates and events that remind one of historical happenings that were occurring at the time. Strang's ability to convince others to believe in him and what he represented, as well as his sheer brilliance, permitted him to carry on his deceptions for many years. He was truly a "king of the con."
Kevin Cassidy-Professor in the Security, Fire & Emergency Management Department at John Jay College. He also lectures at Slippery Rock University in Pennsylvania. He is a member of ASIS.