The Politicization Of Safety: Critical Perspectives On Domestic Violence Responses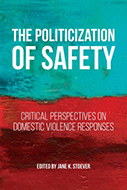 Author: Stoever, Jane K.
Publisher: New York, NY: New York University Press, 2019. 410p.
Reviewer: Amber L. Morczek | September 2019
The Politicization of Safety: Critical Perspectives on Domestic Violence Responses provides extensive insight into the issue of domestic violence through an intersectional lens. The edited volume is skillfully organized into five parts, each thematically organizing the individual contributions therein.
As the editor Jane Stoever notes in the introduction, the book's thematic focus is that safety is inherently a political issue, chiefly for women and people of color, and that sociopolitical hierarchies often determine how and for whom safety is measured and addressed. And, while both the editor and several authors note that gender-based violence is in the cultural zeitgeist, most recently in relation to the Women's March and #MeToo movement as well as in the wake of mass casualty events wherein the perpetrator has a history of violence against women, prevention and response in relation to domestic violence are still evolving and, in many ways, wholly deficient.
Historical responses to intimate partner violence are discussed in the text from the outset, including how the movement has spurred "tensions and fractures" within the feminist community — regarding whether, or how much, criminalization and state-control should be utilized to address domestic violence in its many iterations (p. 1). After all, state control can be unduly harmful to victims and communities alike and myopically using law enforcement as a default response for domestic violence is problematic and often fails to account for the intersectional nature of the phenomenon that often impedes justice. This point is well-articulated and salient for many impacted by intimate partner violence, and especially those living in poverty, people of color, and those in the LGBTQIA community. Still more, the authors dutifully examine the relationship between firearms and domestic violence, the criminalization of victims of domestic violence, as well as the fact that those charged with responding to domestic violence may themselves be responsible for perpetrating it (e.g., police officers).
In the final sections of the book, various authors carry the reader forward with democratizing policy reforms situated within and between communities, systems, and institutions – including, but not limited to, utilizing public health/ harm reduction techniques to address the realities of domestic violence. The authors have also made it clear that we must not disconnect politics, policy, and power from the social problem of intimate partner violence as well as safety, more broadly. Indeed, as the reader reaches the book's end, it becomes quite apparent that this text delivers the appropriate depth and breadth for such a substantial topic of study.
Infused with  activist vigor, this book leaves the reader empowered; empowered to reframe and update domestic violence policy and practice through an intersectional lens, improve access to both safety and justice, and to take stock in the nuanced and contextual charge to address this issue. In all, the detailed nature of this text appropriately encapsulates the multifaceted issue of domestic violence as ultimately politicized, intersectional, and often riddled with varying perspectives and contexts regarding prevention and response. While there is no panacea for domestic violence, the contributions contained in this book take us another step in the right direction and challenge the reader to broaden their perspective on the issue.
Accordingly, from my perspective, this edited volume would be most appropriate for 1) upper-division undergraduate or graduate courses in the social sciences and humanities, 2) those in the academy seeking new perspectives on domestic violence, 3) practitioners, and/or 4) activists. In sum, this edited volume is a critical and impressive supplement to the existing literature with a potentially wide-reaching sphere of influence.
Amber L. Morczek, Ph.D., Assistant Professor of Criminal Justice, Nevada State College