What We Know: Solutions From Our Experiences In The Justice System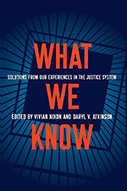 Editors: Vivian Nixon and Daryl V. Atkinson
Publisher: New York: The New Press, 2020. 272p.
Reviewer: Terry A. Kupers | September 2021
I worry about what individuals released from prison have to look forward to. The powers that be in the criminal legal system worry more about recidivism. That is why every step of the incarceration process drills those behind bars in compliance. Follow rules, do what you are told, do not talk back to staff, do not be too familiar, do not raise questions the staff have a hard time dealing with. Perhaps corrections staff focus exclusively on compliance figuring that will correct the kind of rule-breaking and unlawful behaviors they imagine got their wards into prison in the first place. But what I see in too many individuals who leave prison and return to the community is a certain lack of initiative, a kind of lethargy, reclusiveness and the absence of a joie de vivre. This is especially the case if they have spent significant time in solitary confinement. They were likely sent to solitary because staff felt they were not compliant enough with the rules and with the staff's orders. Time in "the hole" was meant to break them of their strong will. Too many times it does, and causes what I term "the decimation of life skills." The staff's single-minded quest for compliance is foolhardy and very destructive. After all, when individuals leave prison we want them to have initiative and be able to think for themselves, and think critically, so they can succeed in a technology-infused world of work, and participate fully in the democratic process. The overly compliant individual becomes a recluse after being released, whereas individuals who took college courses and job training programs are qualified for high-power jobs, self-taught jailhouse lawyers can work in law offices, and the formerly incarcerated autodidact can convert his or her intellectual prowess into productive activities in the community.
Reverend Vivian Nixon and Attorney Daryl Atkinson, the editors of this eye-opening volume, have done time. They were not broken by the experience, and they are committed to helping formerly incarcerated individuals live a full and vital life. In this volume they have provided a platform for incarcerated and formerly incarcerated individuals to share their innovative ideas about prison reform. To their great credit, in their editing they have not censored the contributors or tried to fit their writing into any pre-conceived notions about the correct way to reform the system. Rather they write: "We as a country have largely failed to recognize the expertise and potential of incarcerated people and people with conviction histories…. We, the editors of this book, do not necessarily agree with every aspect of every reform suggested in these pages…. that said, our approach was not to solicit pieces with particular arguments, but to defer to the contributors in proposing their reforms and to practice what the book preaches about listening to and respecting the wisdom of 'those who know.'" This is quite the opposite of fostering compliance, and the result is a volume filled with very smart and very wise ideas about reforming the criminal legal system.
Many of the authors focus on job training and other programs in the prisons that will better prepare prisoners to succeed in the community. Just about all research in criminology supports the proposition that education and job training increase the chances of a person succeeding at "going straight" after release.  Thus Kevin E. Jackmon, currently serving time in Massachusetts, argues forcefully that education and vocational training should be mandatory for everyone behind bars, and that a significant proportion of state jobs should be earmarked for formerly incarcerated folks at the going rate of pay. Teresa Y. Hodge, a formerly incarcerated woman who is very sophisticated with technology, argues for inclusion of formerly incarcerated people in communities where technology is widespread. She recommends making technology widely available to the incarcerated and formerly incarcerated population. Michelle Jones, a doctoral student in the community who spent 20 years behind bars, advocates a "Government Employee Project," educational programs for people in prison combined with guaranteed government jobs after they are released.
Streedhar Potarazu, after pointing out that 70% of those behind bars read at a fourth grade or lower level, proposes literacy-focused prison educational programs and better studies of the effects of literacy on recidivism rates. And Bob Pelshaw, a formerly incarcerated man with business skills, advocates a financial and business education for individuals behind bars and a mentorship program to help people in prison convert their "street skills" into marketable post-release business pursuits. Mathew Lucas Ayotte, currently serving time, envisions a strengths-based peer mentorship program inside prisons where individuals are encouraged to share their skills and wisdom with others, so "inmates' sense of self would be bolstered instead of diminished."
It is no surprise, since a large proportion of individuals who do time first entered prison at a very young age, that several authors write about the horrors of being a juvenile in the adult prison system. Arthur Longworth went from a childhood in foster homes in Washington state to a thirty-five-year prison term. He proposes a "Youth Advocates Program," where staff in the community track individuals who enter the prison system as youths, and provide them assistance to improve their trajectory through the criminal legal system and after they are released. Chris Dankovich proposes reforming the process by which juveniles are tried as adults, beginning with an end to financial incentives for states in the process, and including an end to prosecutors' discretion in trying juveniles as adults. Indeed, we are today witnessing the demolition of the juvenile justice system as budgets are shrunk and more juveniles are tried as adults and sent to adult prisons, where they will receive very little of the rehabilitation that the juvenile system was intended to provide.
Other contributors speak with clarity and vision about the need for greater fairness, improved resources and humanity at every turn along the criminal legal process. Thomas Bartlett Whitaker, a celebrated writer from behind prison walls, chronicles the harsh abuses that prevail when there is no accountability for prison staff and administration. He outlines three levels of oversight that are desperately needed in prison, a fair and independent grievance procedure, an independent Ombudsman who will look into concerns about events in the prison expressed by people outside the prison, and an Inspector General who will oversee the implementation of laws within the prison system and the investigation of staff who violate those laws. He argues that this kind of three-tiered oversight system must be made more fair and more independent than the system currently operating in Texas prisons. Ty Evans, who is serving time in Indiana, examines the 13th Amendment's provision that slavery remains legal if a person has been convicted of a crime. He argues that we need to end slavery in prison, set up the same kind of work schedules that prevail outside prison, and require that incarcerated individuals who work be paid a decent wage. C.T. Mexica has done a lot of time, and advocates for an honor yard where education and rehabilitation programs are available to prepare people to succeed after being released. Daniel S. Throop, serving time in Massachusetts, advocates for a National Prison Debate League, where participants from the prisons can debate college teams. Shirley Anne McCulley, incarcerated in Georgia, points out that most misbehaviors in prison are fairly minor, yet they are harshly punished. She proposes a Raising Inmates Social Elevation (R.I.S.E.) Program, an improved incentive program in prison that provides small rewards for specific good behaviors and fewer group punishments for a large number of people when only a few have committed bad acts.
The flagrant racism that permeates the entire criminal legal system, and plays into a lot of the violence and abuse that happens daily in the prisons, is a theme that runs through the entirety of this very poignant volume. Mika'il DeVeaux, a formerly incarcerated college teacher with a Ph.D., explains the 13th Amendment clause that permits the continuation of slavery for those convicted of crimes, and advocates strongly for abolishing that clause.
Several contributors focus on the excessively long and harsh sentences that are meted regularly in the USA. Aaron Striz, residing in a Texas solitary confinement cell since 2001, proposes a "20/20" program where individuals who committed their crime before the age of twenty and have served twenty years are offered a vocational training program, and upon completing that program they are paroled. Khalil A. Cumberbatch, a formerly incarcerated person, advocates for greater use of executive pardons, especially for immigrants who face deportation proceedings following their release from prison. Jeremiah Paul Cahours calls for a more fair re-structuring of the "good-time credit system" that monitors behavior in prison and takes days off a prison term for proper behavior. Reginald Manning, incarcerated in Maryland, advocates for improvements in the parole process so individuals like him, with life sentences, can win parole. He also envisions the creation of "Link Ledgers," where those whose crimes hurt someone, as well as the victims of their crimes, can share their stories on an online forum to increase understanding between people in prison and in the community. Charles Patrick Norman, while doing time in South Florida, watched elders in the prisons become ill and die without the support of a community. He advocates releasing elders serving life sentences to private care facilities in the community.
Many of these authors focus on improving the lives of people after they are released from prison. Corey "Al-Ameen" Patterson advocates for, and wrote the Massachusetts Bill that requires voter registration of individuals about to be released from prison so they can vote immediately upon release. Terah Lawyer, a formerly incarcerated woman, advocates utilizing the "sharing economy," for example homeowners sharing a room in their home with someone coming out of prison, to give them a safe and fresh start in the community. Lewis Conway, Jr., a formerly incarcerated person who has run for office in Texas, proposes educating people behind bars about public service opportunities including running for office after they re-enter the community.
DeAnna Hoskins, a formerly incarcerated woman and CEO of JustLeadershipUSA, advocates for more emphasis on human dignity in the justice reform movement. She advocates for the rights of people in prison, and for a sharp turn away from punishment and toward humane assistance in creating a more positive life. She is the only contributor other than the editors who advocates for significant de-carceration. She quotes a prisoner she met on a tour of a Norwegian prison, who told her "whenever he gets depressed he watches a documentary about U.S. prisons and thanks God he is in Norway." Indeed, the USA has 5% of the world's population and 25% of the world's prisoners. There are as many as 100,000 people in solitary confinement in the USA. There needs to be a radical overhaul of the entire criminal legal system, beginning with drastic downsizing of the prison population. In the process, instead of obsessing about the need for people in prison to be compliant, we need to shine a spotlight on the creative, intelligent and very dignified contributions of incarcerated and formerly incarcerated people such as the authors and editors of this remarkable and enlightening volume.
Terry A. Kupers, M.D., M.S.P., is Professor Emeritus at The Wright Institute and author of Solitary: The Inside Story of Supermax Isolation and How We Can Abolish It (Univ of California Press, 2017)