Women, Crime and Criminal Justice: A Global Enquiry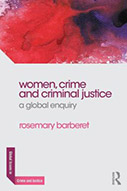 Author: Rosemary L. Barberet
Publisher: London; New York: Routledge, 2014. 232p.
Reviewer: Judith A. Ryder | March 2015
Rosemary Barberet's new book Women, Crime and Criminal Justice: A Global Enquiry, will excite instructors who have struggled to incorporate global perspectives on women and crime into their graduate and undergraduate courses. Recognition of the growing internationalization of higher education is high, yet the reality of taking on the criminological world—literally— is difficult and somewhat intimidating. Too often the goal of presenting students with an integrated and contextualized picture of women and crime is reduced to the addition of a few films, readings, and lectures pertaining to countries outside the United States. In her very readable text, however, Barberet outlines a comprehensive, feminist approach to this dilemma that illustrates how powerful global forces shape local and international patterns of female offending, victimization, and professionalization, and why that matters in today's world. In prioritizing the global over the local, Barberet also gives feminist (indeed all) criminologists entré to the interdisciplinary global debates surrounding gender, women's rights, and justice.
For criminologists trained in the Anglo-American tradition, Barberet's book introduces scholarship on global women's issues that is grounded in international relations, development studies, political science, and public health, as well as the policymaking work of intergovernmental organizations such as the United Nations and the Organization for Economic Co-operation and Development. Combining feminist research methods with international comparative methods of social science, Barberet strives to counter biases in the production of global knowledge: she deliberately includes studies originally published in languages other than English, and privileges the analyses of individuals native to the study area. Additional source material is drawn from intergovernmental and nongovernmental organizations' journals, briefings, reports, and fact-finding mission publications.
The first of three sections, Global Forces (chapters 1-3), sets the stage by presenting key explanatory frameworks for understanding women and crime and reviewing feminist international research methods. An overview of central organizing concepts in criminology culminates with the pointed suggestion that once we adjust the gender lens to focus on international developments, we may need to revamp theoretical and methodological assumptions about women, crime and justice. After reviewing the expansive literature on women and globalization and women and development, Barberet demonstrates how the dominant discourse masks the impact globalization (increased human mobility, inequality, and poverty) has on women's daily lives, even as rapid socioeconomic changes around the world generate new opportunities for gendered victimization and offending. This section concludes with a chapter devoted to a critique of international law and human rights frameworks as a response to female crime and victimization, and includes a discussion of the main human rights conventions, international organizations, and activist movements working to prevent and reduce gender injustice.
The second section, Violence Against Women, consists of three chapters (Chapters 4-6) that address the complexities and all-encompassing definition of violence against women that the United Nations employs in Article 2 of the Declaration of Elimination of Violence against Women. The chapters discuss violence against women in peacetime, in conflict and post-conflict settings, and in the context of sex work, prostitution, and trafficking for sexual exploitation. Elaborating on themes that are reiterated throughout the book, this section illustrates how women are not only made invisible (as the domestic Anglo-American literature argues) but how in the global context women are considered expendable (e.g., infanticide), treated as commodities (e.g., child brides), or are instrumentalized as proxies for something else (e.g., purity, chastity, fidelity). Barberet's analysis of violence against women in peacetime questions whether in truth peace ever exists for women, and so leads to a deeper discussion of gendered crime and violence both during and after episodes of armed conflict, including cases of forced pregnancy, sexual torture, slavery, and rape in refugee camps. Finally, this section reviews the international moral and legal debates surrounding women and crime and the sale of women's bodies and sexual services, and sexual trafficking. The chapter contrasts women's' agency with expendability, and the macro forces that push women toward international sex markets.
The final section, Justice for Women (Chapters 7-9), examines women located in three distinct but interconnected components of the criminal justice system: offenders, prisoners, and justice professionals. The first chapter in this section summarizes emerging criminological explanations of female crime, even as it notes the international community's limited interest in female offending (as compared to the interest in female victimization). There is much difficulty obtaining accurate offending data, particularly outside of Anglo-American culture, and thus a valuable contribution is a comparative analysis of sex-disaggregated United Nations Crime Survey data and a review of data from the European Sourcebook on Crime and Criminal Justice Statistics. Also notable, and unlikely to be found in other texts on female offending, is a close investigation of women in four key areas of international offending: transnational drug trafficking, human smuggling/trafficking, genocide, and suicide terrorism. The subsequent analysis of female incarceration explores commonalities and differences in global prison rates and conditions and advocates for the implementation of newly-created international rules designed to address the needs of female prisoners. A final chapter attends to the small but growing number of women who labor in male-dominated criminal justice professions. Barberet discusses historical trends that have limited the number of female professionals in global justice systems and reviews debates and models for integrating more women into this unique work force. She maintains that the possibility exists for a reinvention of women's justice via new contexts (e.g., female police and peacekeeping units) and new courts (e.g., the International Criminal Court).
Women, Crime and Criminal Justice succeeds in presenting a concise overview of an extensive yet understudied field. Barberet challenges criminologists to think internationally, and in so doing "stretch our narrow definition of crime" and our understanding of context to include social harms and acts committed in times of war. Internationalization also requires criminologists to engage with disciplines traditionally cast as unrelated, such as public health, security sector reform, development studies, linguistics, and economics, and to employ an intersectionality that encompasses nationality, immigration and refugee status. In urging criminologists' participation in the global conversation on gender and justice, Barberet also provides readers with explicit guidelines and some basic tools for entering into that dialogue. Figures and tables synthesize large amounts of data that are not readily available to the uninitiated, and a list of abbreviations augments Barberet's introduction to the vocabulary of global criminology. A list of documentary films and a list of biographies of women offenders, victims, professionals, and activists are helpful supplements. Finally, Barberet reminds feminist criminologists that they have both the skills and the data that can and should inform the work of nongovernmental organizations (NGOS), the United Nations, and human rights groups around the world. Important theoretical and methodological questions about women, crime, and justice remain; Barberet urges scholars, practitioners, and students to respond from a gendered and global perspective.
Judith A. Ryder, Associate Professor, Sociology & Anthropology Department, St. John's University, Queens, NY