Wrongful Conviction In Sexual Assault: Stranger Rape, Acquaintance Rape, And Intra-Familial Child Sexual Assaults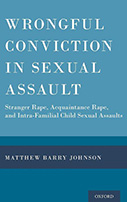 Author: Matthew Barry Johnson
Publisher: Oxford University Press, 2021. 212 pages.
Reviewer: Russell D. Covey ǀ January 2022
The wrongful conviction of the innocent has a long history as an object of academic concern. American books on the subject date back at least as far as 1928, when Edwin Borchard published a study of known false convictions. Nonetheless, the phenomena was largely shrugged off by most legal practitioners and observers. In the famous words of the celebrated Judge Learned Hand, "[o]ur procedure has been always haunted by the ghost of the innocent man convicted. It is an unreal dream." This all changed with the advent of forensic DNA technology. Starting in the late 1980s, forensic DNA began to be used to assess biological evidence recovered in criminal investigations. It did not take long before the technology was employed to audit past criminal convictions with startling results. Beginning in earnest in the early 1990s, and led by the pioneering work of the New York-based Innocence Project founders Peter Neufeld and Barry Scheck, dozens of persons convicted of extremely serious crimes were found to have been innocent after biological evidence was subjected to DNA testing. Scores of exonerations soon followed, albeit often only after extensive litigation by lawyers associated with what has come to be known as the "innocence bar."
Scholarly scrutiny of these exonerations soon provided a new and powerful source of insight into the accuracy, and inaccuracy, of the criminal legal system. One of the first comprehensive reviews of the DNA exoneration cases was undertaken by Professor Brandon Garrett. In a 2008 study, Garrett gathered data on the first 200 persons exonerated as a result of postconviction DNA testing in the United States. Of these, Garrett found that 185 had been convicted of either rape or rape-murder. The preponderance of sex -related crimes among this group, however, is far from surprising. DNA testing is only possible where biological evidence exists to be tested, and in the early days in particular, relatively large quantities of material were needed to obtain reliable DNA test results. Semen is by far the most likely type of biological evidence 1) to be found at a crime scene in 2) sufficient quantities that 3) can also be readily linked to the perpetrator of the crime. For this reason, sexual assault cases have played, and continue to play, an outsized role in the DNA exoneration world.
Whereas most wrongful conviction scholarship has tended to use the heavily rape-related DNA exoneration cases to generalize about the phenomena of wrongful convictions more broadly, Matthew Barry Johnson's monograph, Wrongful Conviction In Sexual Assault, chooses the opposite tack. Johnson, a psychologist by training, examines the collected body of data on false convictions in rape/sexual assault cases and tries to make sense of it within the context of the political, historical, and legal dynamics surrounding the investigation and prosecution of cases involving rape and sexual assault.
While there is much of interest in the work for both scholars of wrongful convictions and scholars of the investigation and prosecution of sexual assault crimes, I will focus here on two of Johnson's principal findings.
First, in synthesizing wrongful convictions research from numerous disciplines, Johnson develops an important and often underappreciated insight: much of the evidence upon which false convictions are based is not found, but manufactured. Johnson refers to this evidence as the product of "'black box' investigation" methods. By this he means to highlight, first, the affirmative role that investigators play in creating evidence. A false confession, for example, is virtually never freely offered to passive listeners. Rather, it is the product of more or less coercive and intentional doing by interrogators. Methods range from extended incommunicado interrogation that exhausts the fortitude or will of the suspect, to trickery and deceit, to outright violence or threats of violence. Most false confessions are either written by police and "adopted" by suspects, or are dictated to them by the interrogating officers. As Garrett's research into false confessions has demonstrably proven, police invariably "contaminate" these confessions by disclosing to the suspect (intentionally or inadvertently) details of the crime that purportedly "only the perpetrator could have known," or including such details in police-authored drafts of the purported confessions, so as to make them believable to juries.
Law enforcement is often similarly active in generating other types of evidence as well. Mistaken eyewitness identifications, for instance, may result from intentionally or inadvertently suggestive identification procedures. These can range from choosing lineup or photo array "fillers" who don't match the victim's description of the perpetrator to placing a thumb on the suspect's photo during the presentation to the eyewitness. Informants may be induced with the prospect of significant rewards to testify about a "confession" that never occurred, or to allege events that never happened.
Traditional police investigatory methods, moreover, shield all this from view, which is why Johnson rightly condemns the evidence obtained in such ways as the product of the black box. There is little doubt that criminal investigation procedures would be substantially improved, as Johnson argues, with increased transparency. Such transparency, through audio-visual recording of interrogations, lineups, and witness interviews, in fact is slowly becoming more common in many jurisdictions across the nation. Increased transparency not only increases the reliability of evidence, it also allows investigators to go back and review a suspect or witness's demeanor more carefully once an interview or interrogation is concluded, allowing them to catch details that were previously missed. Just as importantly, the recordings, which allow prosecutors to show the jury the suspect's verbatim confession, are far more persuasive evidence than would be a mere secondhand account of it.
Second, Johnson formulates a thesis — the "stranger rape thesis" — that he uses to explain the apparent prevalence of wrongful convictions in rape and sexual assault cases. Johnson posits that stranger rape crimes trigger particularly strong feelings of "moral outrage" in local communities and in law enforcement investigators. This moral outrage has two primary effects. First, through heightened media attention and the political opportunities and threats such attention naturally brings, it puts unusual pressure on police and prosecutors to quickly identify a perpetrator and obtain a conviction. Second, moral outrage, and the accompanying urge for "moral correction," Johnson argues, actively triggers psychological processes that work to undermine the objectivity or judgment of nearly everyone involved in the investigation and adjudication of such offenses. This moral outrage causes investigators to assume the guilt of an identified suspect to the exclusion of other later-surfacing suspects or explanations, triggering what has been popularly described as "tunnel vision." Tunnel vision is a shorthand term that describes a collection of cognitive biases and heuristics, including confirmation bias, expectancy bias, and misinformation effect, that leads investigators, prosecutors, and jurors alike to invest seemingly inculpatory evidence with greater weight than it might deserve while simultaneously failing to seek out, or to discount or ignore, exculpatory evidence or non-inculpatory explanations.
Citing studies that develop the "culpable control model," Johnson argues that moral outrage and the strong and arguably innate drive to seek moral correction may cause all of the relevant actors in the criminal legal system to experience "'spontaneous emotional reactions to a victim's suffering, and a consequential lowering of the evidential threshold.'" Whether the dynamic described in the moral outrage theory is a significant contributor to wrongful convictions is an empirical question that could, at least in theory, be tested. It certainly fits a common narrative of wrongful convictions that has hoary roots: a stranger/other disrupts the peace of a local community by committing a horrific act and the enraged, pitch-fork wielding community responds by stringing up the first outcast unlucky enough to fall in its path. But while the moral outrage account seems intuitively plausible, there are reasons to question the narrative, particularly as it figures in Johnson's assessment of wrongful convictions in sexual assault cases.
First, it is not clear that Johnson's stranger rape thesis can be sustained by the extant data. While it is likely true that stranger rape crimes inspire a particularly strong aversive reaction among both law enforcement officials and jurors, the great prevalence of stranger rape cases among the set of exoneration cases likely has more to do with the dynamics of proof and procedure in the exoneration process than it does the accuracy of convictions in sexual assault cases.
An exoneration is a formal recognition that a person convicted of a crime is "actually innocent" of that crime. Actual innocence can be proven in a variety of ways, but typically it requires proof either that the police arrested the wrong person or that the crime itself did not occur. Post-conviction DNA testing is only relevant in cases where the perpetrator's identity is at issue, and identity will be an issue in stranger rape cases far more often than it is in acquaintance rape cases. This of course does not mean that wrongful convictions don't happen in acquaintance rape cases. They undoubtedly do, but the legal issues in such cases far more often will center around matters of victim consent rather than perpetrator identity, and DNA testing is simply irrelevant to the issue of consent.
The kinds of new evidence that would lead to an exoneration in sexual assault cases that don't involve perpetrator identity might include the victim's recantation, or evidence that definitively demonstrates that the victim's allegation was false, but finding such evidence after a trial is over is rare, and courts uniformly demand that any such evidence be unequivocal before they will even entertain the possibility that a jury verdict might need to be vacated. All the more so for prosecutors – whose assent is often critical to obtaining an exoneration. Just based on the evidentiary realities of the exoneration process, then, we would expect the vast majority of exonerations in rape and sexual assault cases to be stranger rape cases.
In evaluating the exoneration data, Johnson seems not to fully appreciate these evidentiary dynamics, causing him to conflate data regarding the frequency of exonerations with the prevalence of wrongful convictions. His assertion that stranger rape "is disproportionately associated with wrongful conviction when compared to the more common 'acquaintance rape'" cases (p.5) is true only to the extent that exoneration data can be used to assess the relative frequency of wrongful convictions among different types of crimes. For a wide variety of reasons, however, this is likely untrue. Compared with criminal convictions, exonerations are extremely rare legal events. Most exonerations occur only in cases involving decades-long sentences, in which questions regarding the identity of the perpetrator are potentially in question, new evidence not available at the time of trial is discovered, and a kind-hearted lawyer agrees to devote hundreds of hours investigating the facts and litigating the case – usually without pay – and where some legally viable legal remedy remains to be pursued. Wrongful convictions may occur more frequently, or less frequently, in acquaintance rape cases than in stranger rape cases. We simply don't have the data to know one way or the other, and the exoneration data we do have simply doesn't shine much light on the question.
Even if Johnson is correct that stranger rape cases are more likely to produce wrongful convictions than acquaintance rape cases – and I have no reason to doubt this intuition even if it can't be demonstrated – I have a quibble with his formulation of the causal explanation. Along with the "moral outrage" generated by stranger rape, which can lead both to external pressure to obtain convictions and undermine the objectivity of the participants in the investigatory and adjudicatory process, Johnson argues that the "the circumstances of stranger rape, where the victim had no prior relationship with the offender, means it is difficult to formulate a motive and generate potential suspects" (p.117).
To the contrary, sexual assault is a type of crime that provides its own motive. Juries do not need much convincing that men desire sexual gratification. The danger of stranger rape cases then – and this ultimately bolsters Johnson's argument – is that unlike, say, homicide offenses, prosecutors don't need to do anything to prove motive – and thus the potential field of perpetrators can include many more possible suspects – including innocent ones – than would otherwise be the case.
But these are merely nitpicks. Johnson's book does an admirable job of marshaling the data we do have and carefully examining the dozens of cases of wrongful conviction in sexual assault cases about which we know. In doing so, he convincingly illustrates the underappreciated dangers to innocent persons that our current approach to the investigation and prosecution of sexual assault crimes all-too-often triggers. Johnson's findings deserve the attention of scholars of both sexual assault and wrongful convictions, as well as legal reformers. After all, sexual assault crimes are horrific enough for society and their victims; the wrongful conviction of an innocent person in their aftermath only multiplies the harm, while potentially leaving a dangerous perpetrator still at large.
References
Edwin Borchard, Convicting the Innocent: Sixty-Five Actual Errors of Criminal Justice (1928).
Garrett, Brandon L. 2010. The Substance of False Confessions. Stanford Law Review, 62(4), 1051–1119.
2008. Judging Innocence. Columbia Law Review, 108(1), 55–142.
Russell D. Covey is a Professor of Law at Georgia State University College of Law, and is the co-editor of The Wrongful Convictions Reader (Carolina Academic Press, 2019).