5 Grams: Crack Cocaine, Rap Music, And The War On Drugs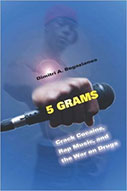 Author: Dimitri A. Bogazianos
Publisher: New York: New York University Press, 2012. 206p.
Reviewer: Steven Block | May 2013
In his new book, author Dimitri A. Bogazianos tackles the complicated relationship between crack cocaine and rap music. While even casual observers recognize that rap artists relate to crack more than any other drug, very few people possess the credentials of Bogazianos to embark on a detailed examination of rap, crack, and the criminal justice system. In this book, the author relies upon his own personal involvement in New York City's rap scene, lyrical content analysis, and popular culture to document how this powerful drug symbolizes many dimensions of life for an entire subculture.
Considering his background, Bogazianos is able to provide a unique perspective on the role that crack cocaine has played in hip-hop culture and, more specifically, rap music. The final product is the most comprehensive examination of crack's influence that has been published to date. The author begins the book by documenting the controversial federal sentencing laws that have governed crack cocaine-related offenses for nearly three decades. While recent legal changes have occurred, countless lives have been affected by the punishment scheme that has mandated lengthy prison sentences for smaller amounts of crack cocaine than powder cocaine. As many commentators, including Bogazianos, have noted, the majority of these lives are black.
Bogazianos argues that crack requires such detailed analysis because it remains relevant approximately 20 years after its short-lived popularity began to gradually diminish. Despite evidence that other drugs are used more in urban settings, contemporary rap artists speak of crack like an epidemic still exists. The book possesses several constant themes that warrant mention. For instance, the author often portrays the contradictory nature of crack's status within rap. While many aspiring and prominent rappers aim to portray great power and wealth, most individuals dealing crack never achieve these goals. Additionally, the book commonly acknowledges the commercial recording industry's influence on the lives of young black men and makes parallels with the role of crack.
Ultimately, there are two specific qualities of this book that broaden the potential readership base beyond scholars of hip-hop culture. First, while possessing great detail, Bogazianos writes in a style that is accessible to readers who are relatively unfamiliar with "the rap game." Second, the author's direct references to criminological theory and sentencing practices allow for a complete understanding of the issue for anyone.
This work is part of the Alternative Criminology Series which produces unique viewpoints on issues often outside of mainstream criminology. Bogazianos' book delivers on the expectations that other books in the series have produced. Considering the evolving connection between rap and criminal justice, surprisingly little academic work has dissected this conflict. The responsibility now shifts toward the entire scholarly community to follow up on this analysis and explore other dimensions of the relationship.
Steven Block is an Assistant Professor at Central Connecticut State University.