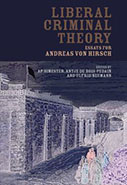 Liberal Criminal Theory: Essays for Andreas Von Hirsch
Authors: A.P.Simester, Antje Du Bois-Pedain, and Ulfrid Neumann
Publisher: Oxford, UK; Portland, OR: Hart Publishing, 2014. 406p.
Reviewer: Douglas Husak | November 2014
This outstanding collection of essays pays tribute to Andreas von Hirsch's work at the intersection of moral philosophy and criminal law. Our reviewer, Douglas N. Husak, concludes that von Hirsch's pioneering work has been uniquely successful in shaping debates about punishment and sentencing theory in both North America and Europe. In Husak's opinion, "no living scholar has been right about so many important philosophical positions in punishment and sentencing theory." He recommends the book highly: "Every single article is worth reading."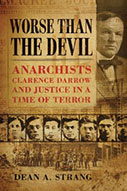 Worse than the Devil: Anarchists, Clarence Darrow, and Justice in a Time of Terror
Author: Dean A. Strang
Publisher: Madison, WI: University of Wisconsin Press, 2013. 276p.
Reviewer: Peter Fenton | November 2014
Worse than the Devil – Anarchists, Clarence Darrow, and Justice in a Time of Terror
by Dean A. Strang, tells the story of a bomb blast inside the main police station in Milwaukee, Wisconsin on November 24, 1917 that killed nine police officers and a civilian – "the single greatest loss of American law enforcement officers until the terrorist bombings of September 11, 2001." The book describes what our reviewer Peter Fenton calls the "grim and shocking injustices inflicted upon the suspects, a group of local Sicilian immigrants, ten men and a woman, who were believed to be anarchists." Clarence Darrow came on the scene to handle (successfully as it turns out) the appeal on behalf of the Sicilians who had been convicted. Fenton says that "[m]uch can be learned from this small but significant book about our twenty-first century concepts of justice in our current `time of terror.'"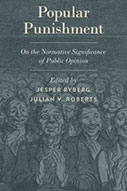 Popular Punishment: On the Normative Significance of Public Opinion
Eds: Jesper Ryberg and Julian Roberts
Oxford University Press, 2014
Reviewer: Matthew B. Kugler | November 2014
What role should public opinion play in determining sentencing policy and practice? Jesper Ryberg and Julian Roberts have assembled an "impressive team of scholars to offer their perspectives on the issue." Our reviewer, Matthew Kugler, found the volume highly interesting, of use both to those who are new to the debate and those who are deeply engaged in it. Whereas "[m]any edited volumes read like a series of disconnected papers" Kugler says, this one contains genuine interchange among the contributors as well as an insightful assessment of the debate.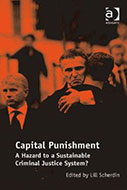 Capital Punishment: A Hazard to a Sustainable Criminal Justice System?
Editor: Lill Scherdin
Publsiher: Farnham, Surrey, UK; Burlington, VT: Ashgate Publishing, 2014. 344p.
Reviewer: James R. Acker | November 2014
Alone among developed Western democracies, the United States continues to use the death penalty, ostensibly as a crime control mechanism. What explains our stubborn embrace of the death penalty? What explains the rejection of the death penalty by other countries? This edited collection, containing fifteen chapters by scholars, activists, and governmental officials from many countries, seeks to answer these questions. Although some of the chapters are a "scattered mix of idiosyncratic perspectives about capital punishment, descriptions of death-penalty laws and practices within various countries and cultural traditions, and paeans for the abolition of this ultimate form of punishment," reviewer James R. Acker concludes that its goal of "illuminating the core argument associated with" the abolitionist position," makes the collection "an important contribution to the international debate concerning the abolition or retention of the death penalty as an instrument of criminal and political justice."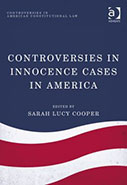 Controversies in Innocence Cases in America
Editor: Sarah Lucy Cooper
Publisher: Farnham, Surrey, UK; Burlington, VT: Ashgate Publishing, 2014. 246p.
Reviewer: Daniel S. Medwed | November 2014
Controversies in Innocence Cases in America, edited by Sarah Lucy Cooper, is a collection of essays marking the end of the first quarter century of the innocence movement. Once DNA evidence allowed us to know with certainty that a surprising number of innocent defendants were convicted and sentenced to long sentences and, sometimes to death, lawyers and academics have focused on two principal tasks: (1) identifying those who have been wrongfully convicted; and (2) determining what failures in the system facilitate the conviction of innocent defendants. Daniel Medwed writes, in his review, that the edited collection "adds to the scholarly conversation in the field; contains chapters that differ with but still speak to one another" and is written by "some of the finest academics in the field." It "does what any good edited collection should do—and more."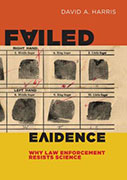 Failed Evidence: Why Law Enforcement Resists Science
Author: David A. Harris
Publisher: New York: New York University Press, 2012. 269p.
Reviewer: William Terrill | November 2014
In his review of David A. Harris' book Failed Evidence, Bill Terrill provides some food for thought for those of us who work in or plan to work in academia. He says that "[o]ver the years I have become increasingly frustrated with the extent to which the criminal justice field, as a collective whole, simply ignores a great deal of rigorous empirical work. It has surely caused me to pause and ask, why have I been doing this work all these years? Is it simply to bolster my own self-interest and pile up the peer-review publications?" Harris is one of those who have thought about that. Using wrongful convictions as the ultimate failure of the criminal justice system, Harris concludes that police and prosecutors not only do not welcome scientific findings, they essentially ignore and even resist them. His book explores why that is, and makes a number of recommendations for helping to resolve this situation.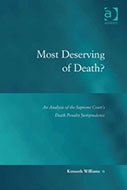 Most Deserving of Death? An Analysis of the Supreme Court's Death Penalty Jurisprudence
Author: Kenneth Williams
Publisher: Farnham, Surrey, UK; Burlington, VT: Ashgate, 2012. 226p.
Reviewer: Steven F. Shatz | November 2014
When the U.S. Supreme Court reinstated capital punishment in Gregg v. Georgia (1976) and its companion cases, one of the court's goals seemed to be to reserve the death penalty for the worst offenders. One of the goals of Kenneth Williams' book Most Deserving of Death? An Analysis of the Supreme Court's Death Penalty Jurisprudence is to determine whether indeed that goal has been achieved. Reviewer Steven F. Shatz calls Williams' effort a tour de force. Both Williams and Shatz are quite clear in their view that "the Court's attempt to `regulate' the death penalty has failed and the death penalty system in this country is `broken.'"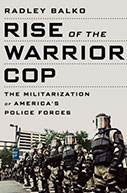 Rise of the Warrior Cop: The Militarization of America's Police Forces
Author: Radley Balko
Publisher: New York: PublicAffairs Books, 2013. 400p.
Reviewer: Samuel Bieler | November 2014
As of the time of this review, the police and police tactics across the U.S. have been much in the public eye and the subject of a great deal of criticism. Some of the controversy surrounding recent events has been focused on what is seen as the militarization of the police. Radley Balko's Rise of the Warrior Cop: the Militarization of America's Police Forces is thus most timely. Balko provides a historical and social overview of the trend of militarization in American policing policies, and offers what our reviewer Sam Bieler calls "a compelling narrative explaining how police departments have been evolving towards a militaristic approach to crime as well as the troubling implications of this phenomenon for the American way of life."