BLOOD IN THE WATER: THE ATTICA PRISON UPRISING OF 1971 AND ITS LEGACY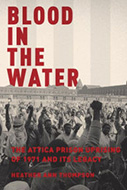 Author: Heather Ann Thompson
Publisher: New York: Pantheon, 2016. 724p.
Reviewer: Russ Immarigeon | January 2017
In early September 1971, nearly 1,300 prisoners rebelled at a maximum-security prison in the small rural town of Attica in western New York State, holding 38 correctional officers and civilian staff members hostage and issuing a set of demands for prison improvements. A few years earlier, prisoner-initiated actions at Attica, as well as in New York City and elsewhere, had ended peacefully and, indeed, constructively. Accordingly, for five days in 1971 the Attica prisoners held to the belief that their actions would have a similar outcome. From the start of this action, however, New York State police officers, correctional officers from neighboring prisons, National Guard soldiers and others were quickly on hand or on call and ready to act.
The "prison uprising" itself was unplanned, emerging from a plethora of poor prison conditions and institutionalized maltreatment. However, it quickly developed a sense of purpose, organization and resolve. Even after five days, an assembled citizen observer group and prisoners themselves urged a peaceful, negotiated ending. Governor Nelson A. Rockefeller was repeatedly asked to visit the prison as part of such a process, but he nixed this opportunity and instead ordered an assault on the prisoners.
Armed state police and correctional officers stormed the prison, dropping massive amounts of tear gas while aimlessly firing on-the-job-issued and personal handguns and rifles. As a result of this massacre, 40 men were killed, including nine of the correctional officer hostages. (During the uprising prisoners killed three fellow prisoners and one officer.)
Within a few years of law enforcement's violent assault on Attica, an official investigation report was released, and written accounts were provided by the state commissioner of corrections and some of the prisoners, as well as a prison chaplain and some of the correctional officers. Now, 45 years later, University of Michigan historian Heather Ann Thompson has written, based on nearly 15 years of archival research and face-to-face interviews, a broadly-covered, intricately-detailed account of the "Attica prison uprising." Most notably, Thompson has been able to avail herself of official documents that had long been hidden, shrouded in secrecy, and kept from ready public access.
Thompson clearly recounts the horror of an "almost incomprehensibly barbaric" state response to the Attica prison uprising. Physician John W. Cudmore of the National Guard, for example, told the investigating McKay Commission: "I think Attica brings to mind several things. The first is the basic inhumanity of man to man, the veneer of civilization as we sit here today in a well-lit, reasonably well-appointed room with suits and ties on, objectively performing an autopsy on this day, yet cannot get at the absolute horror of the situation, to people — be they black, yellow, orange, spotted, whatever uniform they wore, that day tore from them the shreds of their humanity. The veneer was penetrated. After seeing that day I went home and sat down and spoke with my wife and I said for the first time, being a somewhat amateur army type, I could understand what may have happened at My Lai." (My Lai was the site of a massacre of innocent Vietnamese civilians by American soldiers during the Vietnam War.)
Blood in the Water covers the perils and promises of a real-world range of key constituents involved with the Attica prison uprising's origins, day-to-day and year-to-year developments, and outcomes. Among these constituencies are corrections officials, prison officers, prisoners, hostages and their families, law enforcement agents, state executives and legislators, judges, prosecuting attorneys, defense attorneys, the families of prisoners, and community activists. In Thompson's account, each group's behavior displayed a mix of strengths and weaknesses, although some groups' actions are more often all of one rather than the other.
The separate chapters that cover each of these constituent groups read easily and movingly, with one gliding into the next. Somewhat like a mystery writer, Thompson captures the reader's imagination and stirs interest in the subject matter. While Attica was widely covered in the national and international press, much of what we learn in Thompson's "page-turner" coverage seems fresh and newly discovered. She delves deeply into various aspects of the rebellion and the assault. One steadily wonders what happens next.
Over all, Blood on the Water focuses most of its attention on the responses of New York State officials. Prisoners did not plan their actions. State corrections administrators seemed to have had little training or preparation for such an event. The institution's warden was pugilistic and ineffective. The state commissioner of corrections, a social worker by training, appears to have been trapped between social work approaches and security-based values and objectives. Other state officials, mainly in the executive branch, assumed leadership positions, with Rockefeller being particularly prominent.
State officials misreported the hostages' deaths and other aspects of the uprising. Local hostility to the prisoners was enormous. A lasting impression is of the facility's medical doctors kicking and clubbing seriously-injured prisoners who were lying on the prison's floor. On another front, the conservative medical examiner of a nearby county was unfairly lambasted for announcing – after conducting autopsies – that the dead hostages had not had their throats slit (allegedly by prisoners), but had in fact been shot. (Only state police and corrections officers had firearms.)
After all of this, there were official reports (many of which had long been kept secret) and prosecutions of some prisoners (most of which were unsuccessful). As Blood in the Water builds to its conclusion, Thompson poignantly portrays a group of nearly forgotten victims: the wives, children and other family members of the slain prison officers, who eventually won their civil cases against New York State for its irresponsible behavior in causing the deaths of their family members.
Surprisingly, Thompson's conclusions are tepid. She states that Attica's most important legacy is that "ordinary men, disenfranchised men, and men of color had simply had enough of being treated as less than human." But clearly there is more that can and should be said about Attica's impact on prison policy and practice?
Russ Immarigeon, local "town and village" court justice, upstate New York