Explicit Utopias: Rewriting the Sexual in Women's Pornography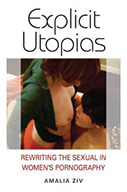 Author: Amalia Ziv
Publisher: Albany, NY: State University of New York Press, 2015. 312p.
Reviewer: Amber L. Morczek | May 2017
Presenting a new take on decades' old research, the book, Explicit Utopias: Rewriting the Sexual in Women's Pornography, forges new ground by rigorously examining pornography in text format. Author Amalia Ziv examines pornography in this context because she rightfully notes that researchers largely neglect it, as pornography – especially after the advent of Internet – is largely conceptualized as a visual medium.
Ziv begins her book with an assessment of the classic pornography debate, raging in feminist circles since the 1970's both by examining feminist antiporn arguments (i.e. pornography as harm via production and consumption) as well as the contrary sex positive or so-called "anti antiporn" stance. Ziv's separation of her subsequent chapters via theory and the discussion of pornographic texts is anchored by assessment of said texts through feminist or queer theoretical models. Chapter 2 of Ziv's book examines the subject of male homoeroticism in pornography written by women in order to document the depth and breadth of the phenomenon. Her next chapter, entitled "Refiguring Penetration," explores how penetration is reframed and advanced in pornographic fiction written by women – allowing for the retention of sexual power and subjectivity. Chapter 4 focuses on the concept of the phallus in lesbian pornography and Chapter 5 details, rather beautifully, how women's pornography often constructs gender as performative. Ziv adeptly closes her topical chapters by examining cross-gender queer sex in literary fiction as well as both written and visual transgender pornography. Indeed, to say this book contains a fresh perspective and is awash with forward-thinking content is an understatement.
Despite its many accolades, Ziv's book is not likely to be agreeable to the less cultured literary palate, as it is written with verbose academic and sometimes distinctly flowery language most suitable to scholars seeking very sophisticated information on gender and pornography. However, the wealth of information contained within this text could certain be useful for nonacademics seeking a more nuanced vision of what pornography is available to consumers. Also, it should be noted that Ziv accompanies her literary prowess with several explicit photographs throughout the book as well as on the cover. The complementary imagery does not detract from the scholarship at all, but rather enhances the reader's ability to process her words and message. Indeed, the photos are a natural embellishment to the careful thought presented therein.
All things considered, Utopias: Rewriting the Sexual in Women's Pornography, is certainly a refreshing addition to the literature, albeit one that is likely reserved for intellectuals who can appreciate Ziv's elevated prose. Scholars on both sides of the pornography debate will appreciate both this book's new perspective and its' obvious contribution to the existing literature. Examining pornography in written form, especially when the modern porn market is heavily saturated with visual media, will surely shine more light on the topic and pave the way for further research.
Amber L. Morczek is a PhD Candidate at Washington State University Department of Criminal Justice and Criminology