Murder On Shades Mountain: The Legal Lynching Of Willie Peterson And The Struggle For Justice In Jim Crow Birmingham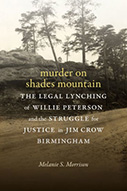 Author: Melanie S. Morrison
Publisher: Durham, NC: Duke University Press, 2018. 288p.
Reviewer: Brent M. S. Campney | May 2018
In Murder on Shades Mountain, Melanie S. Morrison examines a little-remembered episode in Birmingham, Alabama, during the Great Depression. On August 4, 1931, three white women went for a drive and saw their pleasure shattered when an unknown person detained and shot them. The sole survivor, Nell Williams, told of an armed black man who commandeered their vehicle at gunpoint and held the women in a secluded location where he taunted them and condemned white people generally. In the aftermath of the alleged attack, white residents mobilized against the black population: "as many as seventy black people of both sexes were killed in the weeks following August 4, 1931. The exact number of deaths is difficult to document, but the enormity of suffering borne by Birmingham's black community cannot be overstated" (43).
On September 23, 1931, Nell Williams spotted Willie Peterson, a tubercular black man resembling in no way the description that she had given to police, and identified him as the murderer. Despite serious questions as to his guilt and gaping holes in Williams' account, officers arrested Peterson. Within a short time, Dent Williams, the brother of Nell, entered a cell with Peterson during an interrogation and shot him three times. Amazingly, he failed to kill him. Over the rest of the book, Morrison traces the efforts of the Alabama legal system to convict Peterson and send him to death row, and the efforts of a diverse group of people – including the Communist Party, the National Association for the Advancement of Colored People, and even prominent white Alabamians – to defend Peterson and mitigate his suffering. On March 20, 1934, the Alabama governor, citing "grave doubts" about the guilt of the prisoner, commuted Peterson's death sentence to life imprisonment (179). He died in prison on June 30, 1940, of complications from tuberculosis.
This is an excellent and engaging study. The author does a fine job of seeking out black perspectives, and in examining the efforts of the many black activists, attorneys, and newspaper editors who pursued justice for black Birmingham. She provides harrowing insights into the horrors inflicted upon black men living on death row, awaiting their turn in the electric chair. "'Walk-by' was the term prisoners used when a man was led, shackled, down the hall to the execution room," she writes. "Some condemned men nodded or said a parting word to the prisoners who stood watching behind the bars of their cells. Some cried out and were dragged through the green door screaming. Others looked straight ahead, expressionless" (115).
Morrison's introduction of the concept of legal lynching into this inherently compelling and important story is questionable, because it seems inconsistent with the fact that Peterson eventually received a commutation and died of illness. On the whole, however, this is an outstanding case study that should find an audience among laypersons and among students at the undergraduate and graduate levels.
Brent M. S. Campney is Associate Professor at the University of Texas Rio Grande Valley