The Marion Experiment: Long-Term Solitary Confinement and the Supermax Movement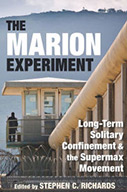 Editor: Steven C. Richards
Publisher: Carbondale, IL: Southern Illinois University Press, 2015. 336p.
Reviewer: Richard L. Lippke │ November 2015
This collection of essays focuses on the explosive growth in the use of solitary confinement, for which the federal prison in Marion, Illinois was the model, at least in the United States. The collection contains essays by scholars and by prisoners, some of the latter of whom have experienced solitary confinement first-hand. The last part of the volume takes a comparative turn, featuring essays on maximum security prisons in other countries.
The first part of the book contains five essays by prisoners serving time in a variety of U. S. and Canadian prisons. In his introduction to the collection, Stephen C. Richards characterizes these essays as "convict criminology," which "is a theoretical perspective that uses direct observation, face-to-face interviews, auto-ethnography, and retrospective analysis to penetrate the reality of distant social worlds" (p. 6). The essays in this section are long on autobiography and descriptions of prison life, including time spent in isolation, but short on theoretical analysis. By this I mean that there are few attempts to situate the various accounts of prison life within any broader sort of developed criminological perspective. That being said, the accounts of what the prisoners have had to endure are often searing. The best of the essays, one by Brian Edward Malnes, offers a vivid narrative of a supermax prisoner struggling to maintain his sanity by recalling bits and scraps of what it was like to be, and be treated as, human. In addition to the disturbing accounts of brutish prison conditions, what emerges from many of these essays is a sense of the sheer arbitrariness of the decisions made by prison officials concerning who is sent to solitary confinement and who is not. Too often, it seems, it is not only prisoners who are violent or who attempt escapes who are assigned to solitary, but those who are mentally ill or who annoy guards or prison officials, or worse, are needed simply to fill expensive supermax facilities that the government has (unnecessarily, it seems) built.
The second part of the book contains essays that are more analytical in character. The best of them is one by Kevin I. Minor and Marisa M. Baumgardner. The authors offer a social theory of the development of supermax confinement, discussing the cultural, economic, and political factors underlying its rapid expansion. As social policies were adopted during the 1980s and 1990s that produced increasing inequality and the marginalization of many members of society, the government, having cut back on the provision of welfare, struggled to find a role to play. What emerged was an emphasis on security, with the poor cast as threats that must be controlled, often through harsh measures. Prison overcrowding was the more or less inevitable outcome; the disorder that overcrowding engendered then had to be addressed decisively and sternly, so that the government could maintain its bona fides. As Minor and Baumgardner aptly characterize it, supermax confinement was "represented as a complex, professionally managed, rationalistic institution where complete, but humane, control is achieved through specialized penal architecture, bureaucratized routinization of life and movement, as well as strategic use of the latest automated technologies" (p. 111). That the reality of life in supermax confinement little matches this sanitized, official rationalization is confirmed by other essays throughout the volume. In another essay, Bruce A. Arrigo and Heather Y. Bersot provide a useful summary of the evidence concerning the effects of long-term solitary confinement on the psychological and moral health of prisoners. As they note, and has been known for some time, these effects are most worrisome when inmates have pre-existing mental health problems. The authors also discuss the disproportionate use of solitary confinement to discipline black prisoners. Finally, they offer suggestions for reforming supermax prisons to make them less damaging to inmates, though in the end, they conclude that we ought to altogether abolish the use of penal solitude.
There is also, in this section, a lengthy essay by Christopher Bickel on the use of solitary confinement with youths in juvenile correctional facilities. In addition to concerns about the damage done to the vulnerable psyches of youths, Bickel's essay amply reveals the folly of juvenile facilities that rely on lengthy and detailed lists of rules governing the conduct of the unfortunates sent there, coupled with the arbitrary and rigid enforcement of those rules.
The essays in the third part of the book are somewhat disappointing. If the aim of the section was to broaden our understanding of the use of solitary confinement outside of the United States, then only the essay by Martine Herzog-Evans accomplishes this. She summarizes the waxing and waning of support for solitary confinement in France, and concludes that the overall trend is towards increased use of such confinement. There is a quite interesting essay by Lior Gideon, Dror Walk, and Tomer Carmel on Israeli maximum security prisons, with their emphasis on rehabilitation and the education of guards to be more sensitive towards and respectful of prisoners. But the essay says little about solitary confinement, briefly noting that only about 100 Israeli prisoners are housed in such secure units.

In a concluding essay, Steven C. Richards provides a list of much-needed reforms in the criminal justice system. Though many of the suggested reforms are attractive, some of them have little to do with the focus of the volume, which is on the use of solitary confinement. Still, Richards' assertion that more public scrutiny of our prisons is desperately needed is hard to gainsay.
Overall, the essays in this volume do not tell us much about supermax confinement that we did not already know or suspect ten years ago. That such confinement is extremely expensive, over-used, arbitrarily-inflicted, and profoundly damaging to the psychological and moral health of inmates has been recognized for some time. Nonetheless, there is something to be said for re-emphasizing all of these points and, in particular, for hearing the voices of those who have spent time in supermax prisons or in other kinds of correctional facilities that are not, sadly, much less prone to disabling and demoralizing their inhabitants.
Richard L. Lippke is a professor in the Department of Criminal Justice at Indiana University