A Shot In The Moonlight: How A Freed Slave And A Confederate Soldier Fought For Justice In The Jim Crow South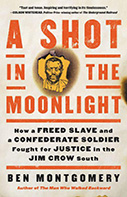 Author: Ben Montgomery
Publisher: Little Brown Spark, 2021. 304 pages.
Reviewer: Alan Singer ǀ January 2022
As a historian I approached this book, perhaps unfairly, with some skepticism. The sub-head of the book, "How a Freed Slave and a Confederate Soldier Fought for Justice in the Jim Crow South," even if accurate, suggests that the topic of the book is of limited historical significance given the overall racist trends of the period. None of the pre-publication tributes on the back cover was by a historian, although several were award-winning authors. Oprah, CNN, and the Smithsonian all identified A Shot in the Moonlight as one of the most "anticipated books" for 2021.
Author Ben Montgomery is a former newspaper reporter based in Tampa-St. Petersburg, Florida, who currently produces a daily local issues newsletter for the online journal Axios. He was a Pulitzer Prize finalist for local reporting in 2010. Montgomery's three previous books sensationalized otherwise forgettable characters from 20th century history, a great-grandmother who completed the Appalachian Trail in the 1950s; a Philippine spy for the United States during World War II who suffered from leprosy; and a Great Depression stunt artist who circumnavigated the globe walking backwards.
At the center of A Shot in the Moonlight are the interlocking stories of three individuals. George Dinning was an African American farmer in south-central Kentucky, formerly enslaved, who was accused of a robbery he did not commit and then faced mob violence and a judicial system stacked against him. Bennett Henderson Young, his lawyer when Dinning sued his attackers, was an officer in the Confederate Army during the Civil War, active in Confederate veterans groups, and an advocate for monuments commemorating "The Lost Cause." Kentucky Governor William O'Connell Bradley was a Republican who interceded to protect Dinning from a white mob that wanted to lynch him, and pardoned Dinning after he was convicted by a twelve-member all-white, all-male jury. Bradley, an outspoken opponent of racial violence, championed a Kentucky anti-lynching law. Part of Montgomery's goal in A Shot in the Moonlight is to show the complexity of individuals from the past, and of American values and history itself.
While the events that brought Dinning, Young and Bradley together drew national attention and are well documented, Montgomery brings a journalist's touch to his account of the story, including backstories on racial violence in Kentucky during that era, and some newly uncovered information about Dinning. He also makes an interesting connection with Dinning's descendants who help him as he uncovers the family saga.
In January 1897, a mob of approximately two dozen armed and robed white men — local "Whitecaps" including Deputy Sheriff William Moore — attacked Dinning's home in a rural area outside of Franklin in Simpson County, Kentucky. Dinning, who was defending his home and family, returned the mob's fire, killing Joel (also described in some accounts as Jodie or J.J.) Conn, the son of a wealthy Kentucky family.
Dinning turned himself in to the County Sheriff in Franklin and was charged with murder. He avoided being lynched when the sheriff transferred him to jails in Bowling Green and later in Louisville. The Whitecaps took revenge, burning the Dinning farmhouse to the ground. Locally, the press stirred up hatred against Dinning. A headline in the Owensboro Inquirer claimed a "Prominent Farmer Assassinated" and the Fort Wayne (Indiana) News reported that the "Whippers" were fired on from ambush. The Louisville Courier-Journal called Dinning a "worthless and dangerous negro" and described Conn as "a quiet, inoffensive man" and a member of one of "the oldest and wealthiest" families in that part of Kentucky (6-7).
Five months later, when Dinning's trial was scheduled to begin in Franklin, Governor Bradley assigned the state militia to protect him. While an article in the New York Times on January 28, 1897 argued "[t]here is little doubt of his acquittal" (5) because members of the Whitecaps would be incriminating themselves if they testified against Dinning, the all-white jury found Dinning not guilty of murder, but convicted him of manslaughter and sentenced him to seven years hard labor (163). The Whitecaps who testified at the trial, including William Moore, claimed that they never meant Dinning any harm, and that Dinning had opened fire on them without justification (56-57, 72-73).
Montgomery describes Dinning's defense attorney, John B. Grider, as well liked by locals who considered him a "good and fair" lawyer, but also "as the most absent-minded man in Bowling Green" (90). Grider called on two of Dinning's children, Hermann age 17 and Eva age 12, to testify in their father's defense (102-114). The reality was they had not witnessed very much and their testimony was dismissed by the prosecution. Two weeks after the June 1897 trial ended, Governor Bradley pardoned Dinning, writing that he had "defended himself as every dictate of reason and humanity demanded and justified." The Governor's decision appeared to have wide support in the state (183).
Dinning's problems, however, did not end with his pardon. Dinning and his family resettled in Jeffersonville, Indiana, across the Ohio River from Louisville, where in September he was attacked, severely beaten, and blinded in one eye by friends of Conn. With Bennett Young now acting as his attorney, Dinning successfully sued six members of the mob that attacked and destroyed his home; charges against the others were dismissed by the judge, and a jury awarded him $50,000. The Whitecaps refused to pay the assessment and it is unlikely that Dinning was able to collect much of the award (201-209; 239-246).
Despite most of the perpetrators being exonerated, much of the national press considered the court and jury decision a sensational and progressive accomplishment. The Fort Wayne (Indiana) News applauded the decision as "indicating an entirely new method of dealing with and punishing mobs" (243). An editorial in New York's Buffalo Express declared "[t]his is one of the most notable triumphs of law and order ever credited to the record of Kentucky" (243). Lexington, Kentucky's Daily Leader claimed the judge's "instructions and the verdict of the jury ought to be a warning to would be-assassins and midnight raiders that Uncle Sam will find a way to punish them when state law fails" (243).
Montgomery celebrates the Dinning decision, as did George Dinning and Bennett Young, and notes that it empowered other African Americans to press cases against white tormentors through the courts, although he does not discuss whether they met any success (245). Montgomery, while he quotes her in two places, never discusses the anti-lynching efforts of journalist Ida B. Wells-Barnett. Also missing in A Shot in the Moonlight are findings by the Equal Justice Initiative that there were over four thousand "racial terror lynchings in twelve Southern states between the end of Reconstruction in 1877 and 1950," including 168 in Kentucky. At one Kentucky lynching in December 1899, months after the Dinning's suit was decided, "spectators at the lynching of Richard Coleman in Maysville, Kentucky, took flesh, teeth, fingers, and toes from his corpse." Despite Governor Bradley's aversion to lynching and seeming embrace of racial justice, Kentucky did not ratify the 13th Amendment to the United States Constitution that ended slavery until 1976 (https://lynchinginamerica.eji.org/report/).
Maybe because he is not a historian, Montgomery uses sparce citations. It is not clear the source of the Whitecap testimony at Dinning's trial and whether it is an actual transcription or a reconstruction. The book is also very repetitive, seemingly filling out a text that otherwise would be too short for book length coverage. Testimony by Albert Green Freeman (56-71), William S. "Doc" Moore (72-85), and over a dozen others (88-101) are reported in depth in question and answer format as they are led through their accounts by prosecutor G. T. Finn and Dinning's defense attorney John B. Grider. "Were you acquainted with the defendant, George Dinning?" Yes. "Were you at defendant Dinning's house the night Jodie Conn was killed?" Yes. "State whether or not Jodie Conn or anyone else in the crowd there offered any violence toward George Dinning or any of his property?" No.
A Shot in the Moonlight opens with an extended, italicized, informal author's note explaining to readers that Montgomery launched the project in response to the lingering racism imbedded in the standard narrative of American history. According to Montgomery, "the problem with the Confederate flag and the granite statues of dead soldiers is that the Civil War never ended." He believes "it morphed into looser, legal forms of enslavement that are just as damaging as the whip. It rages on Facebook and in classrooms and in the streets of American cities, still. Its agents of trouble are Proud Boys and good ol' boys and police with no-knock warrants and whites who should know better but choose silence" (xii).
Given his motivation in writing A Shot in the Moonlight, I think Montgomery missed an opportunity to imbed the saga of George Dinning more deeply within the context of the widespread anti-Black mob violence of the Jim Crow era, as whites employed terrorism to deny Blacks their fundamental rights as United States citizens. White racial violence erupted in Memphis (1866), New Orleans (1866, 1874, 1895 and 1900), Tennessee again in 1868, Mississippi (1871), Louisiana (1873), Alabama (1874), South Carolina (1876 and 1898), and Atlanta, Georgia (1906). In Colfax, Louisiana, a white mob murdered as many as 150 Black men on April 13, 1873. It was the bloodiest one-day incident of racial carnage in the Reconstruction era. The mob included former Confederate soldiers, the Ku Klux Klan, and the White League. It surrounded a local courthouse where Black militiamen were stationed and fired a cannon into the building. When the militiamen surrendered, the mob murdered many of the Black men who were defending the legitimate government of the town (https://historynewsnetwork.org/article/179167).
In 1898, the office of Wilmington, North Carolina's African-American newspaper, The Daily Record, was set on fire and white mobs turned on the city's Black citizens shooting people in the street. One of the rioters later explained: "The Men who took down their shotguns and cleared the Negroes out of office yesterday were not a mob of plug uglies. They were men of property, intelligence, culture … clergyman, lawyers, bankers, merchants. They are not a mob; they are revolutionists asserting a sacred privilege and a right." The white mob of respectable people overthrew an interracial elected government, destroyed black-owned property and businesses, and killed as many as 300 people (https://historynewsnetwork.org/article/179167).
The author visited the National Memorial for Peace and Justice in Montgomery, Alabama in 2018. The Lynching Memorial and research he did for a story about a 1934 lynching in Jackson County, Florida reminded him that "our violent past is still with us, and that we face a reckoning, ready or not" (xv). A Shot in the Moonlight, despite its flaws, is the story of injustice, justice, and further injustice in Kentucky at the end of the 19th century, and it is part of that reckoning.
Alan Singer is a historian and teacher educator at Hofstra University, Hempstead, New York.